Pulse #33
Also called the INVADER
---
Year Built...............1985
Factory paint........White
Today color............Red
Original Owner............Rose Marine...Gary Stephens - Dallas, TX
Present Owner.............Darrell Smith - Dallas, TX
Body #8531538
Engine #14V-001810......re-powered with Honda 500cc
Titled as Invader O.M.C. 2000
VIN 1LSECP2E3F2000033
---
History of Pulse #33
This Pulse was sold to Don Rose of Rose Marine, Pulse Dealer in Mt. Vernon, TX. This dealership sold many Pulses in the south. Don sold #33 to Gary Stevens who was a Rose Marine salesman.
Notice on the Application for Texas Certificate of Title that it is called a
1985 OMC 2000 - INVADER
VIN #1LSECP2E3F2000033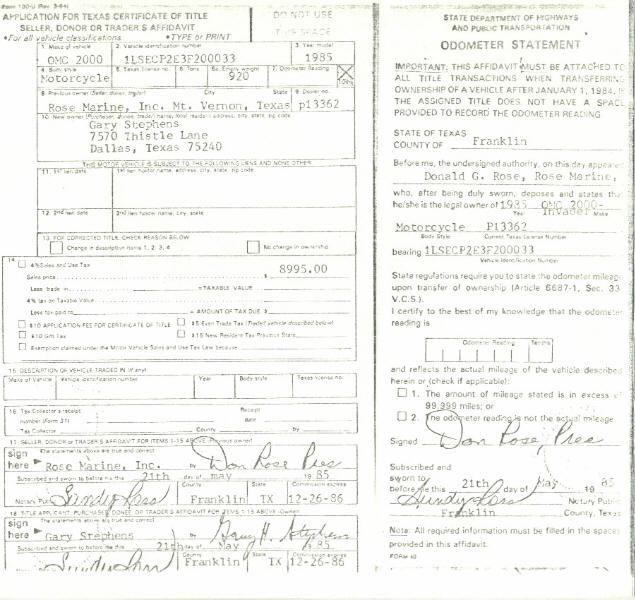 OMCC, during this sequence of VIN numbers, included 4 zeros. However #033, VIN number has only 3 zeros.
---
Thanks to Tom Caprioli for supplying the following:
According to Jonathan Phillips of TX owns "Invader" Litestar/Pulse with VIN #31.
He recalls working for the Anthony Foundation in Houston doing some superconductor experiments with the University of Houston in 1985.
"Since I was leading the project I was told to look around the facilities and take whatever I needed to use in the buildups. I found the "INVADER" buried under some insulation in the back of the facility and asked the director what the heck it was. She told me that it was going to the junk yard if I didn't take it home. Then she told me that she purchased it new "from up north" and drove it down here. That was in '82 or '83. She was told that it was a pre-production prototype to the Pulse called an Invader and that's how it was registered."
I have done some research of my own, I'm pretty sure there were only 4 Litestars registered as Invaders. I'm still trying to find out why the name change and why only 4.
I recall that the name change was from "the factory" and not from Rose Marine, the dealer. This makes sense as far as the DMV is concerned. One of the many BD200/Pulse/Invader/Litestar mysteries.
---
Webmaster note: The Invader term was used only by Rose Marine for a couple of Pulses as far as I can find out through research. OMCC demanded Rose Marine use the name Pulse. It would be like a Chevy dealer wanting to re-name the car something else when he takes the Cerificate of Origin to the Secretary of States Office and applys for a title for the consumer.
---
---
Your Host, Steve Schmidt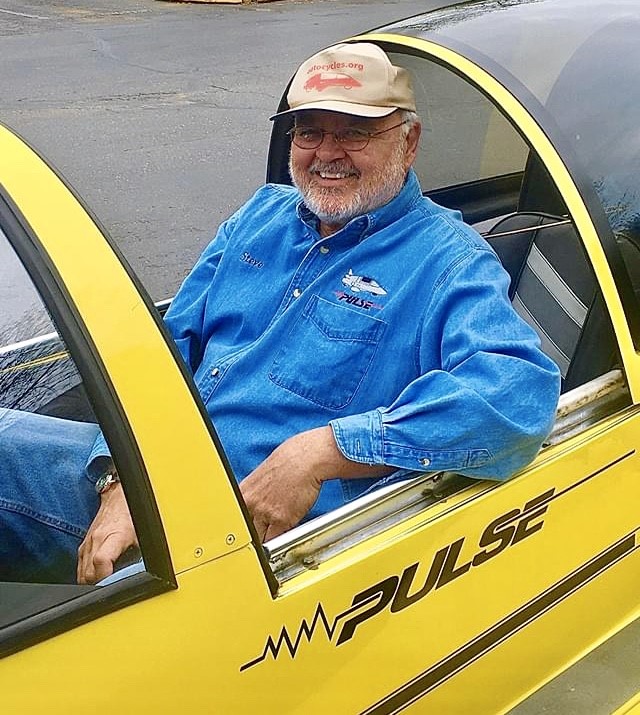 Last Update: 11-20-20......
This is a personal website and is not affiliated with the designer, manufacturer or any company officials/employees.
Disclaimer: Litestar Pulse Website is provided to you free of charge, "as is."
The best efforts to maintain accurate Litestar Pulse
Website history, information, repair tips and content, however, it is
not responsible for the content of its information, opinion providers.
You should not assume that Litestar Pulse Website is error-free and
makes no guaranties as to the accuracy, currency, content, or quality
of any such information.
Copyright 2021 © All rights reserved