Pulse #059
---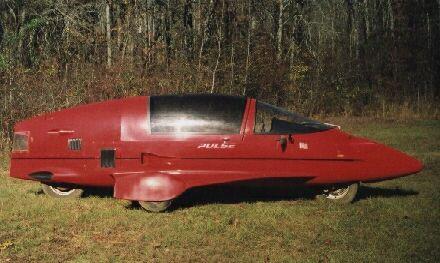 Year......... 1985
Original Owner......John Steadman then Scott & Carolee Hoffman of Basehor, KS
Current Owner...........John Webb of Amarillo, Texas
Body #8561461
Engine #14V-001704
VIN 6TJ1M000000000059
---
HISTORY OF #59
1985 Pulse #059 was completed on July 18, 1985 and then shipped to John Steadman of Oklahoma.
In 1994, Charles of Nashoba, OK purchased it enjoyed taking #59 to car shows and in some parades in Oklahoma, Texas and Arkansas.
In January of 2002, Bill Senter purchased #59.
Engine is a Yamaha 400 2cyl oil cooled, 6 speed trans.
Bill decided to sell #59 and the asking price was $5,250. In August of 2002 to Scott & Carolee Hoffman of Basehor, KS bought the Pulse.
John Webb of Amarillo, Texas bought Pulse #59 in Nov. of 2005.
---