Pulse #74
Autocycle Hollywood Car
Pulse #74 as it looks today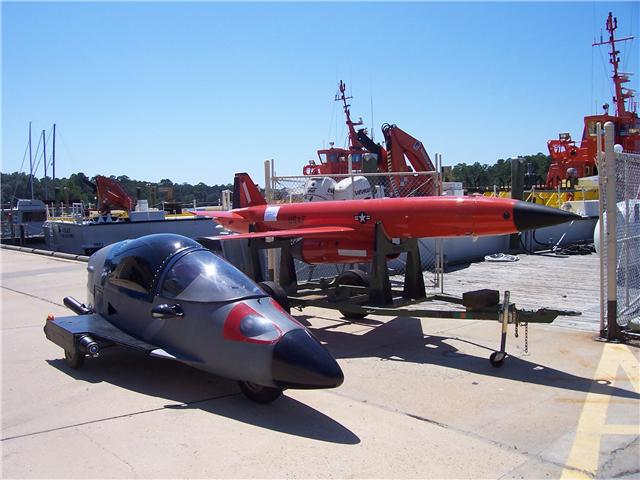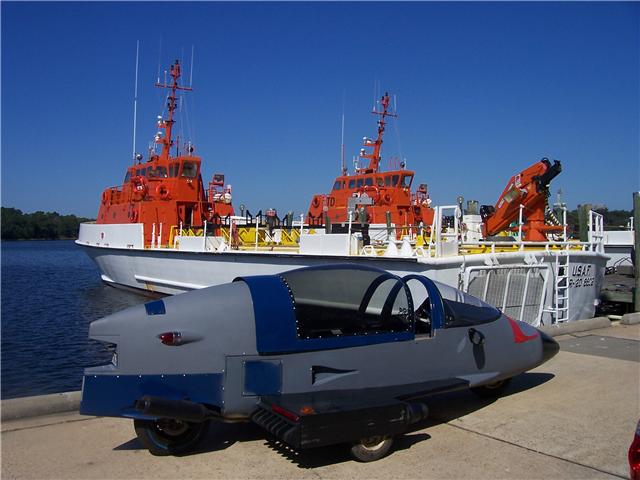 #74 as it looked when purchased by Steve Shafer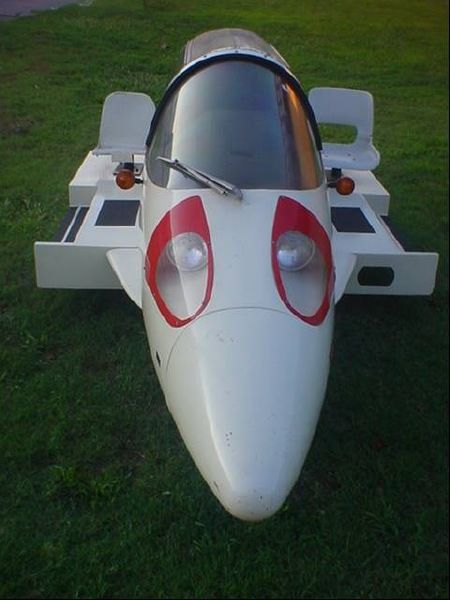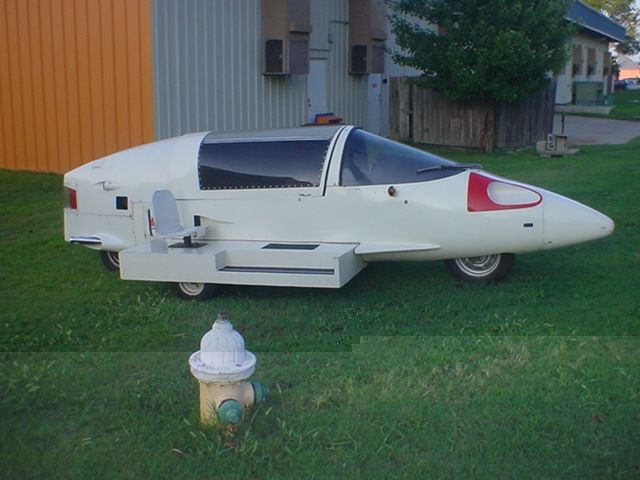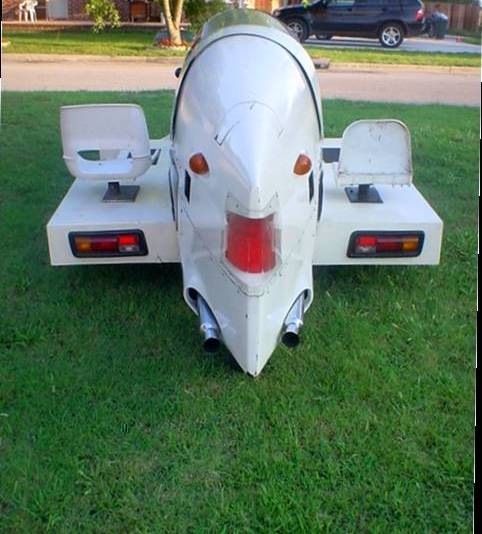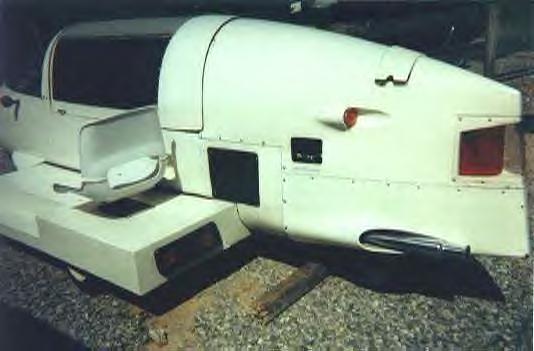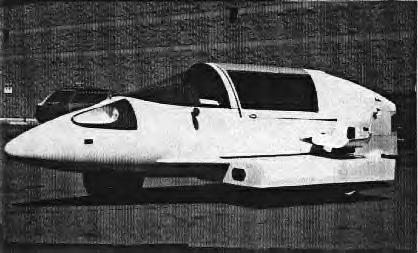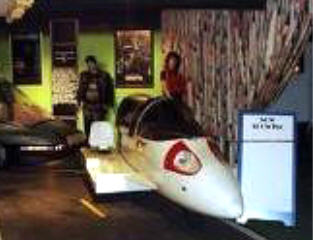 Owned by Steve & Jody Shafer of Chipley, FL.
Extreme, unique, & futuristic car was originally screen used as a prop vehicle in the hit movie "Back to the Future II" starring Michael J. Fox & Christopher Lloyd. It was later converted for its use in the television series SEAQUEST DSV.
Owners of the vehicle include:
1.Year August 13, 1985....Red....World Car Centers dealer/Robert Smith of Gresham, OR
Vehicle Rolled Over then painted white.
2.Bob Butts -Fantasy Cars El Cajon, CA
(Purchase date unknown at this time, probably in 1988) Repaired rollover damage and painted white (originally Red) Leased pulse to movie studios for the making of Back to the Future II, Hologram Man, Lawnmower Man II, and TV series SeaQuest DSV
Mr. Butts has indicated he got the car after it was wrecked. It also explains the possible connection of the dealer in San Diego also being involved in getting the second vehicle in the movie. He said that he remembered the outrigger wheel was also damaged. Maybe this explains why the VIN might have been painted over.
According to Bob Butts (Fantasy Cars in El Cajon) leased seven cars to Universal for Back to the Future II, and the car this car was included. He recalled that it had been rolled and there was damage to one outrigger, but not sure who he purchased it from. It was red originally and he painted it white.
3.Charles Moore Jr. Stars of Cars Museum Gatlinburg, TN
Purchased approx. 1995 for use in Cars of Stars Museum
4. Love Automobile L.L.C. - James Velvet, Hollywood Rock N Country, Branson, MO
8/11/02
5. Chris Lacey Murrells Inlet, SC purchased this vehicle from an Ebay auction in 2002
6. Steve Shafer of Chipley, FL purchased PULSE #074 in April of 2003. 7. Sold in 2021 to someone in Bonifay, FL.
---
White Pulse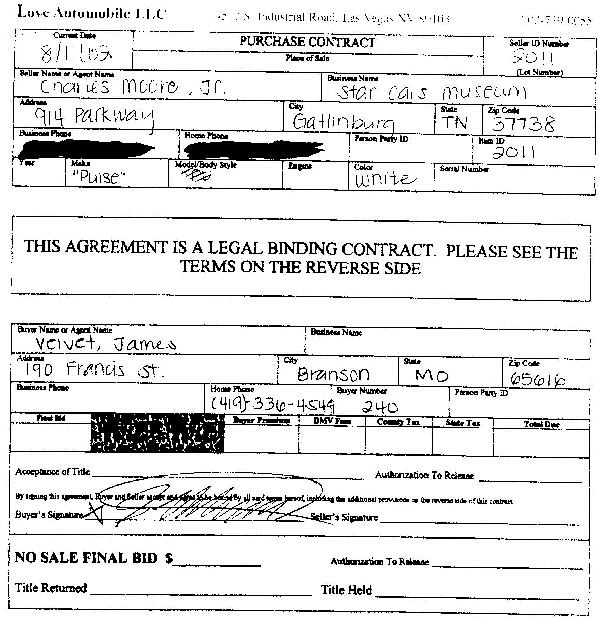 This prop vehicle is based on the mid 1980's production car, The Litestar or Pulse. For Seaquest, the stock outrigger wings were replaced with platforms (& seats) which allow for two people to sit on outside of the car as well as the driver and passenger in the cockpit. The Pulse has been on display for years in the Gatlinburg, Tn. Star Cars Museum. It was screen featured in numerous movies & television series, including Seaquest, Hologram Man, Back to the Future II, & others during its long movie car career.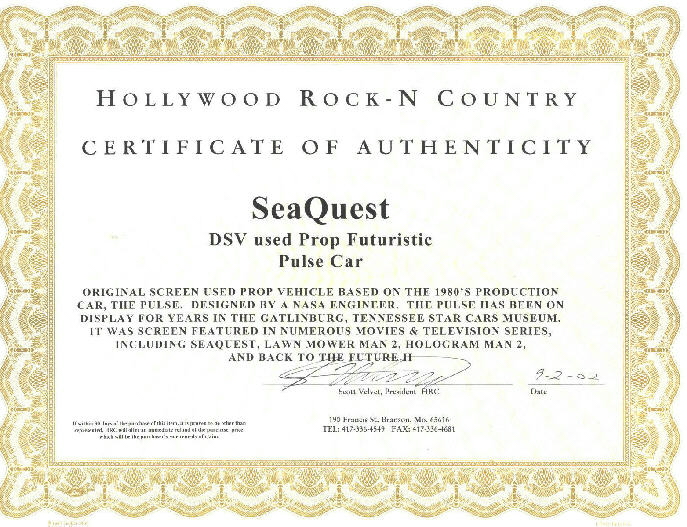 CONDITION in 2002: The Pulse shows 671 miles on the odometer. No reverse gear. It is powered by a Yamaha motorcycle engine.

VIN 6TJ1M000000000074

There is a card that is on the inside right of the drivers position that is fiberglassed into the panel. When you remove the interior panel it is visible. It is from Nero Plastics of Owosso, MI and it looks like a shipping address label. It has Nero's phone number and address. Then it has-
TO: 8572276

This number is the body number.

Additional support under the box type outriggers are covered by a metal skin. Also the canopy was modified by the studio. They must have damaged the canopy and added a brace on each side and made it a three piece unit and riveted around each section. The interior is original and in very good condition.
---