Pulse #195
---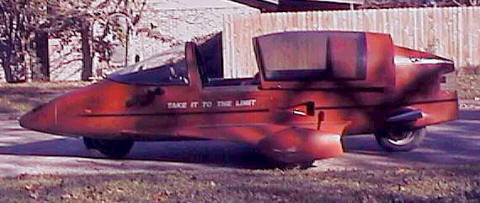 Steve Cole owns Pulse #195 and says restoration is underway.
Temperature gauge has a range of 120 to 300 degrees and stays around 140 on a 85 degree day. Not really sure what temperature it is reading, as I don't know where the sensor is. My engine is the Air Cooled Yamaha 400 and the readings seem to be too low to be engine temps. I figure it must be air in the engine compartment.
The Cylinder Head Temp. has a bad thermocouple but I will get this one fixed. It will be a big help during the Texas summers.
Also on the dash is a lable that reads, "WARNING This is a MOTORCYCLE. It conforms to all motorcycle laws applicable to your state. Read owners manual to insure your own Safety."
Not sure if this is from the factory.
Year............. March 1986
Color.........Red
Owner.........Ben Scarborough dealer Texas.....Aber Hummel Hair International Corp. Houston, TX.......Steve Cole
Body #86218194
Engine #16M-002297
VIN 17JTW12R5GM000195
---