2002 National Convention
Litestar Pulse Owners Group
Fly-In Cruise-In
Marion, Indiana
Your Hosts....Chuck & Linda Furgason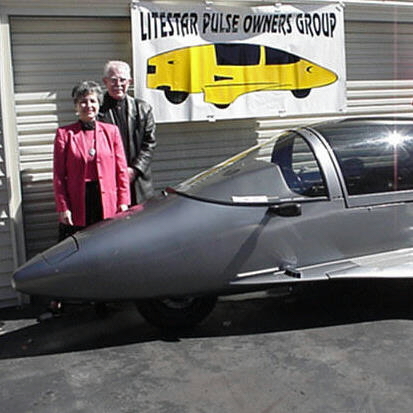 Pictures by Chuck Furgason


Chuck donated the beautiful 2002 Dash Plaques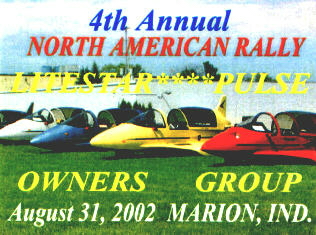 ---
Pictures by Luke Chaplin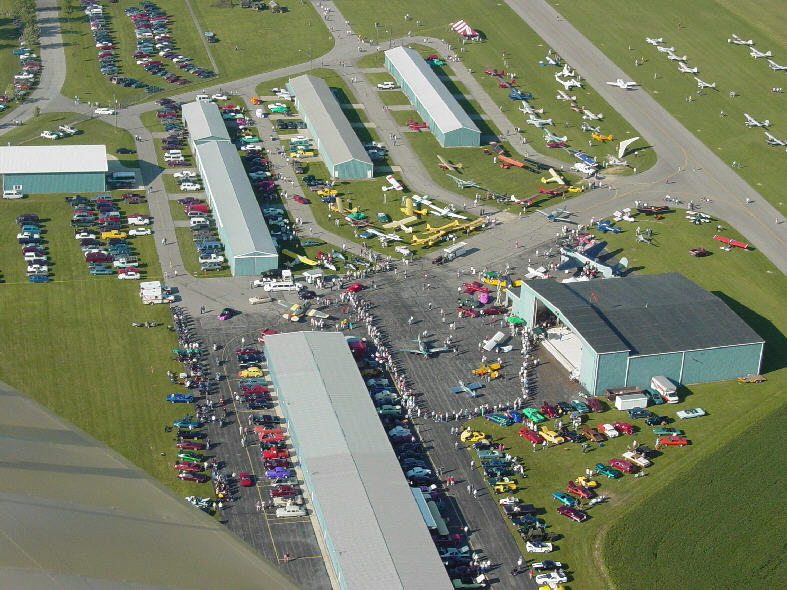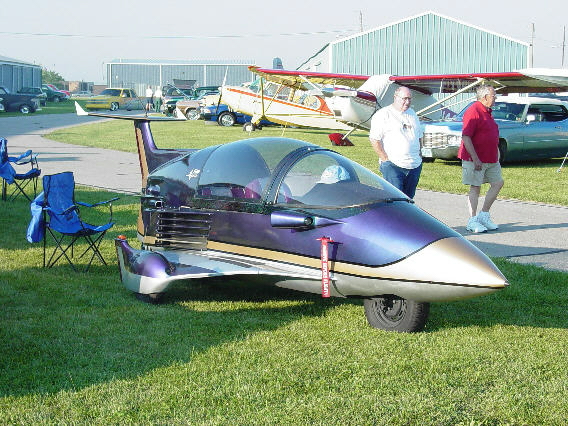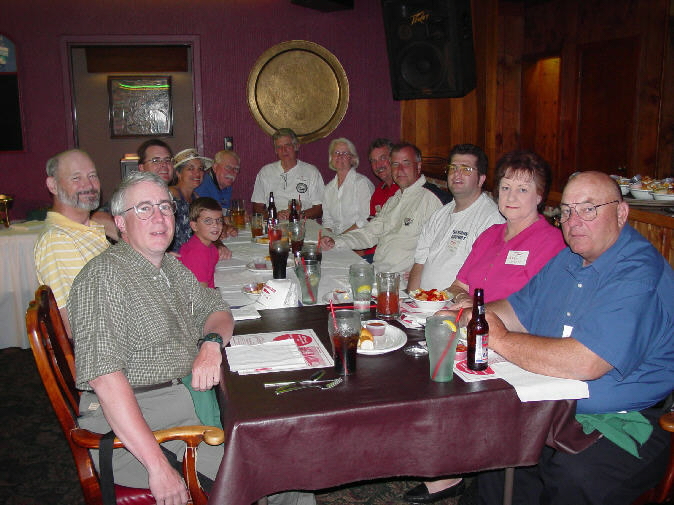 The following pictures by Ron Palmer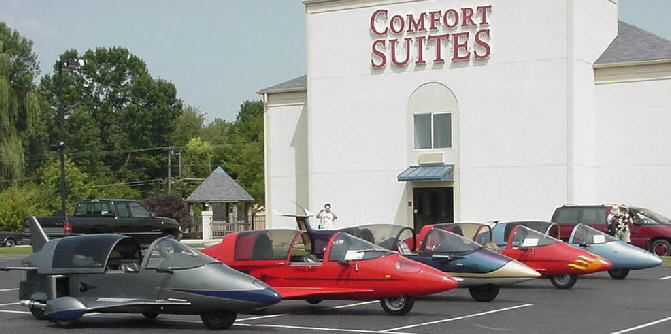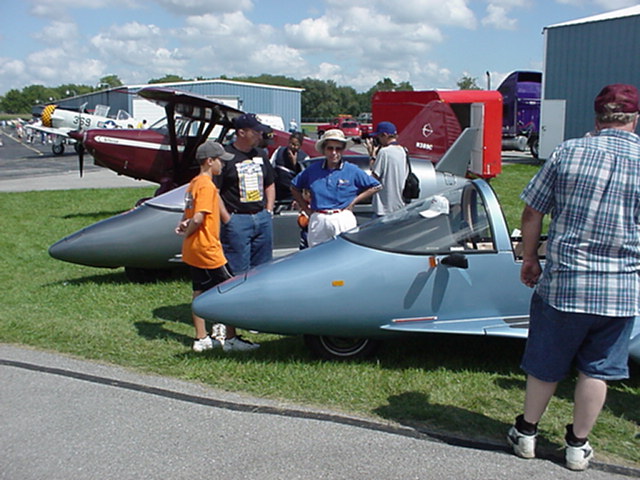 Linda at the 2001 Fly-In Cruise-In
Chuck & Linda Furgason were the hosts along with Ray Johnson... Fly-in Cruise-In organizer. Thanks to all of you that attended. A special thanks to Ron who entertained us with his robots. Please read a complete report at the bottom of this page.
...Chuck
---
This event featured antique, classic, homebuilt and warbird aircraft as well as vintage cars, trucks, motorcycles, and tractors.
Litestar Pulse Club members who brought a vehicle to the meeting include:
Chuck & Sylvia Knight #262, Linda Furgason #324, Chuck Furgason #328, Dave Ohmstede #152, Norm Ousley #153 and Ron Palmer #154. Note that the sequence of 152, 153, 154 were not only present but alphabetical order.
Norm Ousley had to leave immediately after the show on Sat. As Chuck & Linda drove back to the hotel Jeremy Dawes pulled in right behind them in #218 from Indiana.
Also attending:
William Kelly, Michael Boyson and son Jonathan (Scranton Litestar #001), Bill & Ginny Senter (347), Luke Chaplin (Scranton LiteStar #002 and Pulse #106), Craig Heavenridge (#313), Jeremy Dawes (#218), and Tom Caprioli (Owosso Litestar #10) rounded out the attendees who left there toys at home.
---
AWARDS
Ron Palmer...Longest Distance Trailered to Rally...800 miles
Chuck Knight...Hard Luck Award
Upon trailering his Pulse home after purchase this year,
the Windshield blew-out on the expressway.
?...........Longest Distance Driven
---
2002 Litestar Pulse Rally
by Chuck and Linda Furgason
On Friday afternoon August 30th our excitement was mounting as we packed all our supplies for the convention in our two Pulses (#324 & #328). Youd be amazed how much room there is when youre driving two there. As Chuck and I left Jackson, Michigan for our 175 mile drive to Marion the sun was brightly shinning and the temperature in the high 70s was ideal. We had chosen to begin our drive on one of Michigans fine two lane state highways M-60. Known as the Chicago Road as it once was the main route one traveled between the cities of Detroit and Chicago. The scenery on this ancient moraine left by the glaciers so many eons ago is slightly rolling and covered by green trees and flowing fields.
In no time at all I-69 appeared. This road will be wonderful once the reconstruction finally is completed. As we cruised in our vehicles people waved and took pictures. I never realized how many passengers (or drivers for that fact) have cameras with them. Ive perfected my parade wave though and enjoy especially how people smile as they see the Pulses. I can just imagine how differently were described around the spectators dinner table that night.
We crossed the state line and Indiana was welcoming us. A stop at an interstate highway rest area brought about more pictures and especially questions. You LiteStar & Pulse owners know them all by heart is that street legal? Solar powered? How fast? Really? On the street!? Is it a kit? Could we take your picture? The guy in the large semi parked next to us owns an amphibian car. He had just been at their convention where they had 45 of them, all on the lake at once must have been quite a sight just as unique as several of the LiteStars or Pulses gliding along a highway. He wouldnt leave until we did, so he could watch us drive by his rig.
We exited the expressway and drove into Marion, IN heading to the Comfort Suites, our home for the next few days. After registering with the friendly folk at the hotel we gathered around Dave Ohmstede who was just off loading his Pulse. As we enjoyed the afternoon sun others gathered Michael Boyson and his son Jonathan, Norm Ousley, Ron Palmer, Tom Caprioli, Luke Chaplin and Cindy and Bill Senter as well as Sylvia and Chuck Knight from Canada, therefore, adding the international flavor. The parking lot became our impromptu registration location. Each member received a nametag, dash plaque designed by Chuck Furgason and a folder with the official schedule of events.
Our first function Friday evening at the Marion Municipal Airport was delicious pizza dinner hosted by Arndt Mueller in his beautiful, spotless hanger. As everyone introduced themselves we met our hosts Ray and Judy Johnson and many honored guests to the Fly In/Cruise In. Guests included the crew from the Berlin Airlift Historical Foundation flying one of the actual C-54E planes Spirit of Freedom used in the Berlin Air Lift, and Rob Lock with his rare 1929 New Standard D25 biplane. Thank you, Arndt, for your hospitality to the Litestar Pulse Owners Assoc. and your delicious dinner. With our palettes more than satisfied and as shadows lengthened we pulled away from the friendly hospitality and headed to our hotel home.
The 6AM start on Saturday (a piece of cake for those of us used to eastern daylight time) found us under sunny skies heading to the very active airport for the Fly In/Cruise In event of the day and that scrumptious breakfast. The Marion Cruise In/Fly In is in its 12th year as a band fundraiser. This, all volunteer, no entrance fee event hosts thousands. Its huge imagine serving 3,400 pancake breakfasts complete with sausage, juice and steaming coffee. Sends your taste buds into overtime and thats just waiting in the rapidly moving line. Official results of the vehicles registered were 275 aircraft, 350 vintage autos, 33 motorcycles AND 5 Pulses. Planes were taking off and landing constantly - you could sit and watch from the shady comfort of a large tent near the runway. All kinds of other vehicles are being expertly directed to parking spaces and all the while people with smiling faces are enjoying themselves looking at the vehicles, walking among them or admiring as they wait patiently in line for their breakfast.
The entire grounds is a no smoking facility. Amongst all of this activity in comes robot Dave driving his four wheeler. Hes chatting with people and his dad Ron Palmer is nearby but never revealing himself. The crowd laughed and joked with robot Dave and wanted to meet his dad who remained several paces behind incognito. Later Robot Daves friend the Professor (a dead ringer for Albert) appeared on his tricycle and was interviewed at the speakers stand at the same time as a famous TV weatherman. Again, dad Ron remained well concealed in the crowd, no one detecting his hidden mike in the coffee mug he was sipping.
The Pulses were parked in the center of all the activity thanks Ray. The crowd loved them and all the questions were asked again. It never ceases to amaze me as to how we find other Litestar/Pulse owners. As we sat around the Pulses a man form Indiana who had a beautiful car on display approached and said I own Pulse #313 and I didnt know about your group. Needless to say Bill Senter got his vital information and voila - another member!
During the show some of us slipped up to help Judy Johnson at their hanger to set up a marvelous lunch. Sun tents were erected, table and chairs put into place and the grill lit. All too soon 1PM arrived which signaled the end of the show. As we watched the crowds thin and the other vehicles leave we walked over to the Johnson hanger for a scrumptious lunch. Talking with everyone was a highlight of the day. Nothing can beat a sunny day, a successful event and lots of conversation with friends new and old about all types of vehicles.
Norm had to depart immediately after the lunch. We wished him a delightful fall and he was the first to promise to attend the fifth annual rally in 2003.
As Chuck and I drove back through Marion to return to the hotel we were joined by another Pulse. Jeremy Dawes had just driven into town to join us. Again one after another we gathered in the preverbal parking lot to compare machines, give helpful hints and answer questions from on lookers who were attracted to the "flying machines". We moved over to the poolside gazebo where a pleasant afternoon followed.
That evening dinner was held at the Ice House Restaurant. We talked, bragged and generally had a great time. Since the restaurant was very busy we adjourned to the hotel to continue our meeting, hand out awards (thank you Tom) and plan for next year. Marion, Indiana Labor Day weekend in 2003 was selected for our next official gathering. The goal is to have 15-20 Litestar Pulses present!
The third day began with breakfast at the hotel and saying goodbye to the biplane pilot (great aerial pictures Luke) and the Berlin airlift plane crew. We adjourned to the patio and talked machines until lunch. We meet Ray and Judy our hosts in Marion at the Sirloin Stockade. They were so pleased to have us coming back next year.
An unusual photo session followed at the airport. The Pulses were tucked in tightly around the Johnsons gleaming yellow 1947 Aeronca Chief along with his 1956 Ford F-100 pickup for a great picture. The Johnsons became our tour guides for that afternoons all Pulse road tour to James Deans boyhood home in Fairmont, Indiana. There we met his closest relative first cousin Marcus Winslow at the homestead where James was raised by his aunt and uncle. The lovely farmstead has been meticulously kept by Marcus and his family.
We then toured on to visit the famous actors gravesite and to one of his life sized bronze busts displayed in a local city park. In the meantime, Marcus had the Fairmont Museum opened and gave us a personal tour. What a unique experience of listening to details of the famous actors life from the person with whom he shared it. Before leaving Fairmont, Marcus took us to view his personal car collection including the actual 1950 red Ford sedan, which James drove to high school in Fairmont along with more of James Deans personal history.
We capped off the day with a great meal at the Ice House. Then back to the parking lot at the hotel where, even at night, we attracted a crowd of curious onlookers. With much comradely rides were given. Thank you, Jeremy.
One of the highlights of the entire event was the wonderful hospitality of the people of Marion especially Ray and Judy Johnson our hosts who worked tirelessly to make this great event possible. A special thank you for the weekend Judy and Ray Johnson you made our stay in Marion a weekend to long remember with great fondness and a hunger for more of that Indiana hospitality. Everyone felt a special attachment to the community after our rally.
In addition to keeping up to date with the Pulse websites (thank you Tom and Steve) check out the Marion website: www.FlyIn/CruiseIn.com
Mark your calendars to join everyone on August 29-31, 2003 in Marion, Indiana for the Fifth Litestar Pulse Rally.
Thank you to all those who participated in the fourth Litestar Pulse Rally.
Linda & Chuck Furgason
---
Litestar Pulse 2002 Convention Attendees
WITH VEHICLES:
Jeremy Dawes
Pulse #218
Chuck & Linda Furgason
Pulse # 328 & 324
David Ohmstede
Pulse #152
Norm Ousley
Pulse #153
Ron Palmer
Pulse #154
WITHOUT VEHICLES:
Michael & son Jonathan Boyson
Litestar Scranton #001
Tom Caprioli
tomcap@mwt.net
Owosso Litestar #10
Luke Chaplin
luke@patton.com
Litestar Stranton #002 and Pulse #106
Chuck & Sylvia Knight
Pulse #262
William & Cindy Senter
Pulse #347

---