Litestar Pulse
2003 5th National Convention
Your Hosts....Chuck & Linda Furgason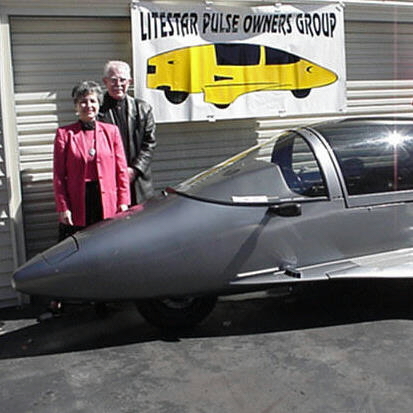 Thanks to Chuck and Linda for supplying
the beautiful 2003 Dash Plaques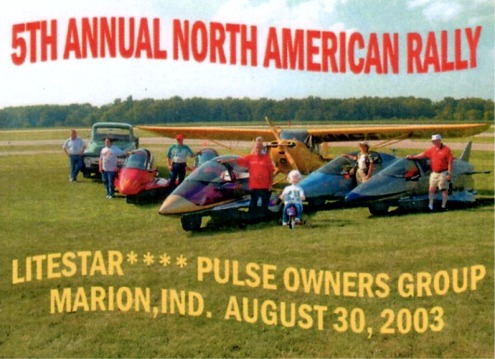 Great overview picture of a previous rally by Luke Chaplin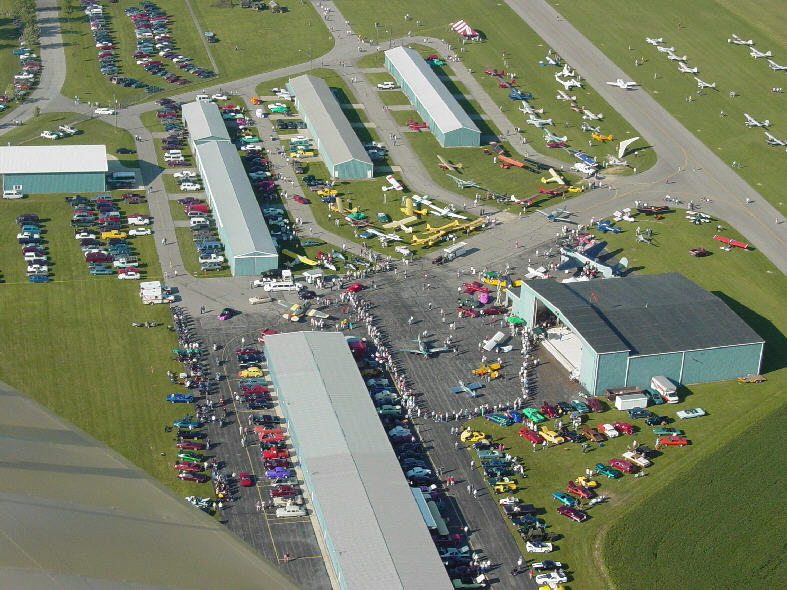 ---
This years event was great. The Litestar/Pulse Club grew in members. Additional Pulses were found..... and we even hooked a few more people onto this amazing vehicle.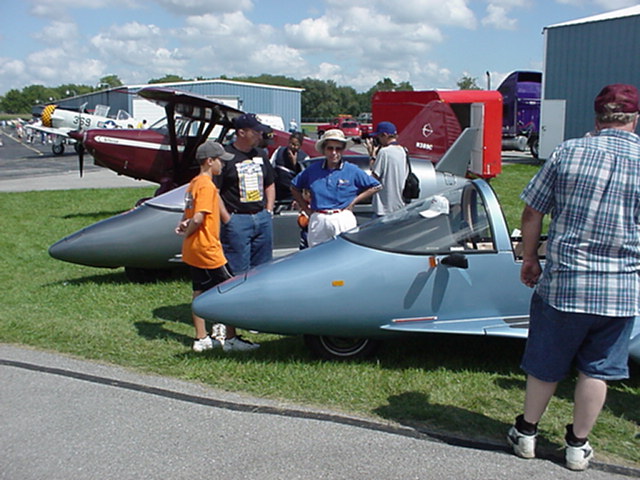 Linda Furgason
---
This event featured antique, classic, homebuilt and warbird aircraft as well as vintage cars, trucks, motorcycles, and tractors. Copter and airplane rides too! Along with all the pancakes one could eat.
Below are a few of the attendees of the 2003 Rally:
Tom Caprioli, Bill Senter, Chuck and Linda Furgason, Juanita and Bill Kelley and Steve Schmidt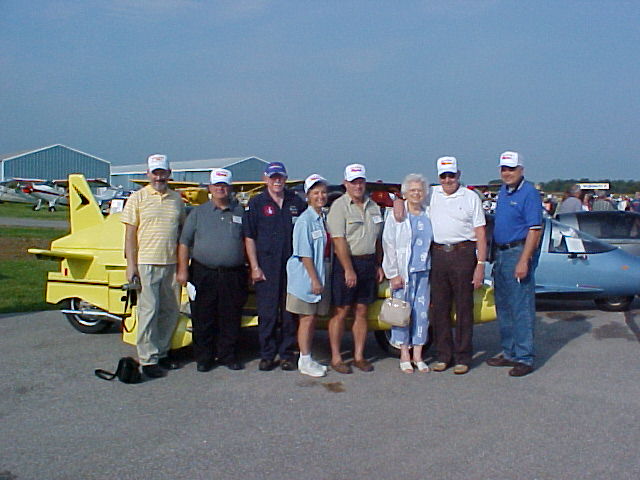 "I came to the Rally to see Pulses and left wanting to see the People again next year.
Thanks for everything".....Steve Shafer, Florida

Only three Pulses were in attendance. The Furgason's brought both of theirs and Bill Senter brought his and promptly sold it to Ray and Judy Johnson. Bill Kelley of Goreville, IL introduced himself and related that he owned three Pulses and previously owned a red Pulse which sadly burned.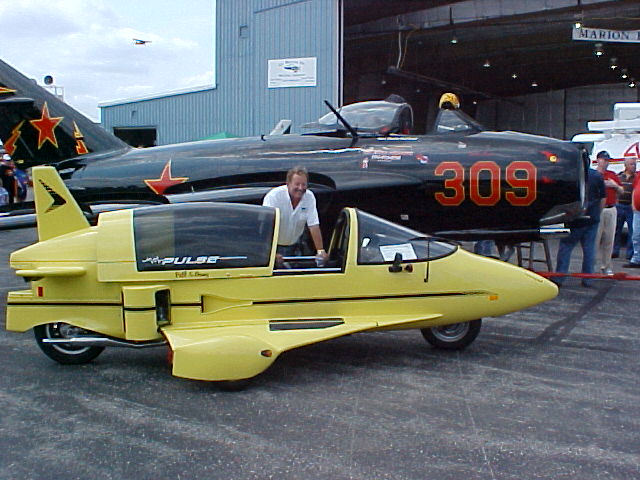 Above...New Club Member Ray Johnson with Pulse #347 which he and wife Judy purchased from Bill Senter. Also in the pic is William Ward's Russian built MiG-17F.

Ray and Judy Johnson, Fly-In organizers, really knocked themselves out to make sure everyone had a great time at the event. A special thanks go out to this amazing couple.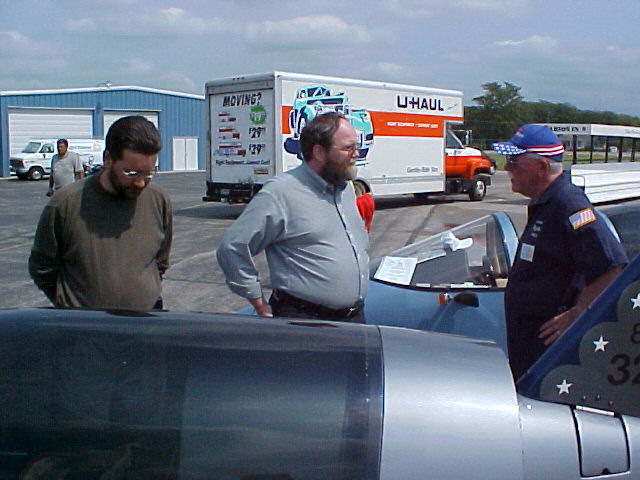 Above...Mitch Schenck, Leo Doyle and Chuck Furgason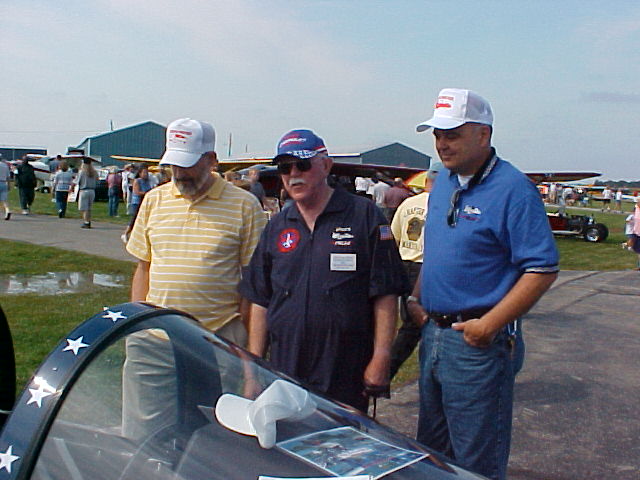 Above...Tom Caprioli, Chuck Furgason and Steve Schmidt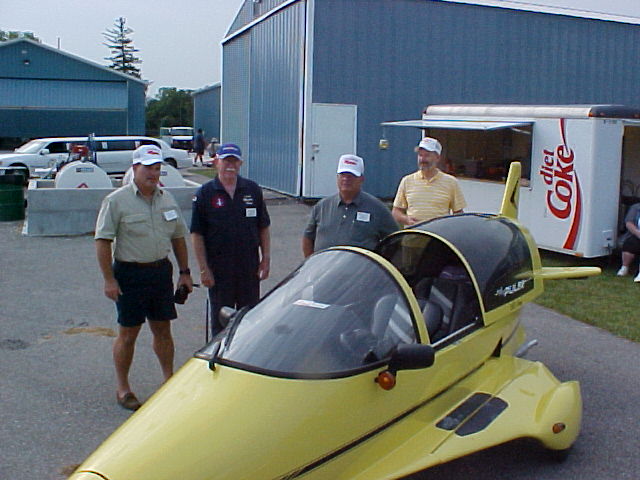 Above...Steve Shafer, Chuck Furgason, Bill Senter and Tom Caprioli. Poor Bill got the Hard Luck Award because he sold his 'baby' to the Johnson's.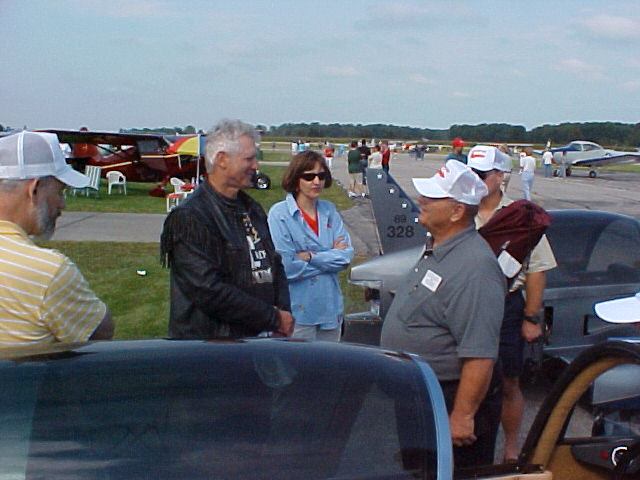 Above...Tom Caprioli, Chuck Knight, Linda Schmidt, Bill Senter and Steve Shafer. Chuck Knight, Canadian member, had riden his Anniversary 2003 Harley to the big 'Ride Home' event at Milwaukee, Wisconsin, only to find out that he was one of a couple of million bikers. He said he quickly left and headed for Marion where he would know someone.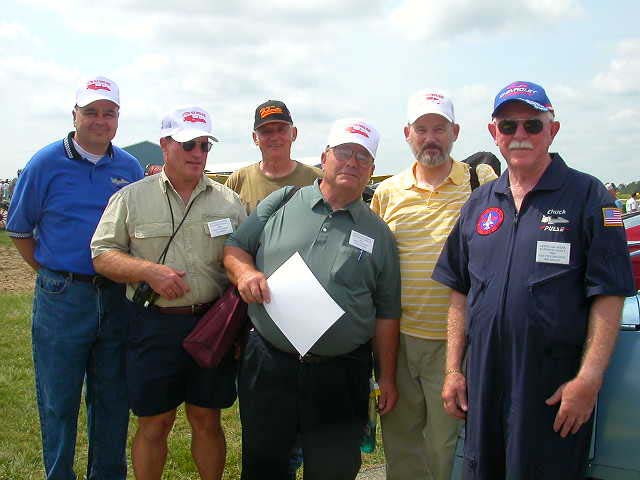 On Sunday evening the attendees were the guests of Marcus Winslow who is the cousin of James Dean. Marcus guided us through the James Dean Museum and then to view his personal car museum, which is rarely open to the public. We also stopped at Dean's gravesite.

Marcus is a class act and presents James Dean's life and times in a fantastic way. If you ever get to Fairmont, Indiana, don't miss this museum.
---
---
---