2005 National
Litestar Pulse Convention
---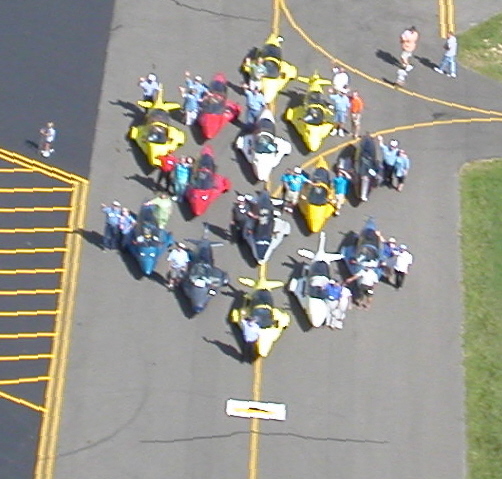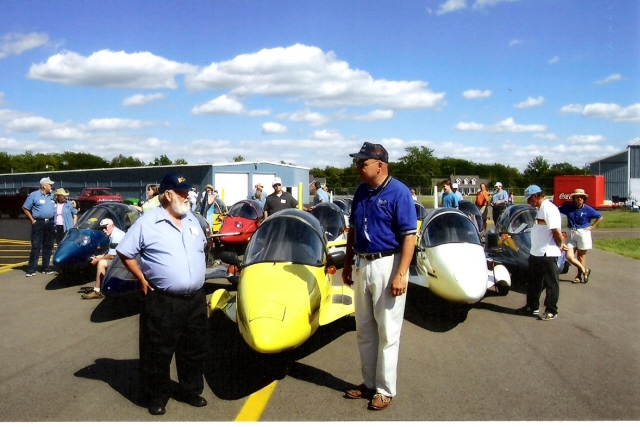 Above, Jim Bede, the 'father of the autocycle' and Steve Schmidt....Jim was surprised
at all the interest in his futuristic design, even 20 years later.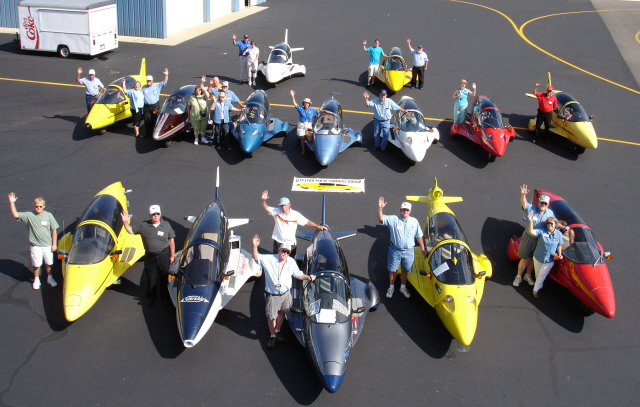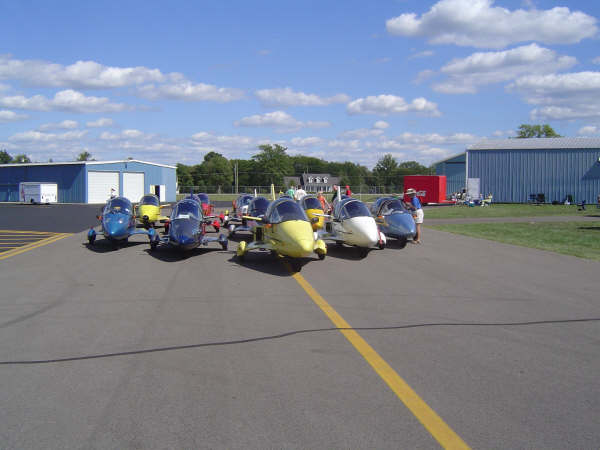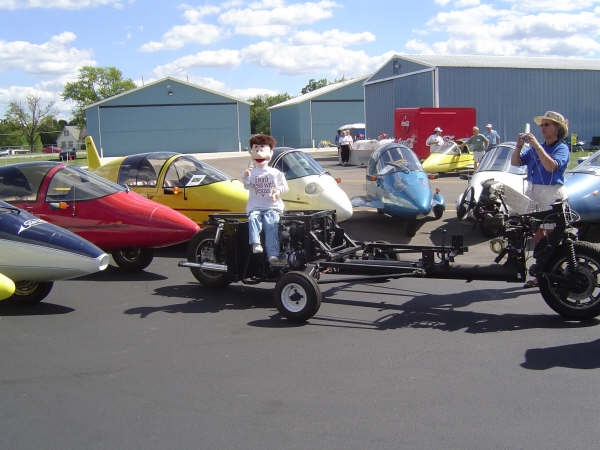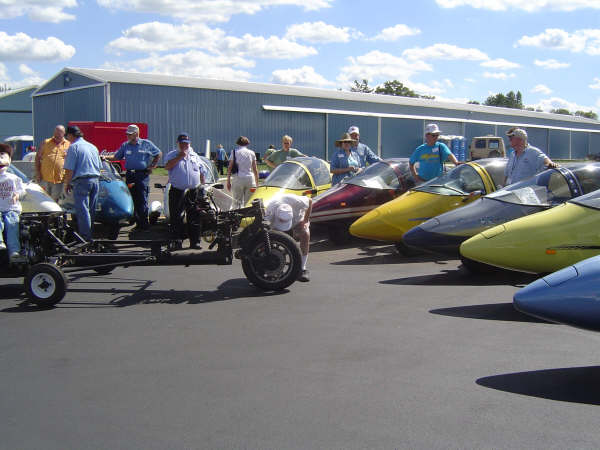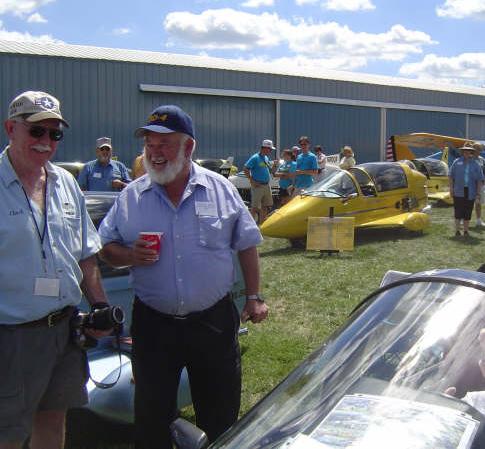 Below, Jim Bede liked Steve Schmidt's pitot tube and BD airspeed indicator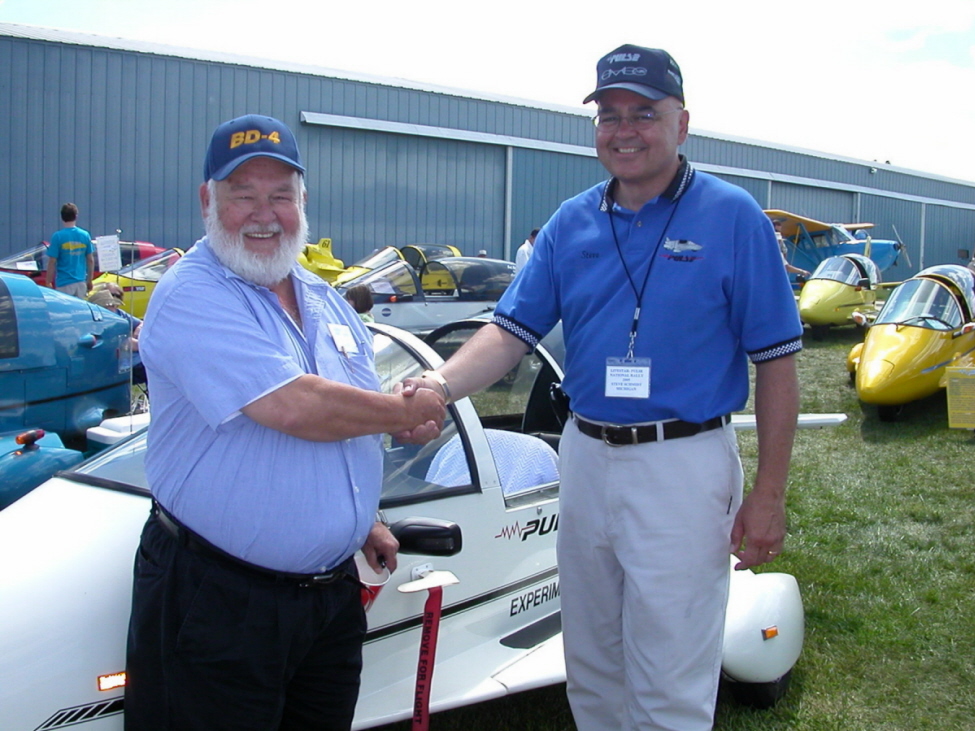 Below, Doug Walsh, BD-200 builder, test drives a 1986 Pulse at the rally.
"......the Gold Wing 1100cc engine is a great improvement....lots of power."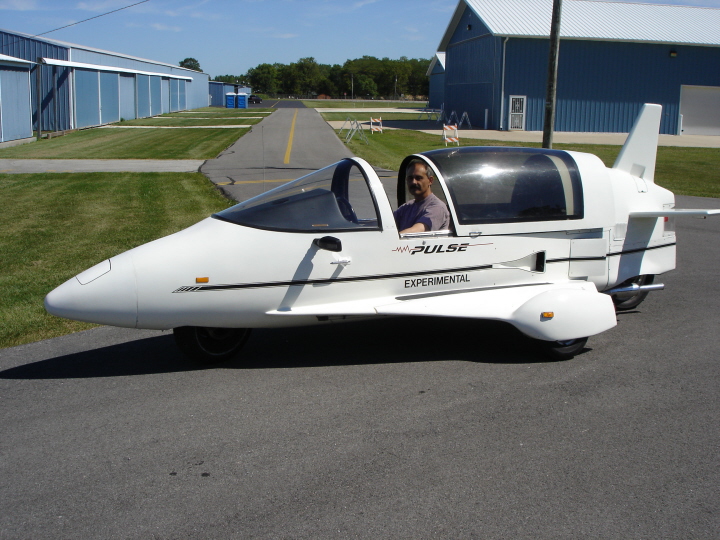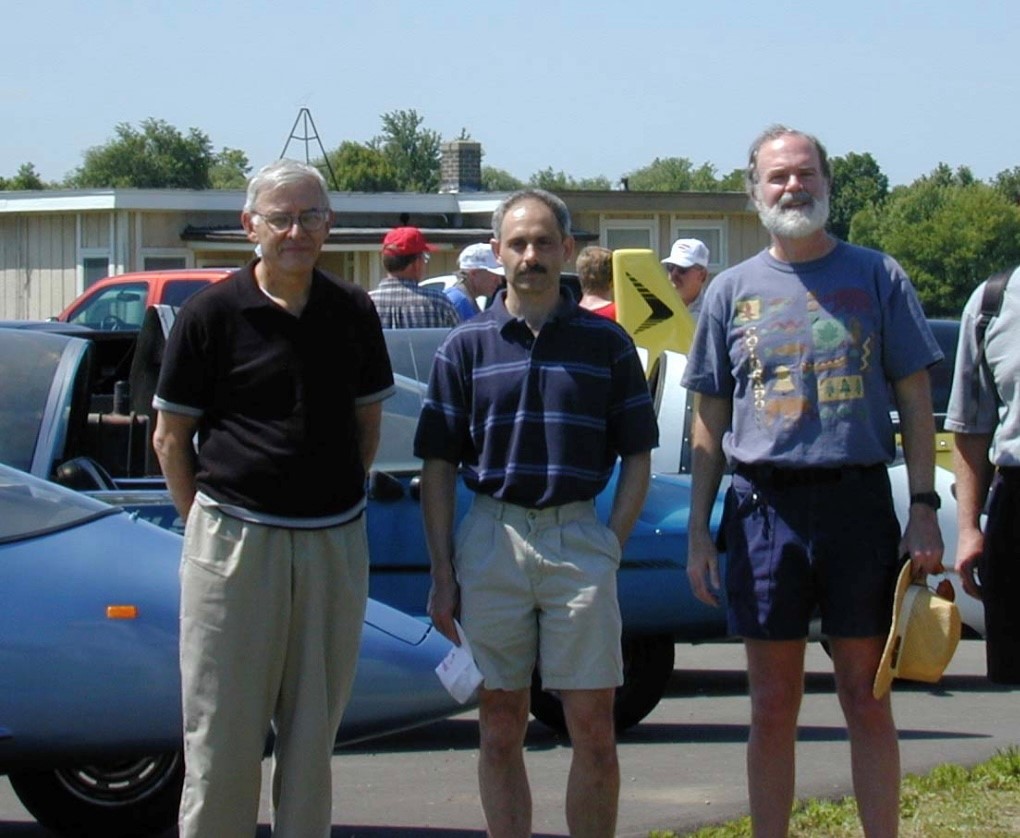 Bill Molzon on the left, Doug Walsh - center, Bruce Emmons on the right. It looks like Dick Kleber just out of frame.
All instrumental in the development of the autocycle.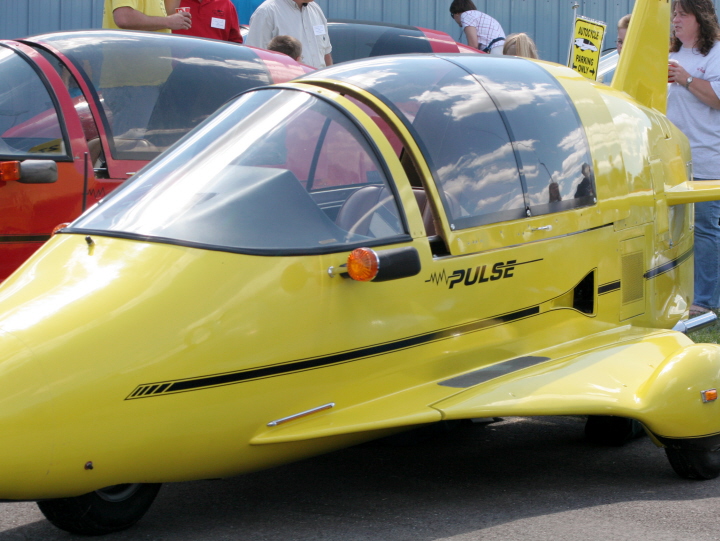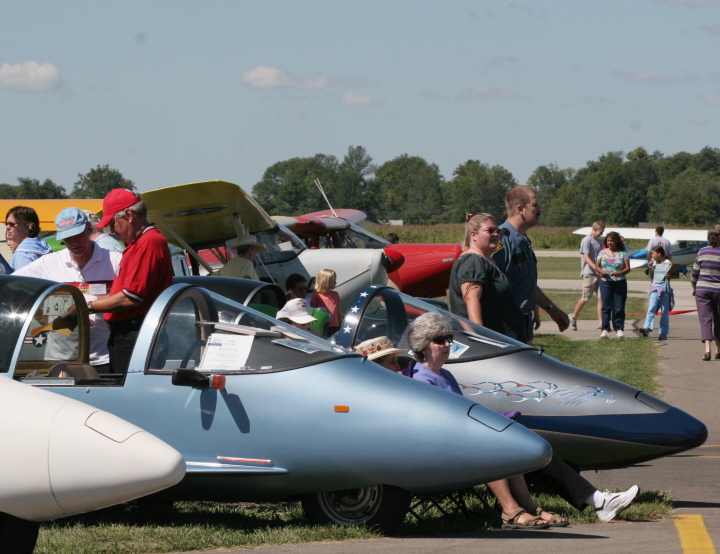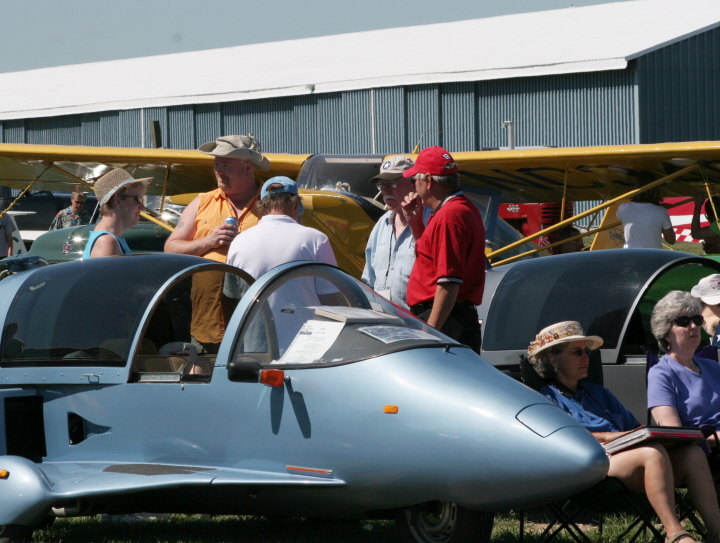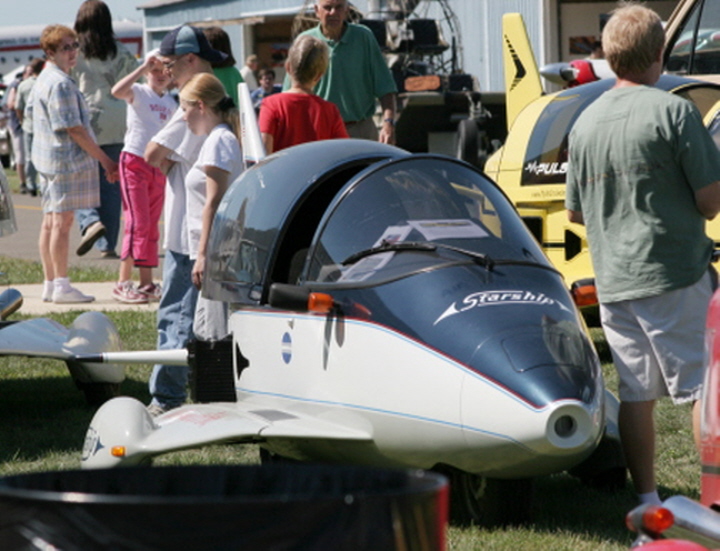 Below, Jim Bede talks with Mike Melville and his wife.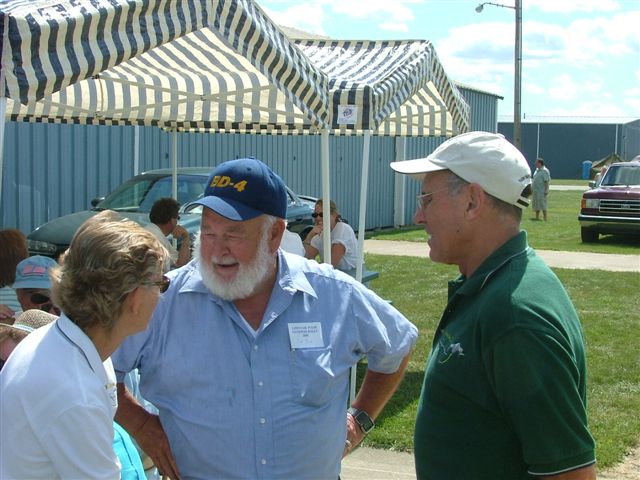 ---
Thanks to:
Judy & Ray Johnson for all your efforts, food, hospitality, etc.
Linda & Chuck Furgason for the dash plaques and Rally Booklet to remember the rally.
Ken Weger for digging up even more history on the Litestar and Pulse. And for making the contact - invitation to Jim Bede, who attended his first rally. Jim plans to return next year and meet old and new club members and talk AUTOCYCLES.
15 Pulse owners for bringing their prized possessions.
Phil, Sandy and Jeremy Dawes for bringing their restored Pulse frame-chassis and showing us just what is in under all that fiberglass.
Members Craig & Sabrina Heavenridge for giving us a tour of their home, musuem and providing a great lunch at their Tin Lizzy Restuarant.
Arndt E. Mueller, MD for providing a meal and music.
T-6 Club for providing a meal.
Barry and Kim Soultz for giving us a tour of their auto restoration shop (www.hotrodlincoln.com) and the great homemade ice cream.
Marcus Winslow for giving us a personal tour of his James Dean Museum and recounting his first hand knowledge of his cousin, James Dean.
Ed Butcher for answering a million questions on repair and maintenance and history of the Owosso Motor Car Co.
There are so many other great people who either provided food, transportation or assistance......several who we don't even realize played a great part in making such a memorable weekend for all of us.
We also met NASA astronaut Jack Lowsma and heard a fantasic report from Mike Melville who piloted the first privately funded mission into space in Burt Rutan's Space Ship One.
How about Dave & son Tim Bauer's restored Pulse with digital dash. And Dave's Pulse TAXI WAY test drive.
And have you ever seen 15 Pulses in formation on the tarmac?
Thanks to Jan & Leo Doyle for bringing their restored Ex-Government Spy Van. Leo may have a new vocation.
---
Previous Conventions
---
---