Special thanks to Ray & Judy, Linda & Chuck, Dave & Janelle, Fred Showalter, Leo & Jan Doyle, Craig Heavenridge and all the Pulse owners who brought their machines.
Chuck Furgason - all smiles - at a lunch stop during Sunday's road tour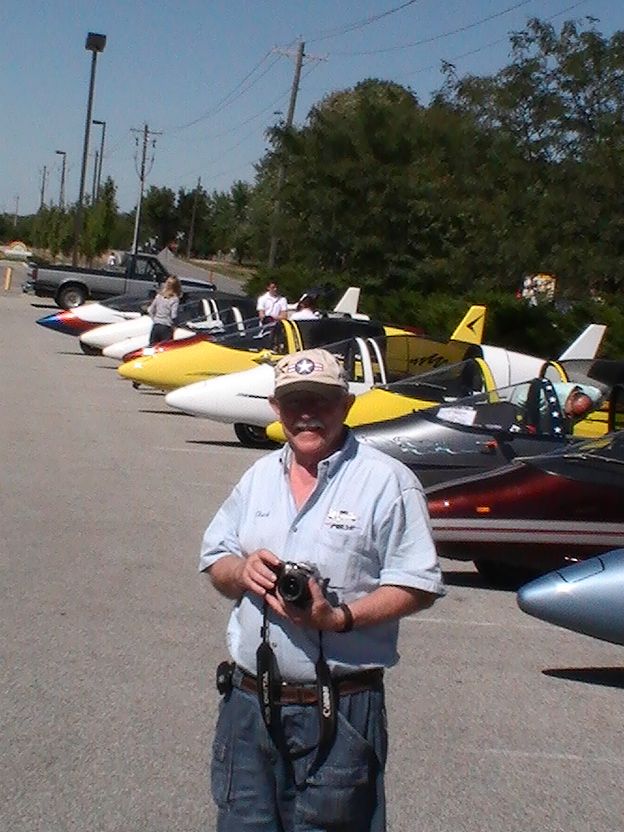 Here is a typical Sunday 'Drivers Meeting' at a Pulse Rally:
---
We were served a tasty meal Friday evening at the airport thanks to Arndt Mueller.
Saturday.... David & Pat Vaughn from Owosso, Michigan shared how they started Owosso Motor Car Company. Dave's presentation was very informative and he was deluged with questions. He said the weekend really jogged his memory.
David, repeatedly mentioned all the talent that he assembled at OMCC, including Ed & Sue Butcher, Jim Fish, and many others who are really the unsung heros of the Pulse project.
Below, David Vaughn left, in 1985, looks over a new autocycle under construction at Owosso Motor Car Company.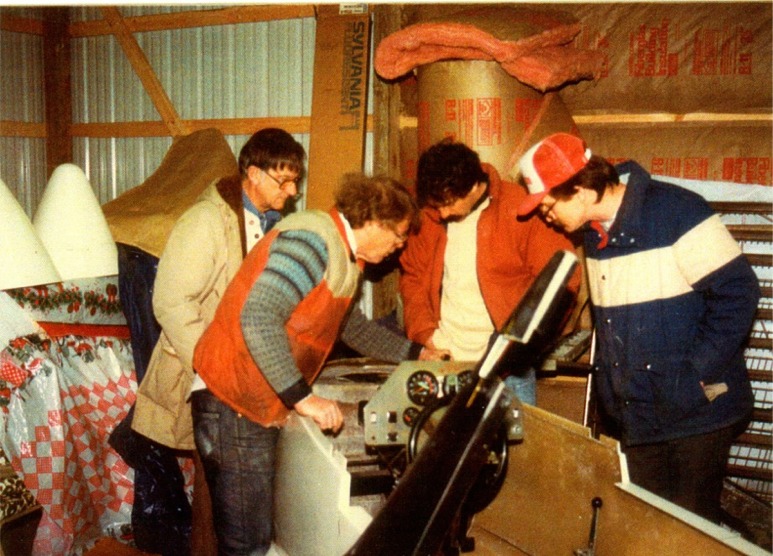 Leo & Jan Doyle and Fred Showalter took the Pulse group on a road trip to Noblesville, Indiana. We visited the quaint old town, the railroad museum and Leo & Jan's micro car collection and shop. A wonderful day and beautiful weather for the ride.

Pulses were brought from Nebraska, Georgia, Maryland, Michigan, Indiana, Illinois, Ohio and New Jersey to name a few. Ralph Amos brought three.

The Rally booklet and dash plaque were put together by Linda and Chuck, Steve and Linda and Dave & Janelle. They turned out to be very informative and colorful.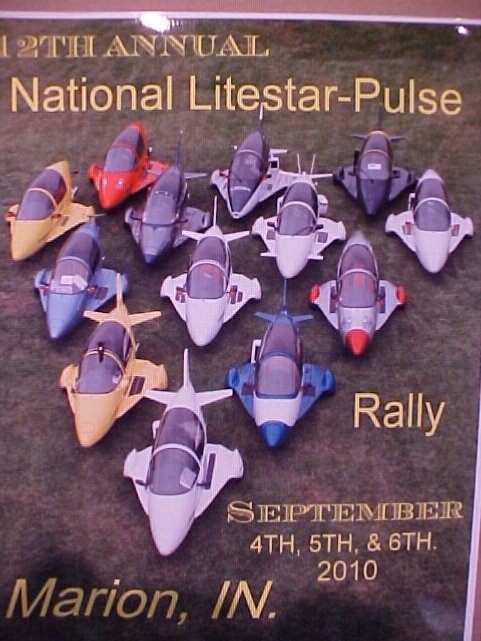 A TV film crew followed us all weekend. They interviewed several Pulse owners, David Vaughn and Leo Doyle. When the program is aired, we will let everyone know how to get copies. Thanks to Leo for making the arrangements.
Below, David Vaughn talking about all the challenges of manufacturing a vehicle.
"It is amazing that we accomplished so much in only a short time with so little funding."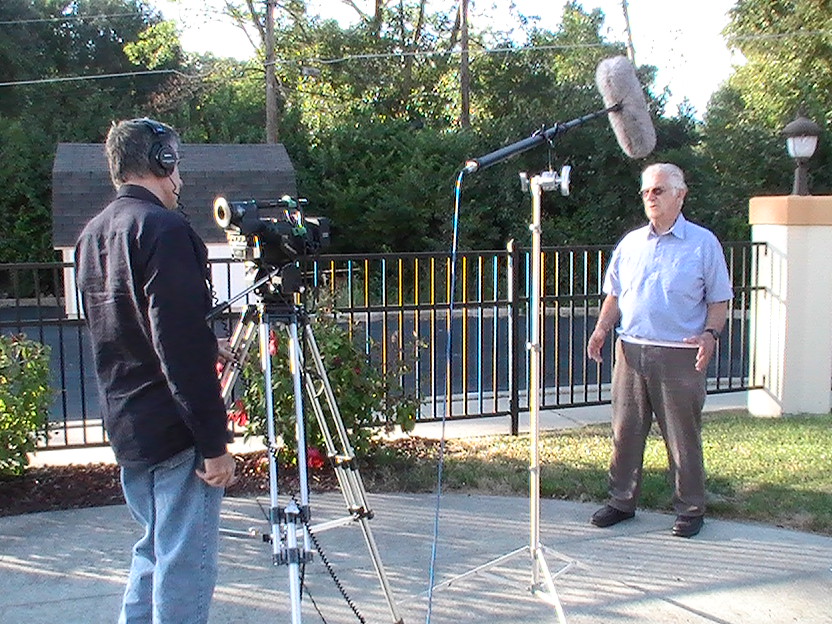 Below, Steve Schmidt with his Pulse #185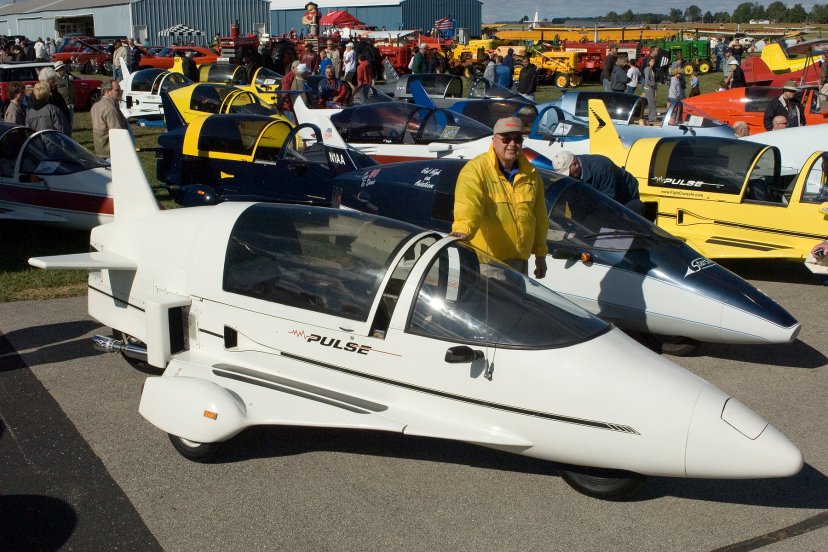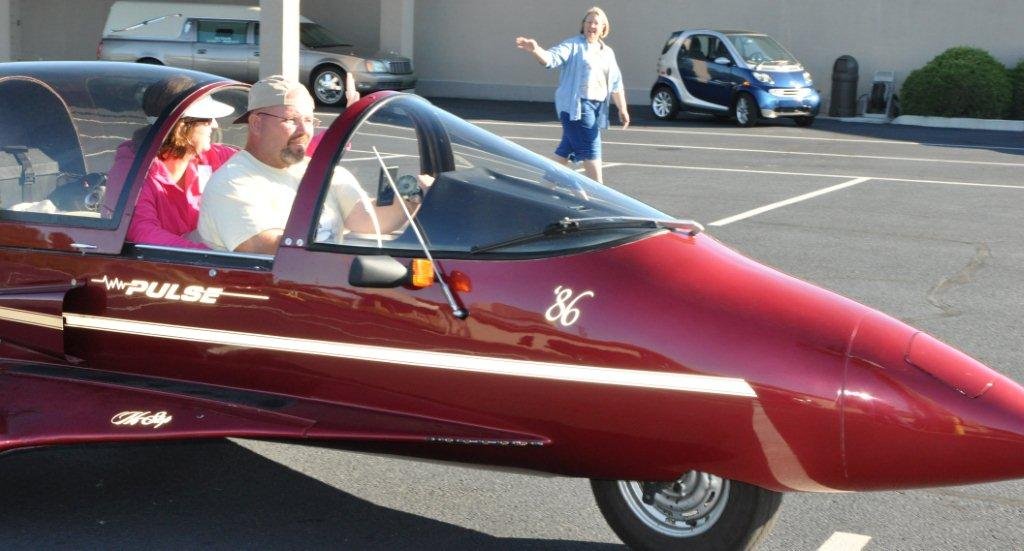 Above, Bryan & Daleen with Pulse #187, which Brian completely restored.
Bryan is currently restoring his Pulse #123.
---
Pulse Rally Attendees
With Vehicles
Leo & Jan Doyle....................Indianapolis, IN
Chuck Furgason.........Jackson, Michigan
Linda Furgason.........Jackson, Michigan
Ray & Judy Johnson................Marion, Indiana
Steve & Linda Schmidt.............Owosso, Michigan
Phil & Sandy Dawes..............Evansville, IN
Fred & Judy Showalter.............Noblesville, Indiana
Ken & Sylvia Weger.................Crystal Lake, IL
Dave & Margie Derer................Mendota, IL
Ralph Amos..........3 Pulses........Alexandria, Indiana
Gary Bussis.....................Jenison, Michigan
Chad Wells......................New Jersey
Dan & Cindy Acker...............Powder Springs, Georgia
Jim & Chelsea Finch...............Howell, Michigan
Mike Lechlitner..................Pasadena, MD
Don & Jeanette Sucha...............Clarkson, Nebraska
Craig Heavenridge.............Hartford City, Indiana
Nelson & Annette Hack..............Mount Gilead, Ohio

Without vehicles
Bryan Treen & Daleen Kleiner.............Ohio
Greg Hoffman......................Brighton, MI
Niles Hack...........................Brighton, MI
Phil and Royce Martin..............Lakeview Ohio
Don Willi......................Louisville, KY
Kathy & Leroy Cook...............Marysville, Ohio
Arthur McKittrick....................Australia
Jeff Wells......................New Jersey
Dave & Janelle Ohmstede.........Newton, Iowa
Jeremy Dawes............Evansville, Indiana
Lorain & Marilyn Reese..................Austinburg, Ohio
Sam & Camellia Placentile..............Toronto, Canada

---
---