2012 International
Litestar & Pulse Convention
14th Annual
Labor Day Weekend
Marion, Indiana
---
---
by Steve Schmidt
This year's rally will go down in the history books as the 'Rainy Rally' and it the first 'International Rally'. Sam & Camellia Placentile of Toronto, Canada brought their Pulse.
Hurricane Isaac pushing north from the Gulf coast of New Orleans made for a wet weekend.
Saturday morning and early afternoon was overcast and dry for the Fly/In Cruise/In, however there was low turnout of aircraft, antique cars and people.
Judy Johnson's Pulse #347 with the F4U Corsair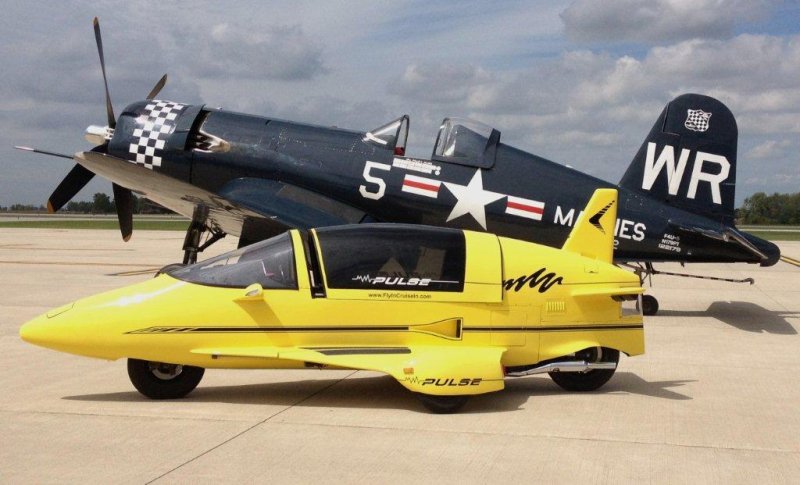 Dash Plaque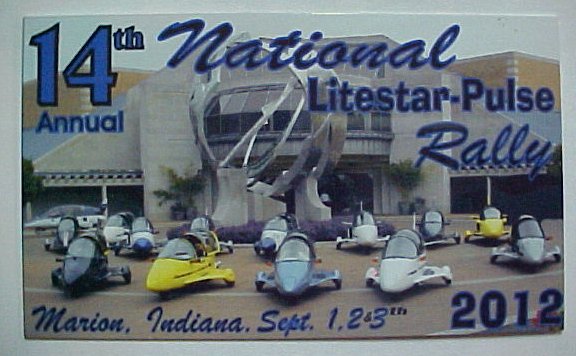 Friday evening, Pulses owners gathered at Arndt Mueller's hangar at the Marion Airport for a great tenderloin dinner bar-b-que. Arndt's generosity is really appreciated.

21 Pulses attended the rally this year on Saturday morning. After the rally, Judy and Ray Johnson treated everyone to lunch at their hangar. A real classy couple who know how to treat their friends.

Rally Booklet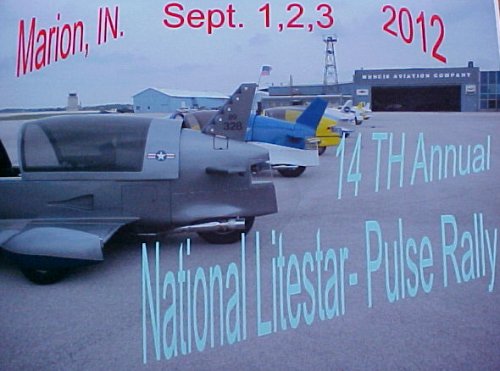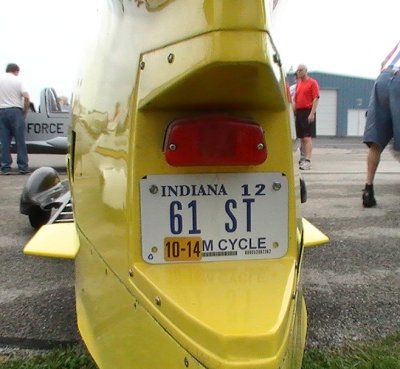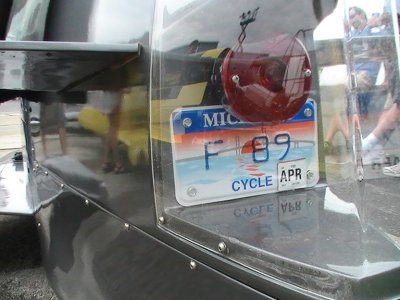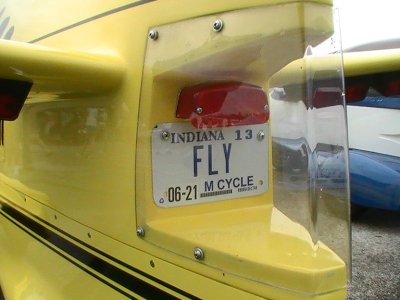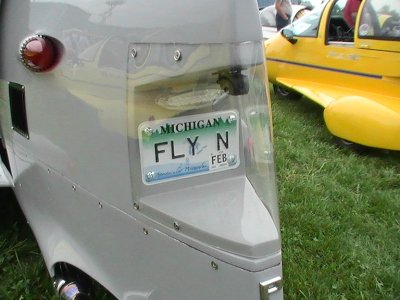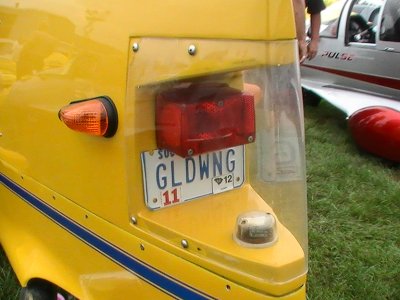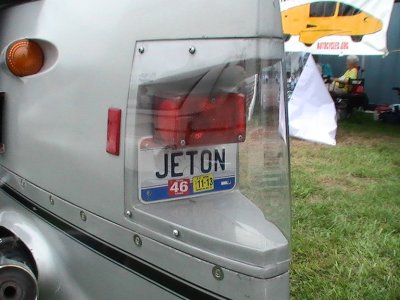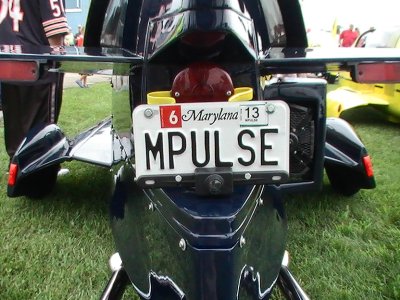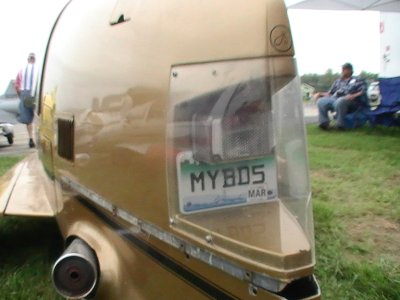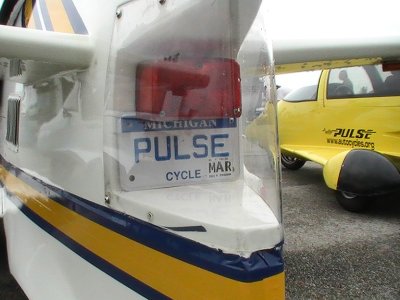 Saturday evening we enjoyed each others company over dinner which was catered at the Comfort Suites Hotel by Vicki Fisher of the Bella Avanti restaurant.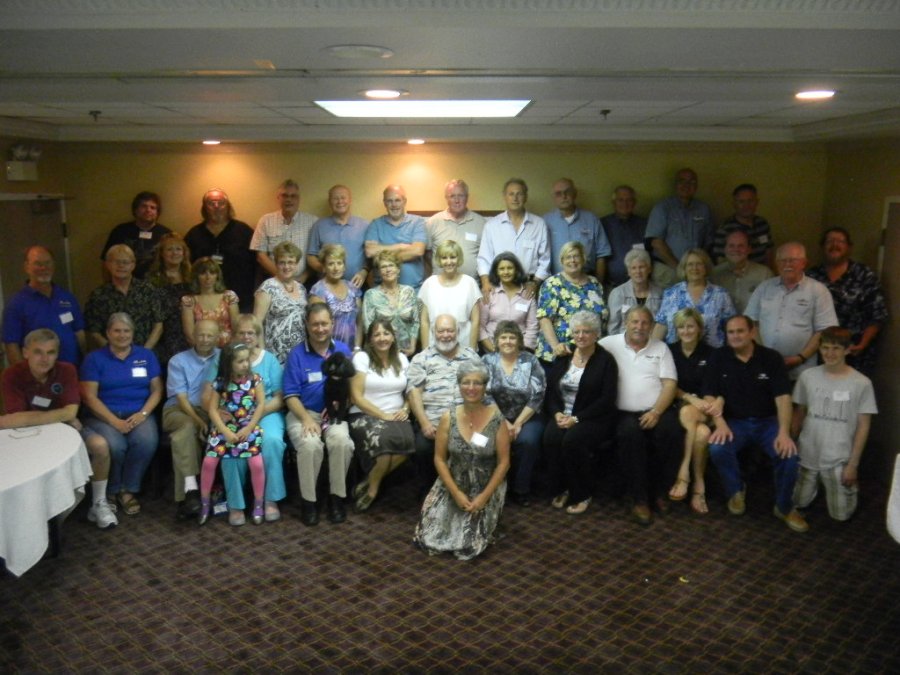 The Sunday road trip began at 9:30 am in the parking lot next to the hotel. Thanks to Mike Lechlitner for arranging the tour and Chuck Furgason for leading the way through the Indiana countryside. The group traveled north from Marion and then west to Ouabache State Park near Bluffton, Indiana to see bison and get a Pulse group photo taken from a fire tower.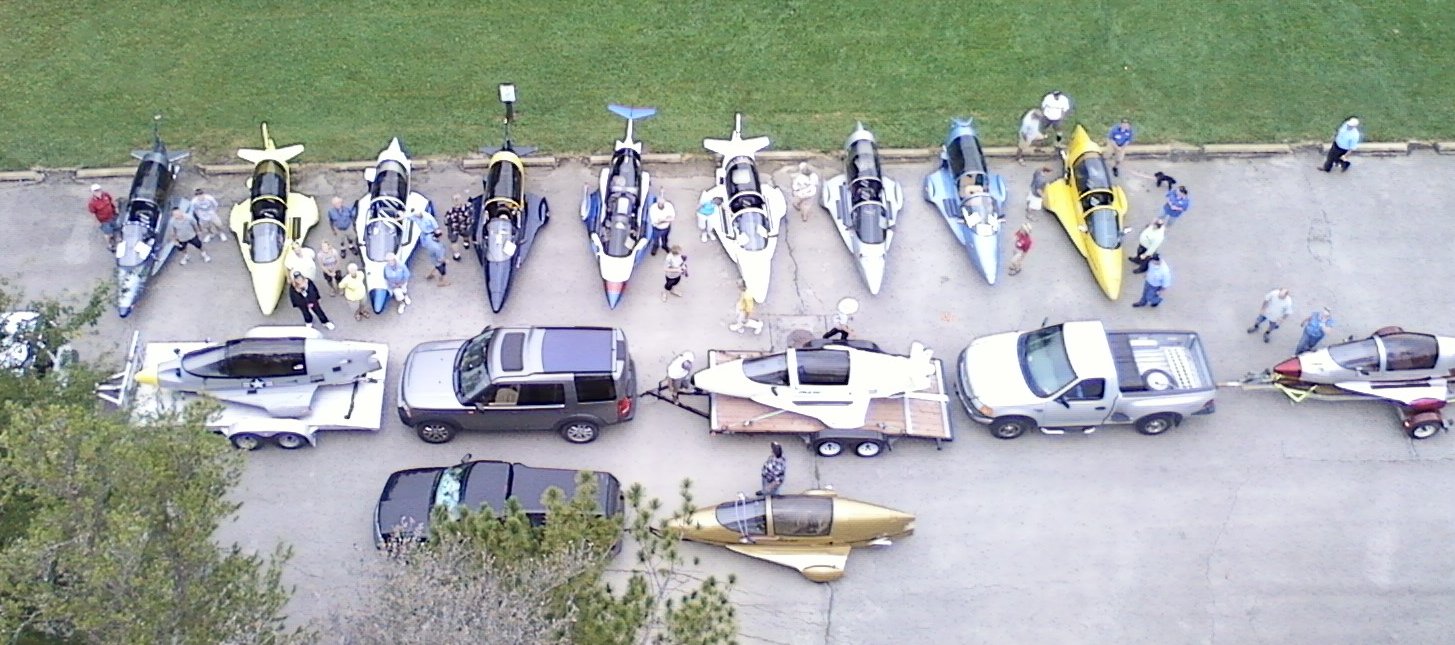 We then proceeded south to Montpelier, Indiana to a festival complete with car show in which Ralph Amos won a trophy, but because of the threat of rain, the group left early and Ralph was not presented with the prize.

Sunday evening we again met at the hotel for Convention dinner catered by Vicki Fisher. Many funny stories were told by Pulse owners of their day including Phil Martin running out of gas and Dave Bauer breaking a new clutch cable and had to be tow-barred back to the hotel.

Doug Minert with son Brendan and Pulse #108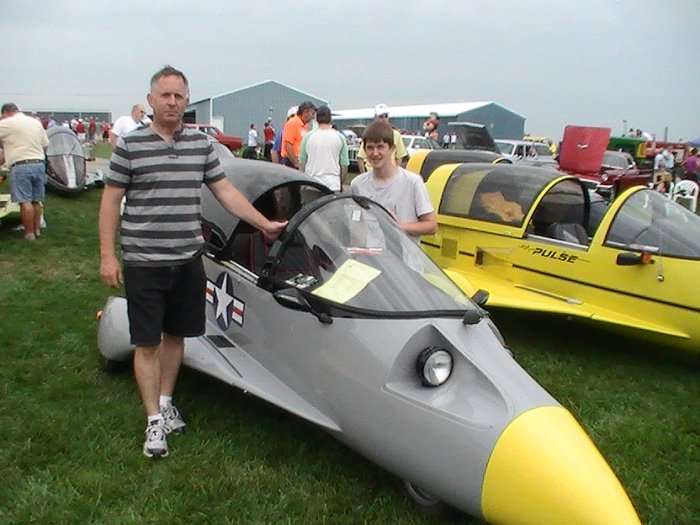 Phil Martin working on Dave Bauer's broken Pulse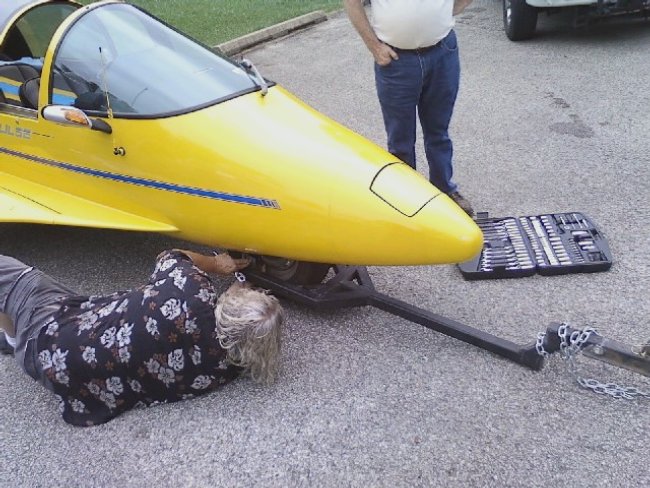 Royce Ann & Phil Martin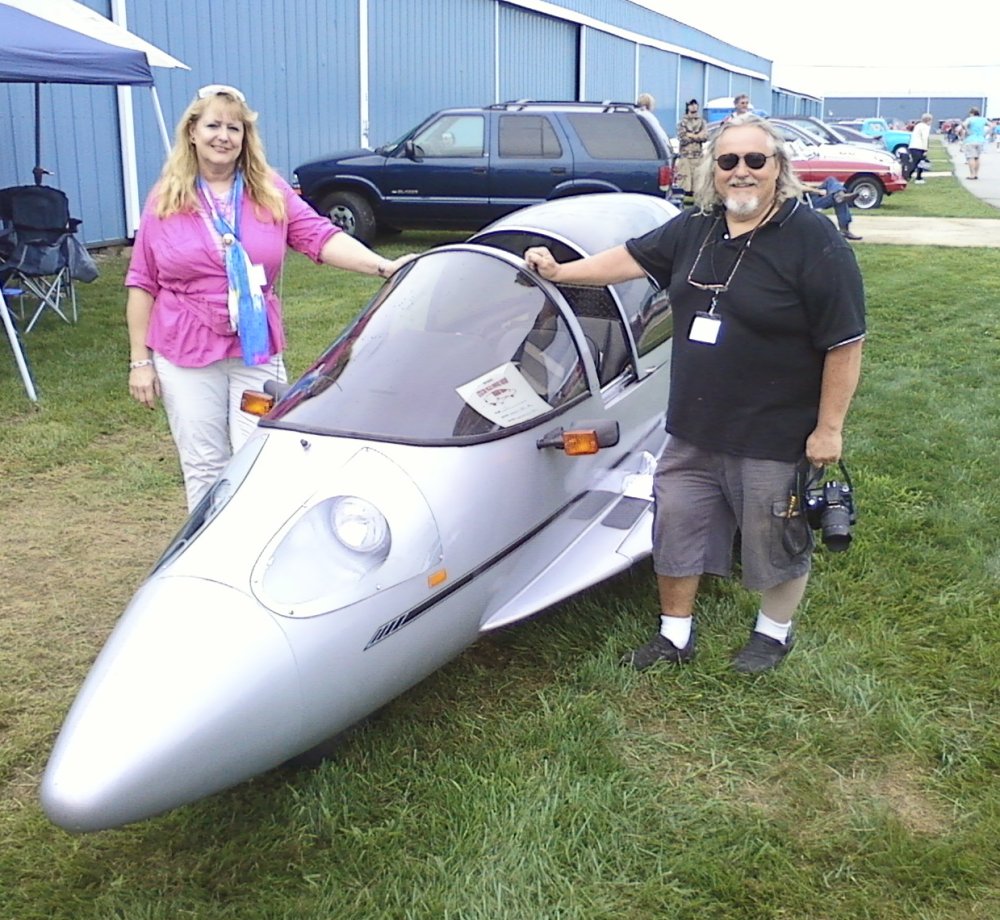 Dave & Angie Bauer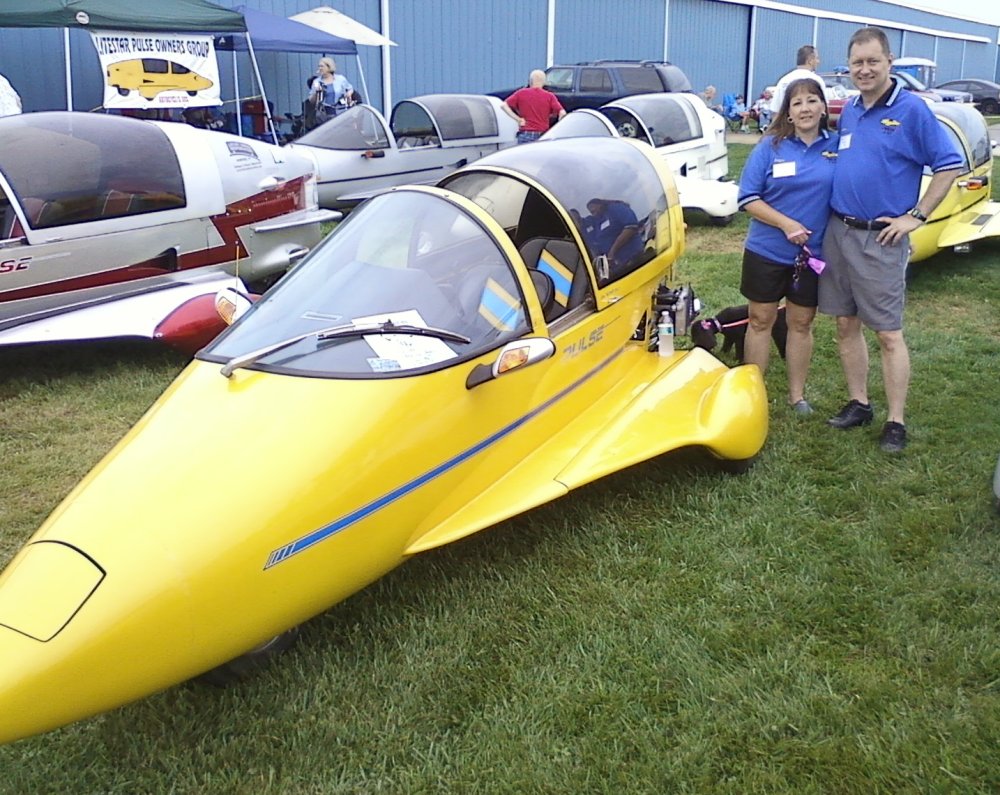 Linda & Janelle --- Rally Hosts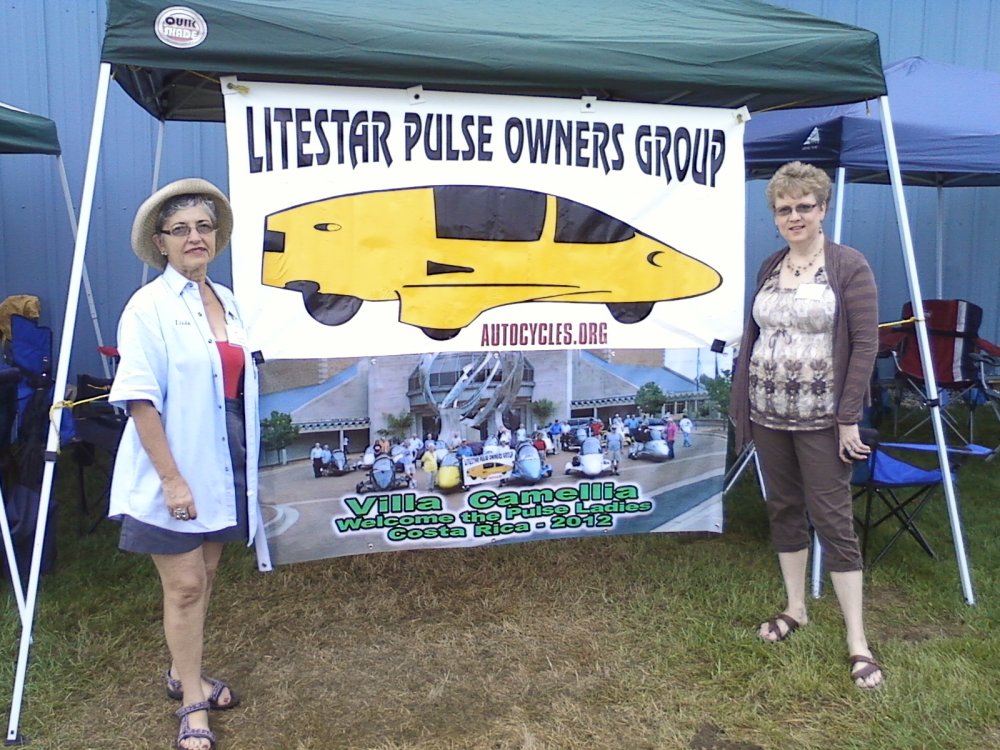 Janelle & Dave Ohmstede and Chuck & Linda Furgason did an excellent job of hosting the Rally again this year. Linda explained that they wished to retire from their duties as Convention host. Linda and Chuck have organized the get together every year since the 2001 Owosso, Michigan rally. Pulse owners say a big THANK-YOU for all your hard work and planning of each rally, the cool rally booklets, dash plaques, leading the Sunday tour and running the convention awards dinner. You're efforts have made great memories for all of us.

New convention organizers, Dan & Cindy Acker, Leo & Jan Doyle and Phil & Royce Ann Martin are planning your 2013 Convention & Rally. This is a monumental task.....please thank these folks who have volunteered to make more memorable rallies in our future.

Monday morning owners gathered at the Comfort Suites coffee shop for final goodbyes.

Mike Grindle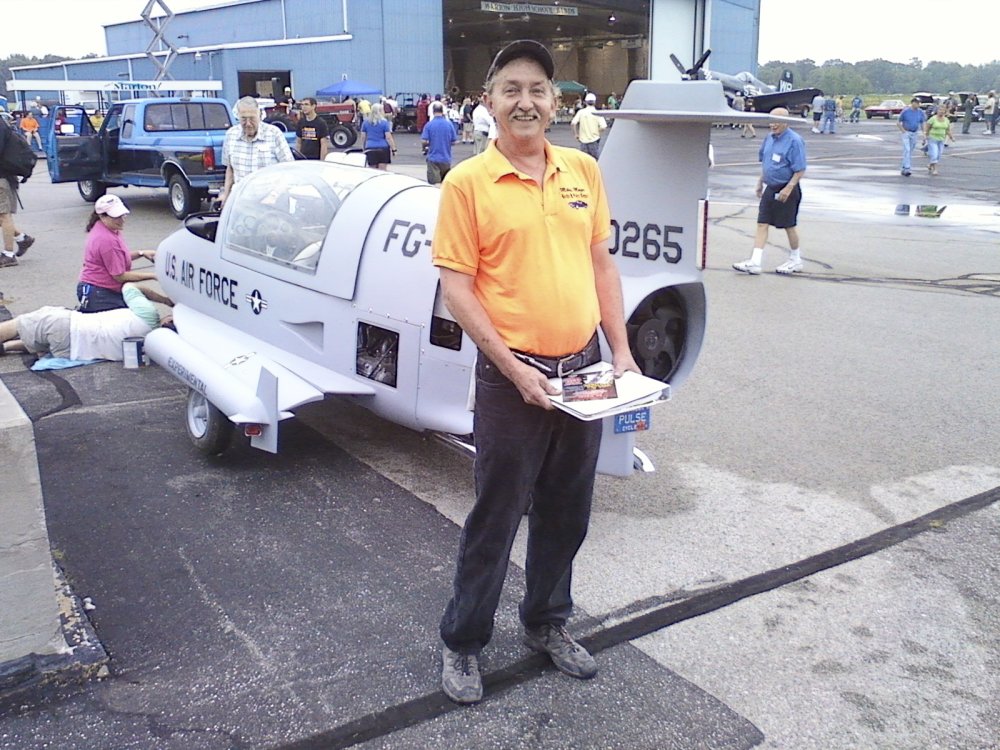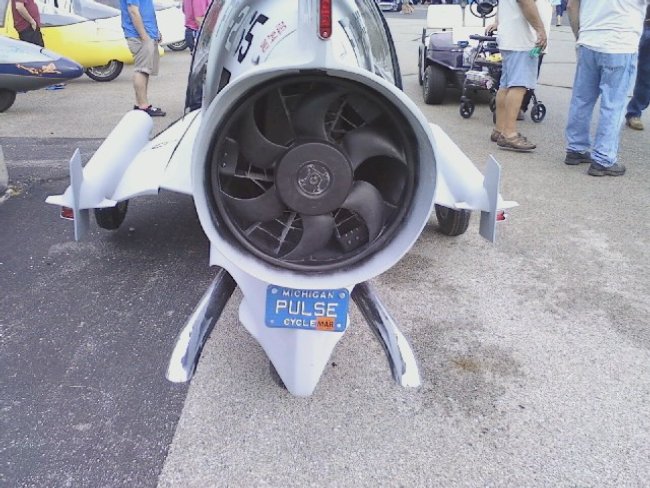 Fred Showalter's new Honda 1500cc engine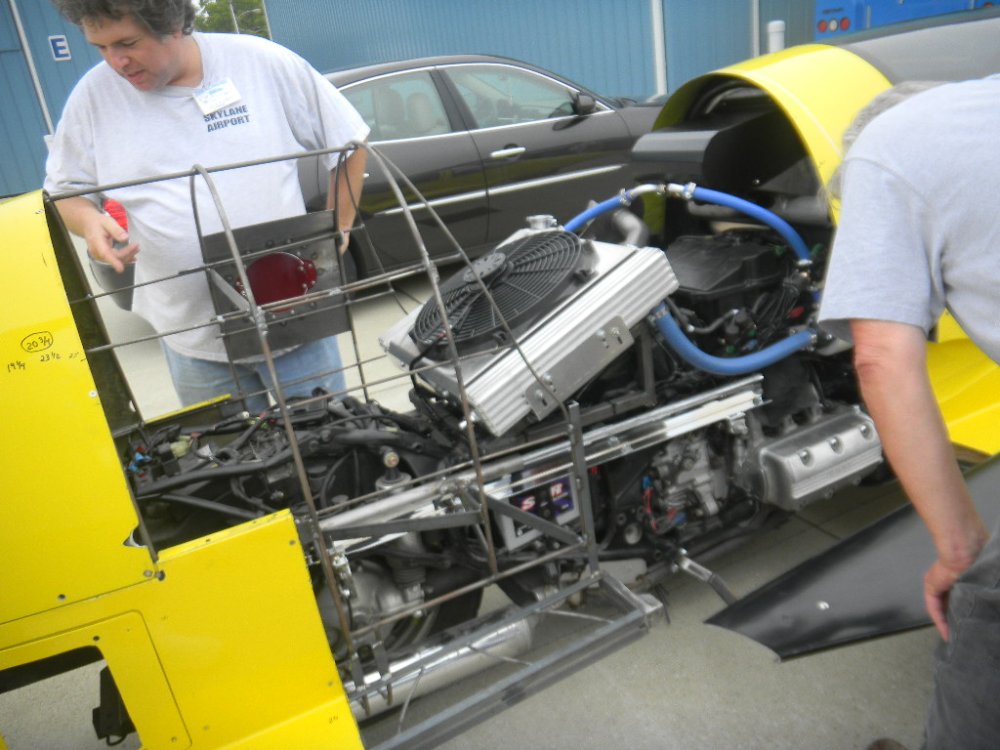 Chuck Furgason Nose Art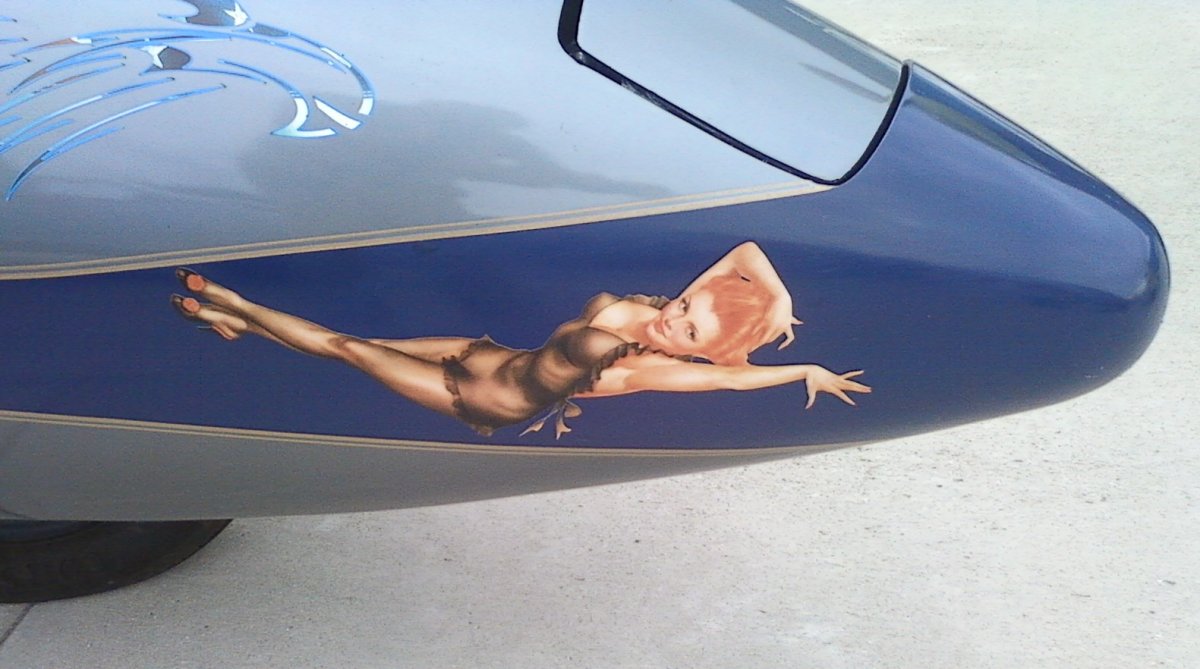 Gary Bussis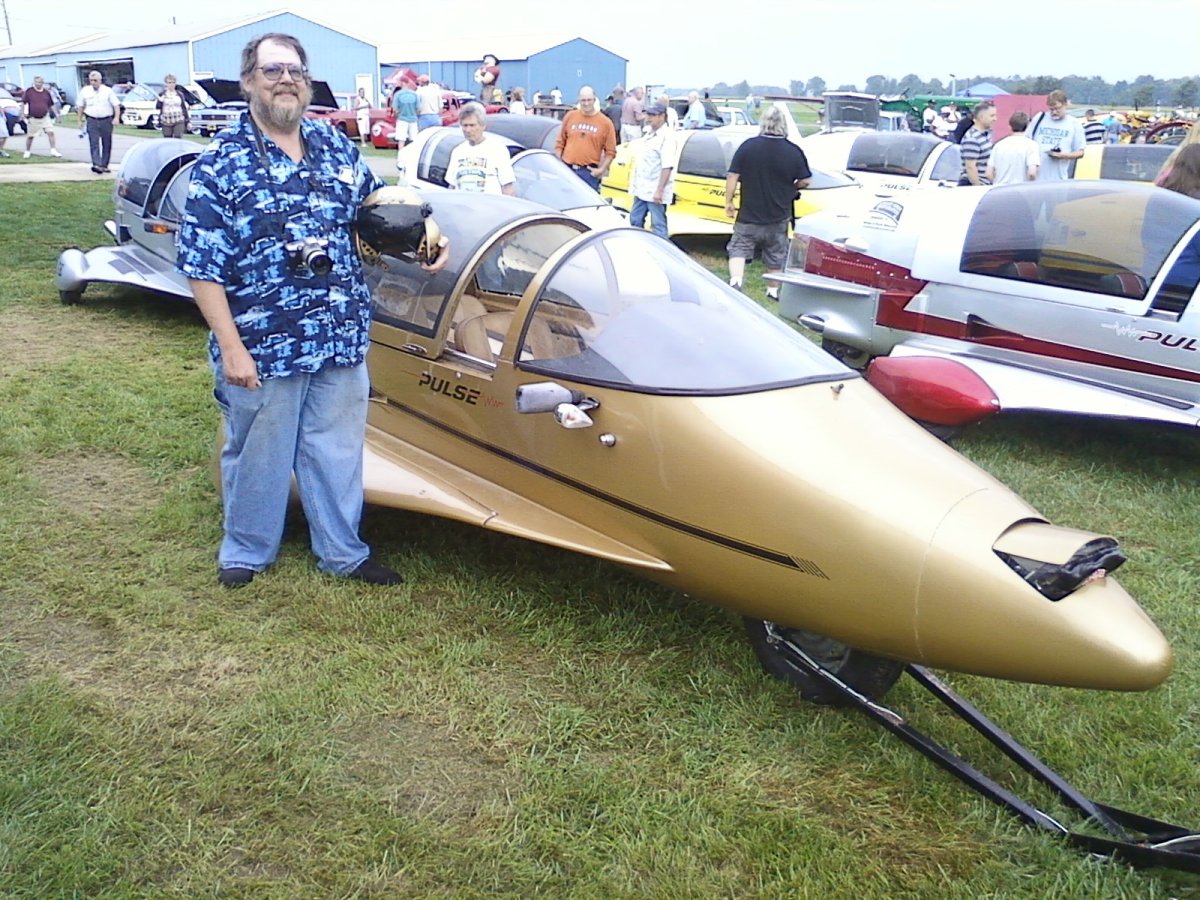 Chuck Furgason helping Dave Bauer load his Pulse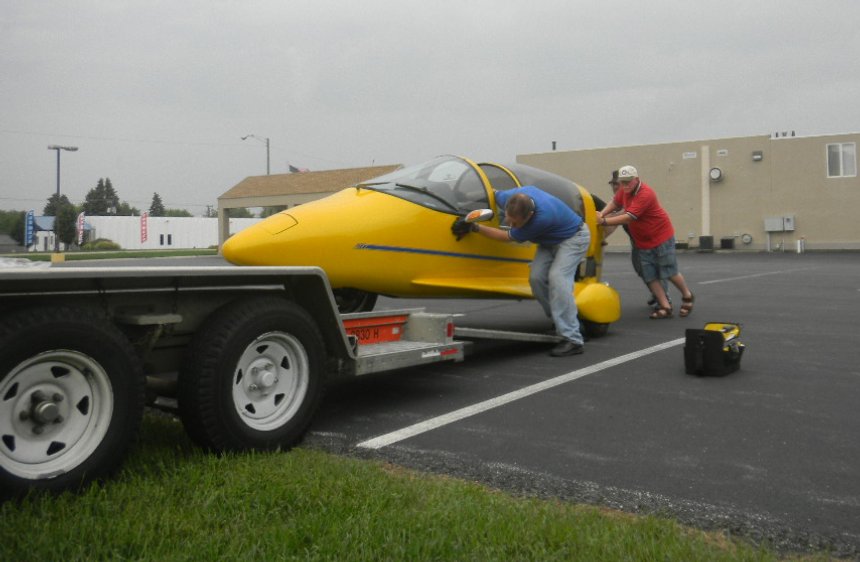 Janelle looking for Dave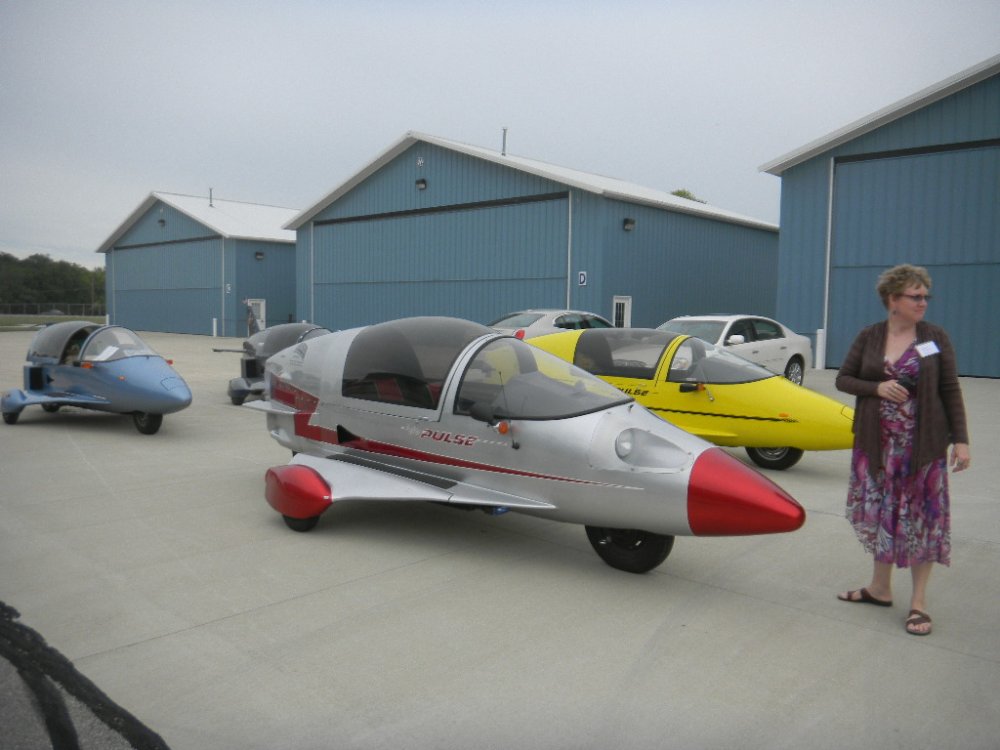 Jim & Jane Bede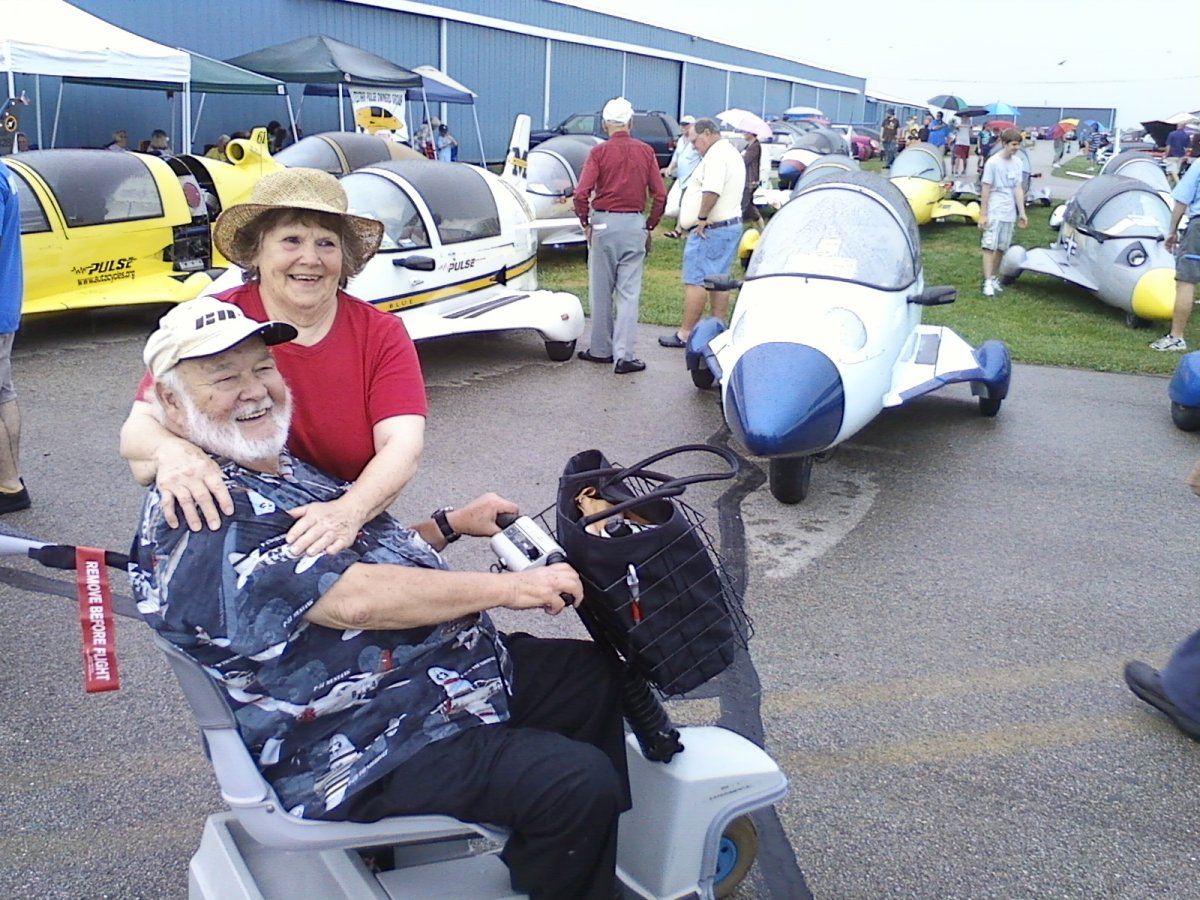 ---
PULSE OWNERS WHO BROUGHT THEIR VEHICLES
1.......Dave & Angie Bauer - National Harbor, VA
1.......Ralph Amos - Alexandria, Indiana
1.......Craig Heavenridge - Hartford City, Indiana
1.......Steve & Linda Schmidt - Owosso, Michigan
1.......Phil & Sandy Dawes - Evansville, Indiana
1.......Jan & Leo Doyle - Indianapolis, Indiana
1.......Jim & Chelsea Finch - Howell, Michigan
1.......Chuck Furgason - Jackson, Michigan
1.......Linda Furgason - Jackson, Michigan
1.......Ray & Judy Johnson - Marion, Indiana
1.......Mike Lechlitner - Pasadena, Maryland
1.......Don & Jeanette Sucha - Clarkson, Nebraska
1.......Fred Showalter - Noblesville, Ohio
1.......Phil & Royce Ann Martin - Lakeview, Ohio
1.......Lorain & Marilyn Reese - Austinburg, Ohio
1.......John Brill of Noblesville, IN and Mike Grindle of Marion, IN
1.......Gary Bussis - Jenison, Michigan
1.......Sam & Camellia Placentile - Toronto, Canada
1.......Doug Minert and son - Portage, MI
---
Bon Voyage until 2013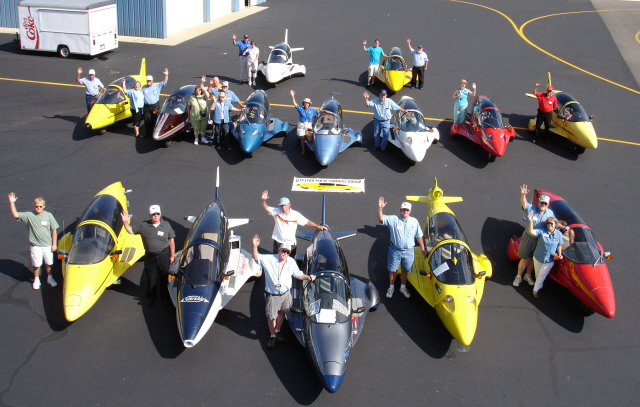 ---
Previous Conventions
---