Pulse #259
---
In 2005, Theo Szinger of Springwood, Queensland AUSTRALIA bought #259 on ebay.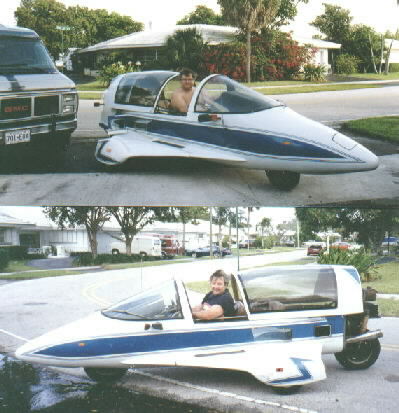 Heinz Bolender with #259
---
Year..... Dec. 1986
Color.... Originally Red...now white/blue
Original Owner....Joe Padula of Florida....then Heinz Bolender of Canada
Body # ?
Engine #16V-0033883....450cc Yamaha
VIN.....# 17JTW12R5GM000259

Mileage in Feb. 2003.....1,432

Heinz bought my Pulse in Ft. Lauderdale Florida, from Joseph Padula who had up to 6 Pulse for sale at one time. Since I never really drove it, I just found out later that the ownership given to me is the wrong one. My Pulse Vin is ending in 000259 and the CERTIFICATE OF ORIGIN FOR A VEHICLE that I received with the vehicle ends in 000255.
---
Litestar Pulse Website