Pulse #268
---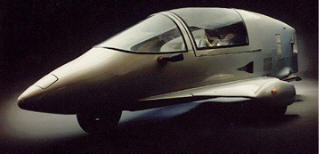 Year....... Jan. 1987.... 1986 Model
Original Owner........Mr. Kreger, Ohio.......Wayne Greene - Columbus, OH........Charles E. MacArthur...Maine......Wayne Greene - Columbus, OH
Engine....... #GL1E-2015743 Honda 1100cc
VIN 17JTW15G4HM000268

Shipped in Jan. 1987, but was listed as a 1986 model to a Mr. Kreger of Ohio.

In 2002, it was purchased by Charles E. MacArthur for the ANNE WILKINSON MACARTHUR MEMORIAL CENTER FOR INNOVATION of Sangerville, ME.

According to a news release of the Bangor Daily News of Sept. 18, 2002.....

Purchased recently by Charles MacArthur, the 1987 "Pulse" looks like a jet, has a Honda Goldwing 1,000-cubic centimeter liquid- cooled engine and gets about 100 miles per gallon of gasoline.

Its energy efficiency drew MacArthur to travel to Columbus, Ohio, to purchase the vehicle designed by world-renowned aeronautical engineer James Bede, who used one of his aircraft designs as its basis. The rarity of the vehicle and its resemblance to an amusement park ride drew double takes and questions as he towed it to Maine, MacArthur said, Tuesday.

Invented as an alternative to gas-guzzling vehicles, the Pulse, which sold for about $8,000 in the 1980s, encompasses Space Age technology and materials which results in reduced drag and vehicle weight, MacArthur said.

Wayne Greene bought back #268 in July of 2011.
---