Litestar Dealers Meeting #3
Owosso, MI
---
Press Report......February 18, 1985.
According to the Owosso Argus Weekley, Ed Butcher of Owosso was named company President. Butcher said that more than 100 distributors and dealers had gathered at the new Owosso Motor Car plant and were reintroduced to the Litestar the day before.
Butcher estimated the price tag to be in the $7,000 range and had plans for a yearly production of 6,000 units.
Below is a photo of the dealer meeting on Feb. 17, 1985. Stan Leitner is in the center with gotee.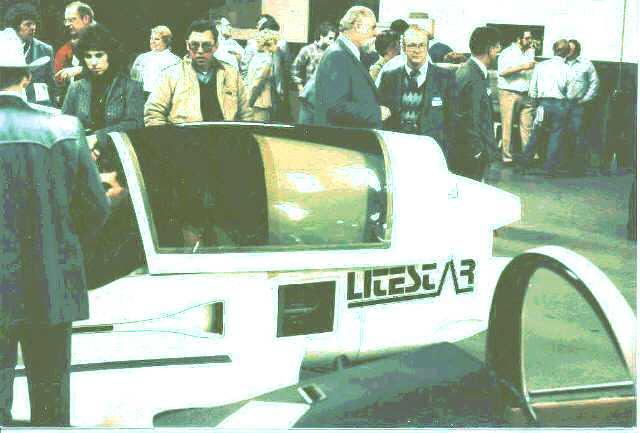 Chuck Hansen was one of the original Litestar Dealers. He invested $48,000 for a three-county Litestar Dealership in California in February of 1985. Mr. Hansen and a mechanic flew from California to Owosso, in Feb., 1985 and attended the meeting at OMCC.

Chuck took the following photos at this Dealers Meeting.
---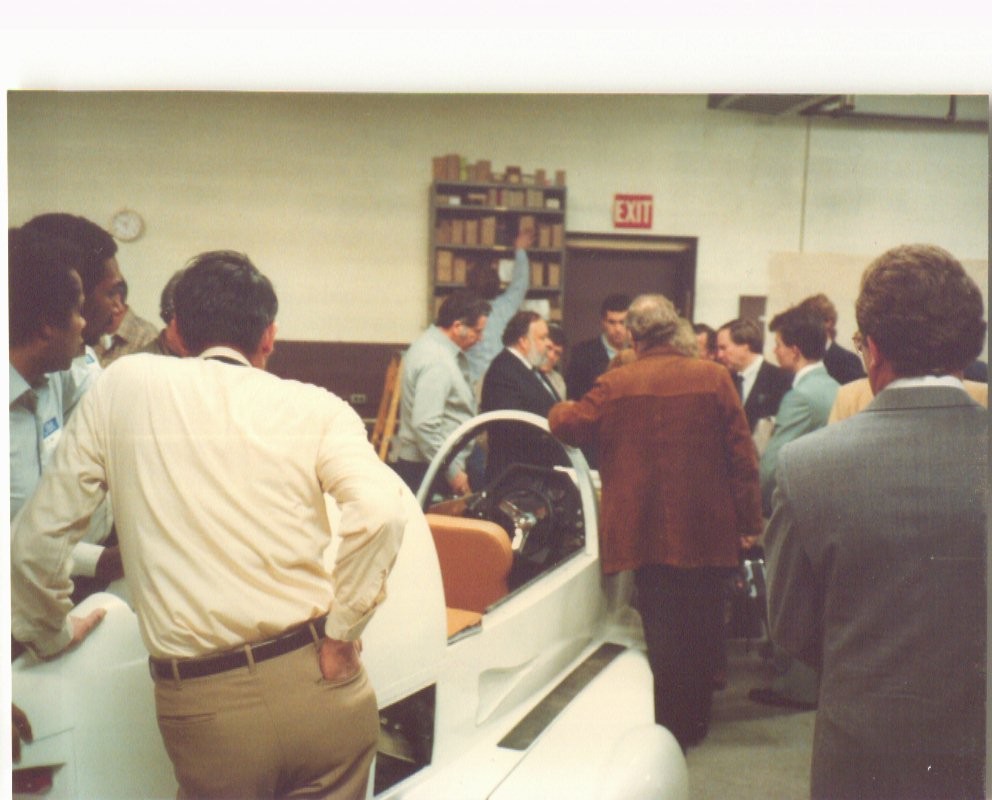 Jim Bede answers questions
---
Tomorrow Corp., had announced prior to the meeting, that they had about 30 units in production. Hansens mission was to get one of those 30 for himself. He walked up to one of the most nearly finished units on the assembly floor. It had the serial number 2, written on a piece of paper, taped to the windshield. He latched on to this unit, and for 10 days, stood over them, until they finished it.
Six inches of snow was on the ground in Owosso, the day Chuck Hansen and his mechanic got in the unit. They drove it to Bakersfield over the next three days without incident. They reported that they ran it 90 MPH much of the time and "NO ONE ever passed them". Hansen soon repainted it red.
---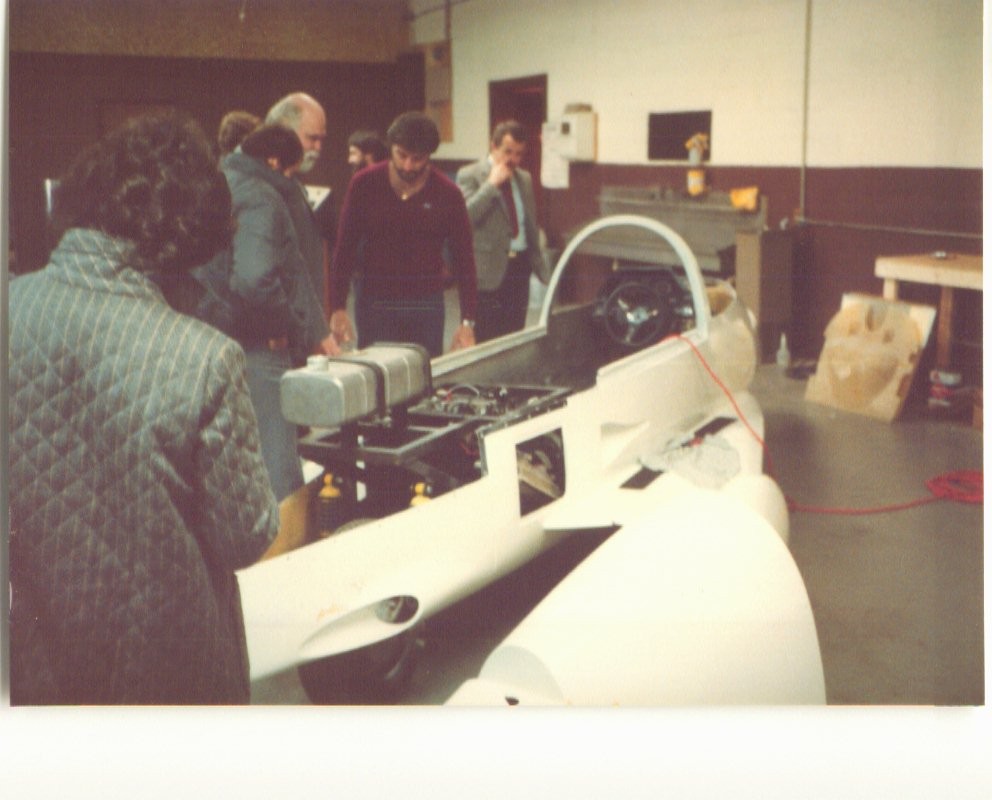 Stan Leitner in center
---
Ed Butcher continued that the current production model of the Litestar had been directed by James Fish of Holly. Owosso Motor Car Company had secured a facility in Owosso in Sept. of 1984 and by January of 1985 the first Litestar had been produced.
The major stockholder of the Owosso Motor Car Company was David Vaughn of Owosso. Other owners included Butcher, James Fish, H. 'Skip' VanKirk and Robert Batton, both of Holly, Michigan and Richard Morton, an attorney from Florida.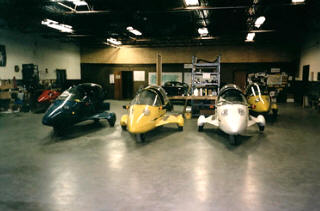 Above Dave Vaughn on left....Unit #002
Below is the Owosso Litestar #001
Notice that Jim Bede autographed the right head light.
Below is John Leonard's #002
Below is #003
Below is a great photo showing the Yamaha Donor Bikes
OMCC was unable to purchase just the Yamaha engines
so they had to buy complete bikes.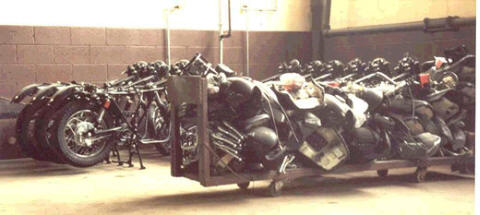 Below are several frames under construction.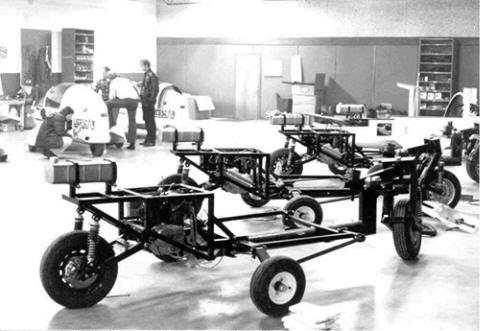 ---
TOMORROW CORPORATION
DEALER/DISTRIBUTOR MEETING #3
OWOSSO ,MICHIGAN
FEBRUARY 11 1985

AGENDA

MORNING SESSION

9:00am Assemble at the Pines for tour of the Owosso Motor Car Company

10:00am Return to Pines.. .Carpet Room
Dave Vaughn... .Production/Methods/Projections

11:00am Jim Bede. . .Overview

11:30am Armin Jocz... .Service & Owners Manual

12:00pm Bruce Loria. . . .Transportation / North American Van Lines

12:20pm Dick Gregory.....by Phone

12:45pm Break for lunch in the Sky Room

AFTERNOON SESSION

2:00pm Stan Leitner.. . .General

3:00pm Panel Question and Answer...Stan Leitner,Jim Bede,
Dave Vaughn and Ed Butcher

4:00pm Close of general session

If you wish private sessions with Stan Leitner, please see Nancy Teel for schedule
---
Dealer Meeting #1....Innsbrook, MO....Feb. 1983
Dealer Meeting #2.... Chicago, IL....Nov. 1983
---
---
Your Host, Steve Schmidt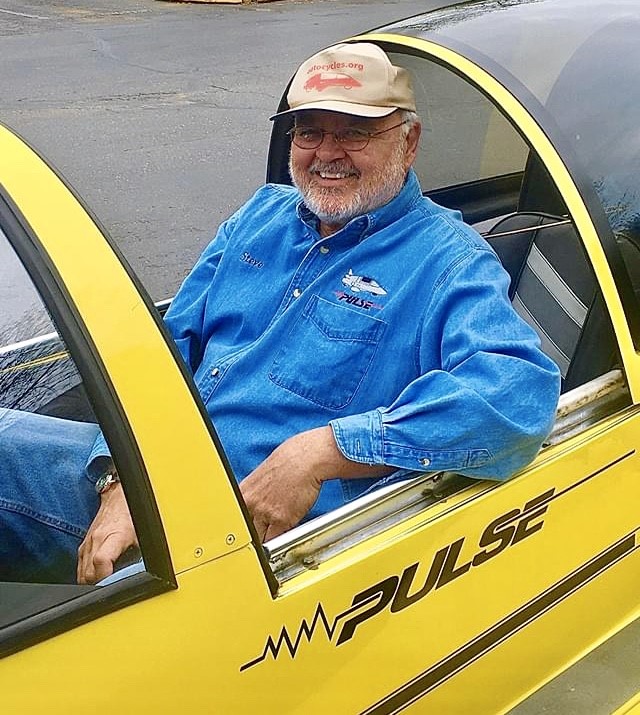 Last Update: 11-20-20......

This is a personal website and is not affiliated with the designer, manufacturer or any company officials/employees.

Disclaimer: Litestar Pulse Website is provided to you free of charge, "as is."
The best efforts to maintain accurate Litestar Pulse
Website history, information, repair tips and content, however, it is
not responsible for the content of its information, opinion providers.
You should not assume that Litestar Pulse Website is error-free and
makes no guaranties as to the accuracy, currency, content, or quality
of any such information.