Litestar of Delaware
---
Sam Renaruo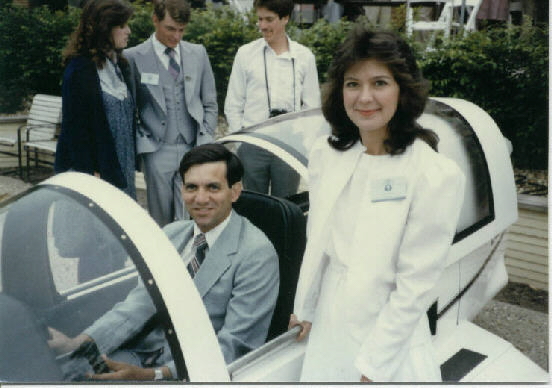 Space-age 'autocycle' hits the road
Vehicle may get 100 miles
to the gallon

Motorists passing Litestar of Delaware Inc.'s showroom on U.S. 13 in New Castle can't help but do a double take, contorting their necks to look at the exotic vehicle on display.

The object of the attention looks as though it was designed to soar skyward, not be bound by gravity to a road. Buck Rogers would seem at home in its driver's seat.

Visually, the Litestar autocycle is more eye-catching than a sporty European automobile. Fuel-wise, its producer claims twice the gas mileage of a Japanese subcompact. As for power, the semi-automatic 450cc model is said to do 1OO miles an hour.

In the cockpit, the driver maneuvers the vehicle with a small steering wheel and controls gas and brake with foot pedals. The passenger sits directly behind, feet straddling the driver's seat.

The Litestar is categorized as a motorcycle. Its 16 foot streamlined body, resembling an airplane fuselage, is powered by a Honda or Kawasaki engine. Stability is provided by two side wings with small wheels that contact the ground on turns.

Built largely of urethane plastic (total weight 830 lbs.), the cycle can get up to 100 miles per-gallon on regular gas, according to Tomorrow Corp., its Missouri based designer.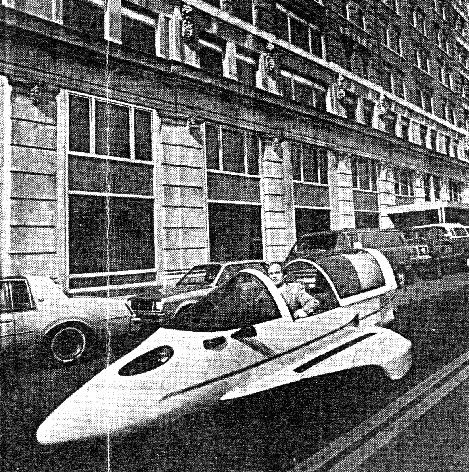 Salesman John M. Muth pulls up at Wilmington's
Hotel duPont in Litestar #8 which was built in Scranton, Iowa in 1982.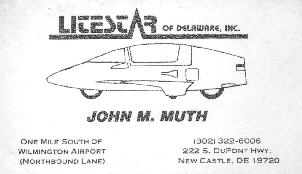 "I've always considered motorcycles a dangerous toy. This thing is a different animal" said John M. Muth, the Delaware salesman. "If they designed it any more normally, you'd end up with more normal gas mileage".

Samuel Renaruo, a New Jersey businessman, is principal owner of Litestar of Delaware Inc., which is the dealer for the Delmarva Peninsula. The vehicle at the company's showroom is one of the handmade prototypes Tomorrow Corp. had built in Iowa for its 23 U.S. dealers.

The prototype lacks many features needed to pass Delaware motor vehicle inspection, including windshield wipers, directional signals and sidelights, as well as soundproofing in the passenger compartment. Those features will all be built into the production models, Muth said.

Several Delawareans have taken a shine to the Litestar, putting up 10 percent deposits for the vehicles, which sell for $5,395 to $6,995. Muth said. Lookers have included commuters who want fuel efficiency, "old pilots attracted by the design, women, adolescents and people who've wanted to live and never hav," Muth said.

But delivery dates are uncertain. Tomorrow Corp. hasn't begun mass-producing the vehicle and has yet to choose a production plant, a company official said.

Talks are being held with the government of Northern Ireland for use of the former DeLorean plant in Belfast. But it will be "about two weeks" before Tomorrow Corp. decides when and where domestic production will take place, the company official said.

Tomorrow Corp. bills Litestar as a safer vehicle than many other vehicles on the road today. The sidewalls surrounding the passenger compartment, the brochure says, contain 5 inches of energy-absorbing automotive Styrofoam. It also features a roll bar and is more difficult to flip than a standard auto, Muth said.

But the National Highway Traffic Safety Administration, which conducts crash tests on automobiles, hasn't tested the Litestar, since it is officially a motorcycle.

The engine could go "50,000 to 60,000 miles or more" said K. Christopher Conner, service manager at Grand Prix Honda in Wilmington, Delaware, the company's service agent. But it requires a rigorous maintenance schedule, Conner said.

Some motorcycle engines may need rebuilding every 20,000 miles if not meticulously maintained, though the cost of rebuilding a bike engine is much less than for a car.

Connor said the rest of the vehicle "is alien to everyone except Litestar", since Tomorrow Corp. has yet to publish a repair manual for the vehicle. But mechanics should be able to familiarize themselves with the Litestars braking system and other parts since operates on the same principles as a car, Conner said.

Robert J Voshelt. director of Delaware's Division of Motor Vehicles said the state will require Litestar drivers to get a motorcycle license although they can take their road test in the Litestar rather than on motorcycle.
---