Understanding Certificates of Origin, VIN Numbers and Paint Codes
of Litestar and Pulse Vehicles
---
---
Search Pulses by Colors at the bottom of the VIN Registry Page
---
Certificates of Origin are from the Manufacturer
Luke Chaplin at one time owned 1982 Scranton built Litestar #2 and Owosso Pulse #106.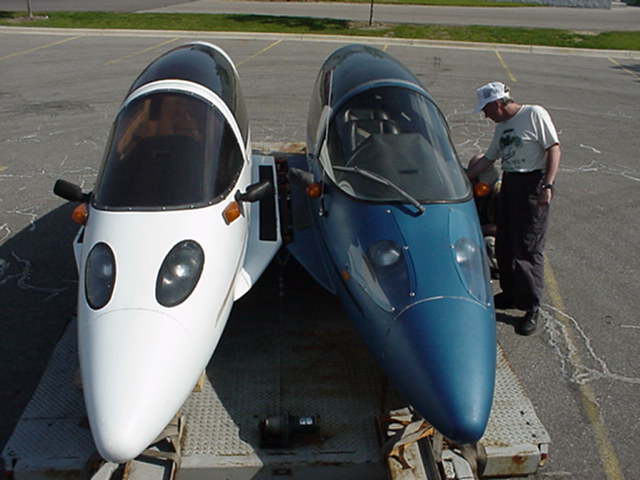 Litestar #002....White............Owosso Pulse #106.....Blue
Neither vehicle was ever titled until Luke got them, and so he got the Certificate of Origin with them.
For those unfamiliar with these, they are like a "birth certificate" issued by the factory and usually turned in by the dealer to the state to obtain a title.
They show the factory serial numbers and the "Model Year" for the vehicle, along with the "release date" from the factory, company name, official signatures, etc.
The Litestar is:
1LSECGBES000102, dated 11/13/83 as a 1984 model.
The Pulse is:
17JW12J1FM000106, dated 9/26/85 as a 1985 model.
The original invoice for the vehicle lists it as "PREPRODUCTION", and a Litestar purchase agreement listing four engine choices and accessories (anybody got the factory CB radio?).
Maybe they used "PREPRODUCTION" for all Scranton Litestars. That's why it's nice to get the owners comparing information. Maybe we'll get to the bottom of it someday!
The Scranton built Litestar was originally sold to Coates Litestar in Corydon, Iowa.
The second Certificate of Origin is for the Litestar. It is dated 3 days later, appears more "official" and is made out to Litestar of Iowa, Inc. Notice that "Tomorrow Corporation" is very prominant on this one. Invoice numbers on #1 and #2 match.
Notice also the Maryland Heights address for the Corp on #1 and #2. This is the one that I turned in for the title.
Certificate of Origin #3 is for the Pulse. It looks like the same form with "Tomorrow Corporation" removed from the top.
The model year is 1985 and it's still Maryland Heights. Notice the order date and ship date.
Look at the price! I don't know what the D/D NBR is, but notice cust. order nbr. is "PREPRODUCTION".
I also had a business card from Coates (lost?) that gave their name as "Coates Litestar". Chris told me that he specifically asked Bede for one of the prototype units.
They received two, at the time he still had the other one. He still lives in Corydon, Iowa. His brother Mike is the one who moved east and traded away the one that I have.
On the Purchase agreement, notice the four engine choices and the accessory list! And the Chesterfield, MO address. Chris sent this to me and says that it was the one for his Litestar. Notice the 1-83 form date at the bottom (earlier than mine). Notice the light weight listed! The information that was checked off was:
Litestar 750
Deluxe Interior
Safety Glass Windshield
Windshield Wiper
Heater
Reverse Gear
Air Conditioner
Radio AM/FM Stereo
Heavy Duty Alternator
The total price was $8277.00, and the deposit was $827.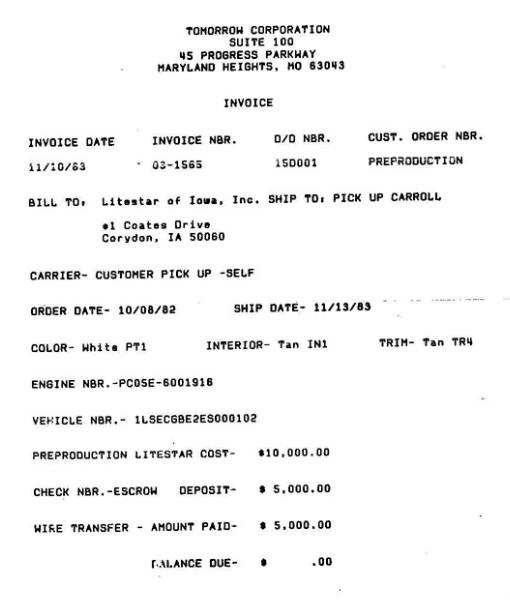 Certificate of Origin for the Litestar. It appears to be a generic form and is dated 11/10/83, and lists it as a 1984 model. Notice that it is for Coates Harley Davidson, Inc. Notice that "Tommorrow Corporation" is filled in at the bottom.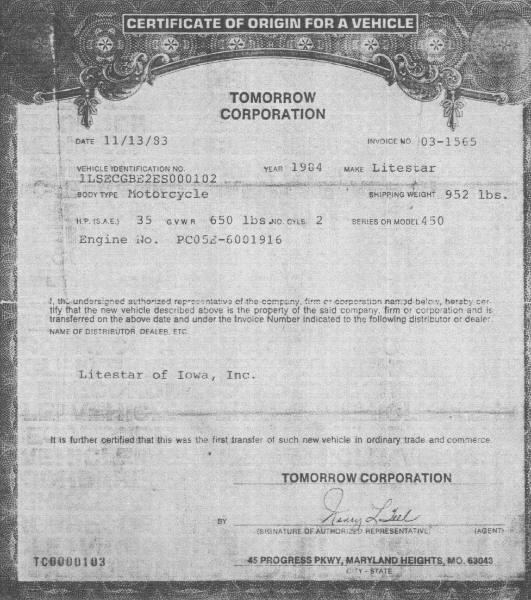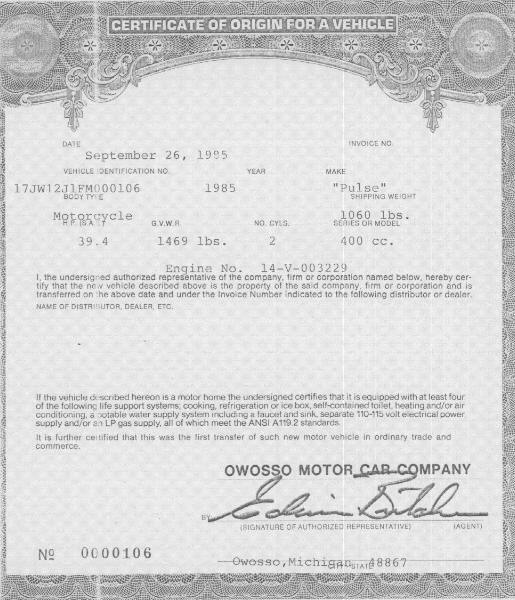 ---
---
VIN NUMBERS
VIN numbers are an interesting topic. Owosso Motor Car Company hand painted VIN numbers on the frame below the seat. This is Pulse #100. Notice the last three digits.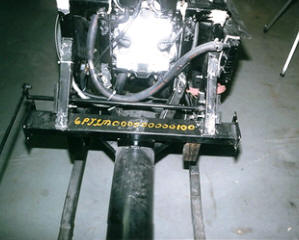 Since the Litestar was built in Scranton, Iowa and Owosso, MI and the Pulse was built in Owosso, MI, there are different ways of the serial numbering system and how that number was attached or painted on each vehicle.
All Owosso built Litestars and Pulses had a brass plaque pop riveted to the dash
so it could be seen through the windshield.
Below, Pulse #153. The factory painted the body number, VIN number and engine number.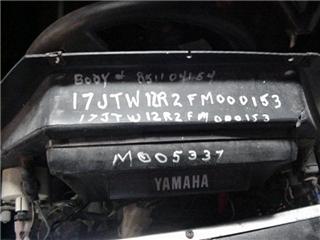 ---
---
As we research VIN numbers regarding these vehicles, we have found different VIN numbers, but most contain 17 numbers/letters. And most contain the last three numbers which represent the serial number.
It is also believed that Scranton Litestars began with #101 through #115. Scranton Litestar #4 has a VIN number ending in 102. So the manufacturer's control number did not always correspond with the VIN number.
Owosso Litestars began with #001 through #021 and Owosso Pulse - #022 through #347.
However, because some vehicle owners either lost their titles (and their state issued its own replacement VIN number) or the state in which they reside, made the owners re-title them, which results in non uniform numbers which brings into question the real serial number and year of manufacture of that vehicle.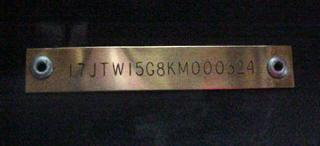 Pulse #324 and #328 both have these small plaques attached by 2 rivets and are located above the dash on the drivers left. This can be easily seen through the windshield.
In one case the vehicle was built in 1982 and titled in 1984. So we continue to learn more about VIN numbers as we find vehicles and do comparisons.
It is thought that there were about 21 Litestars made in Owosso before Stan Leitner filed suit. The fact that Owosso changed the name of the vehicle would not necessarily reflect a change in the VIN number.
Mark Frost's VIN is "LS.......113"
So, it would seem that Scranton have started their serial numbers with 100 and Owosso started their serial numbers with 001.
Below....Pulse #218 ......Nero Plastics business card laminated inside body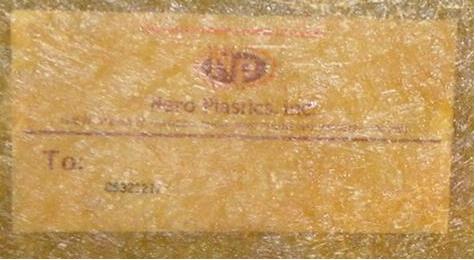 ---
Pulse #241 needed a complete new frame in 2021
because it had been left outside for years.
Notice the engine number and the VIN painted on the frame.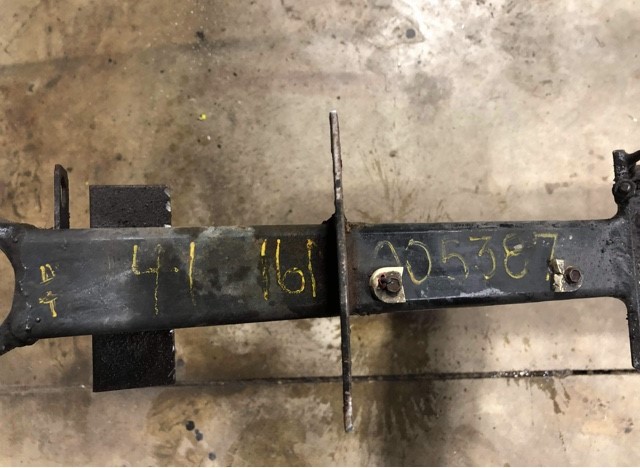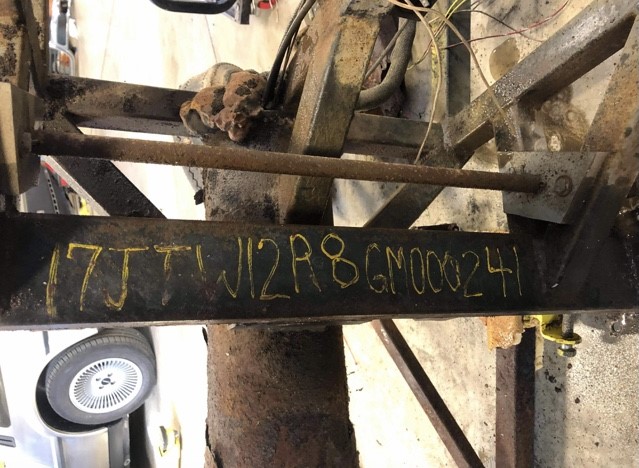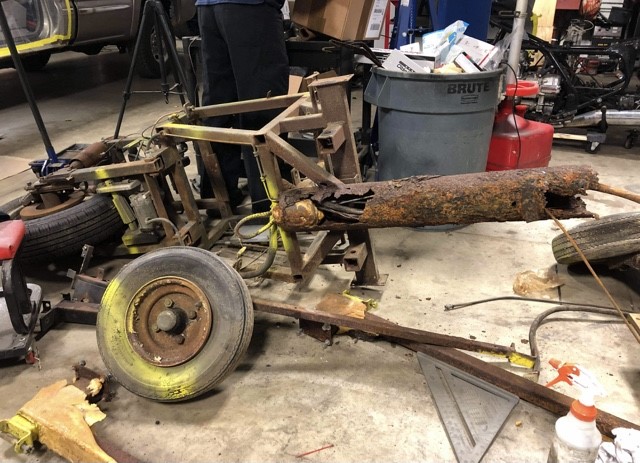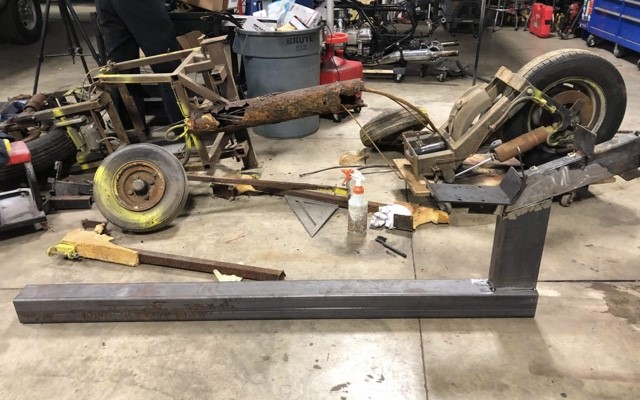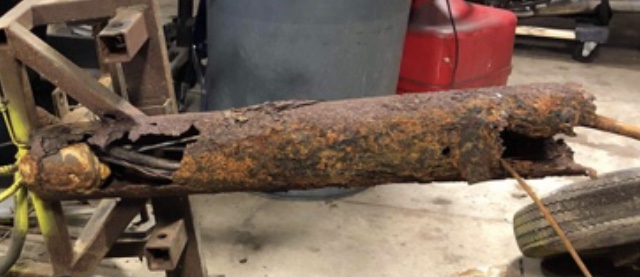 ---
Confusing?? That's what we are here for. We need everyone to report their VIN numbers on that survey so that we have this information at hand when these questions come up.
And we ask that all owners, if possible, remove the seat and see if Owosso painted their VIN number on the frame. This should be the VIN that the factory assigned to your unit.
---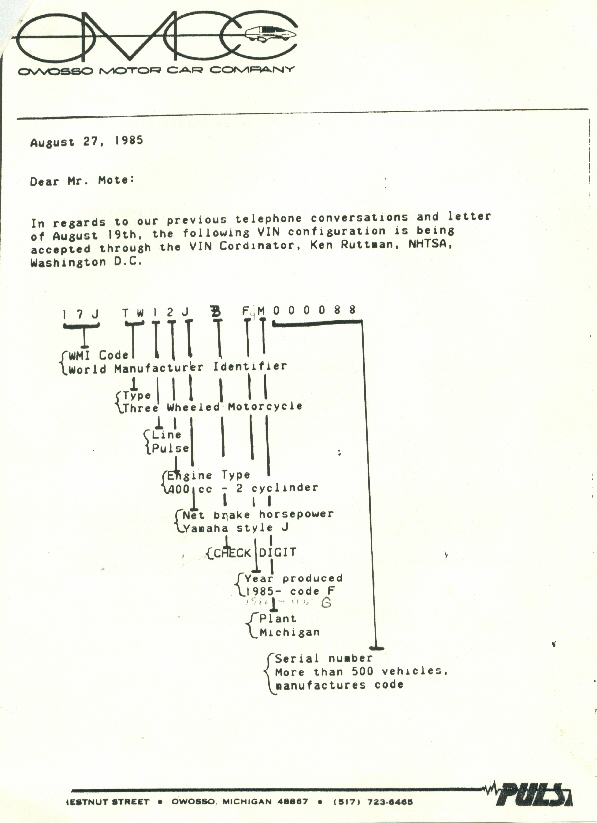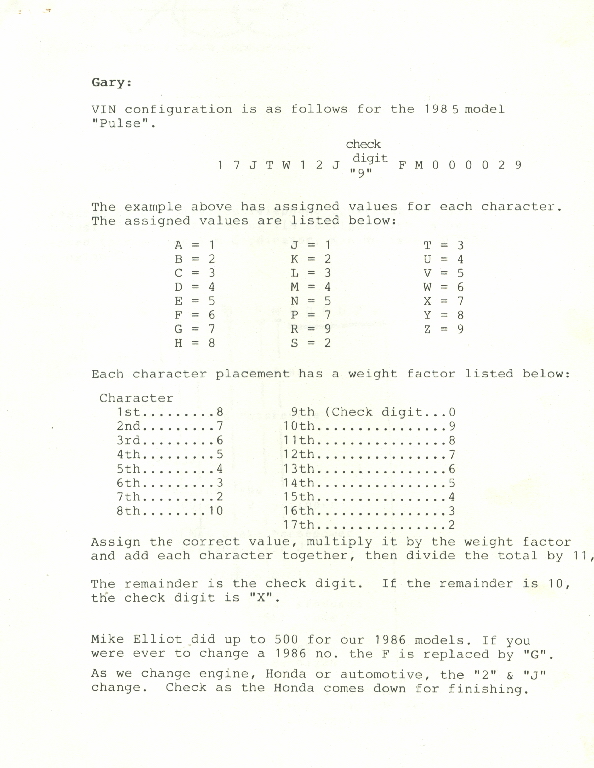 ---
If you have addtional information regarding VIN numbers, please e-mail the webmaster.
---
There are a few subtle differences throughout production. Also one or two re-numbered Pulses. A couple of mis-numbered Pulses, probably during transposing numbers. And a half dozen missing files. In this case I attemped to guess at what the VIN number may have been, adding a "?" mark for unknown digits/letters. The Owosso Motor Car VIN file box also contained a list showing 500 avaiable numbers. Not sure whether this is from any government office or just a computer generated list that OMCC composed.
---
---
Paint Codes
---
The standard was PPG Ditzler type DAR
Gold..............DAR3433
Burgandy..........DAR3532
Green.............DAR3254
Silver............DAR33800
White.............DAR2058
Yellow............DAR2756
Met.Blue..........DAR2893
Red...............DAR72402
---
ENGINE SERIAL NUMBERS
Engines installed in the Litestar and Pulse vehicles are subject to being re-powered by current or former owners, so this info could be wrong in your case.

The following info is from company records and owners.

Scranton Litestars used the Hondamatic engine.

Owosso Litestar #1 thru #21 used the engine. Your serial number should look similar to this example ------- 14V-000000

Owosso Pulse #22 thru #108. Your serial number should look similar to this example ------- 14V-000000

Owosso Pulse #109 thru #120 used a 1981 400cc Yamaha engine. Your serial number should look similar to this example ------- 4R4-000000.

This engine is a 4-STROKE, SOHC, TWIN, DISPLACEMENT (CC's): 391cc (actual), IGNITION: TRANSISTOR CONTROLLED, STARTING: ELECTRIC & KICK, TRANSMISSION: 6 SPEED

Owosso Pulse #121 thru #256 used a 1982 400cc Yamaha engine. Your serial number should look similar to this example ------- 16M-000000.

This engine is a 4-STROKE, DOHC, TWIN, DISPLACEMENT (CC's): 399cc (actual), IGNITION: TRANSISTOR CONTROLLED, STARTING: ELECTRIC, TRANSMISSION: 6 SPEED

Owosso Pulse #257 thru #346 used the water-cooled Honda 1100cc and 1200cc engines. Some 500cc Honda engines were also used around Pulse #245 - #265. The Goldwing engine serial numbers will look similar to these examples:

1100cc === GL2E-0000000

1200cc === SC14E-0000000
---
Litestar Pulse Webpage
---
Your Host, Steve Schmidt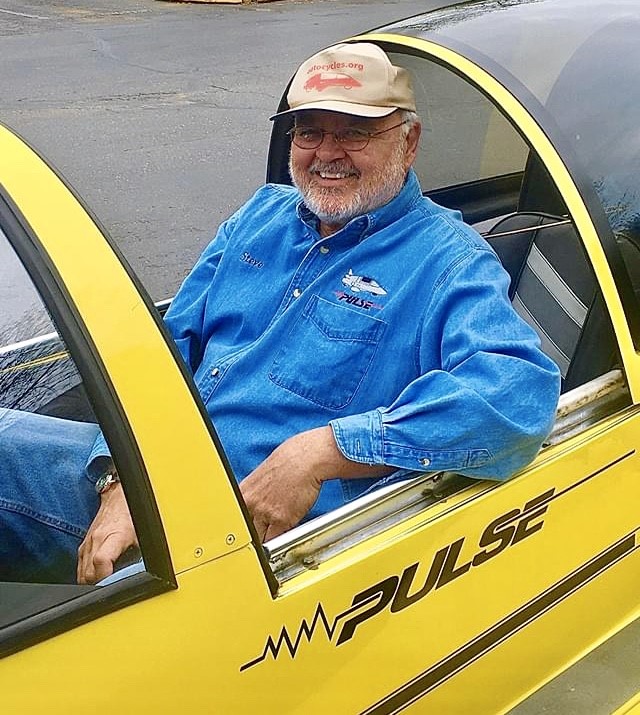 Last Update: 11-20-20......

This is a personal website and is not affiliated with the designer, manufacturer or any company officials/employees.

Disclaimer: Litestar Pulse Website is provided to you free of charge, "as is."
The best efforts to maintain accurate Litestar Pulse
Website history, information, repair tips and content, however, it is
not responsible for the content of its information, opinion providers.
You should not assume that Litestar Pulse Website is error-free and
makes no guaranties as to the accuracy, currency, content, or quality
of any such information.