2004 Litestar Pulse
National Convention
6th Annual Meet..............September 2004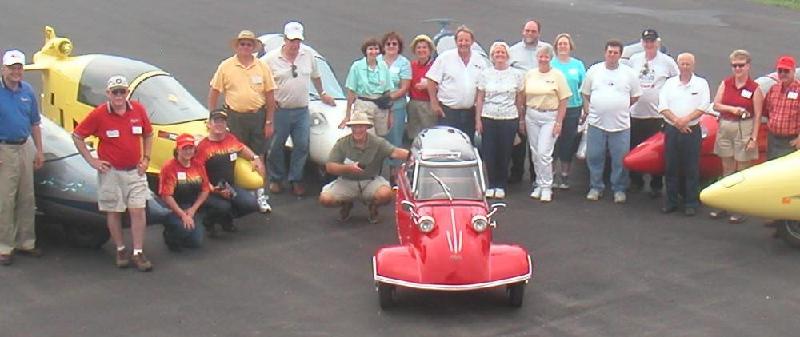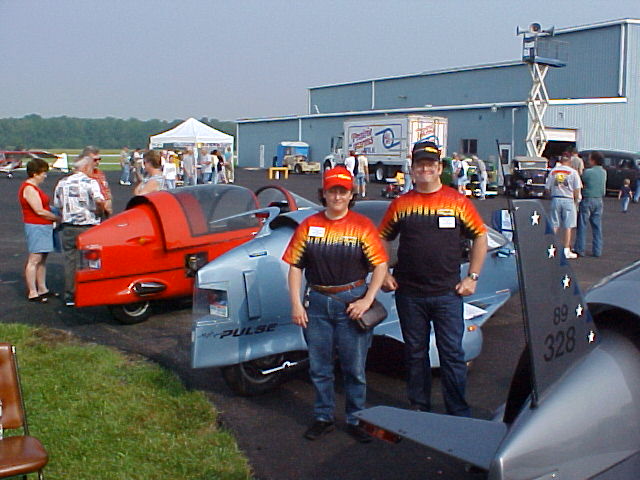 Above ....Tammy & Eldon Simons...northern Michigan members

A Pack of Pulses
---
The 2004 National Rally was held on Sept. 4th and seven Pulses gathered to celebrate at Marion, Indiana.
Pulse Rally Attendees
With Vehicles

Leo & Jan Doyle....................Indianapolis, Indiana
Chuck & Linda Furgason.........Jackson, Michigan
Ray & Judy Johnson................Marion, Indiana
Chuck & Sylvia Knight.............Canada
Dave & Janelle Ohmstede.........Newton, Iowa
Fred & Judy Showalter.............Indiana
Ken & Sylvia Weger.................Chicago, IL

Without vehicles

Jeremy Dawes............Evansville, Indiana
Phil & Sandy Dawes..............Evansville, Indiana
Steve & Linda Schmidt..............Owosso, MIchigan
Steve & Jody Shafer.................Chipley, Florida
Elden & Tammy Simons...............Gladstone, Michigan
Ken & Donna Haughton..............Corunna, Michigan

This event was held in conjunction with the Flyin-Cruisein at the Marion Airport. On Friday night, the attendees were treated to a great meal and entertained by a professional band too!.

On Saturday morning, after the Pulses swooped into the show area......the Questioning period began. Hundreds of people swarmed over the autocycles and we 'hooked' more than just a few people on the idea of joining the club.

Sunday, the Club took a road tour through the cornfields of Indiana to a 1950's Diner and village. Jim & Tricia Richardson of Sharpsville, IN. hosted the event at their home. The back yard of their estate contains a fictional full scale town called 'Summer Place' complete with diner, theatre, gas station, barber shop, fire house with truck, depot with caboose and plans call for an old church and a ferris wheel to be added to the town. All proceeds earned at the village go to the Richardson's foundation call "A Home for Every Child".

Chuck and Linda Furgason put together 'Goody Bags' for everyone which included the 2004 National Rally souvenir book and a colorful dash plaque. Steve Schmidt presented members with hats, keychains and cups. Steve Shafer gave away really neat plastic Pulse models which he personally made. And even though member Luke Chaplin could not attend the event, he sent everyone a large poster of Jim Bede in his yellow BD-200. Thanks Luke.......we missed you.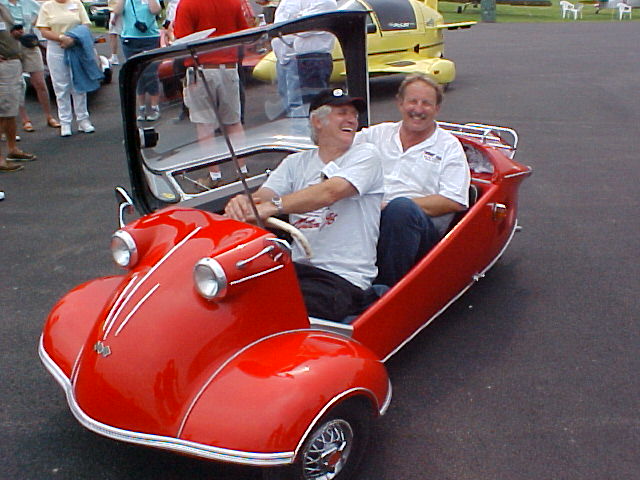 Above....Chuck Knight gives Ray Johnson a spin in his Messerschmitt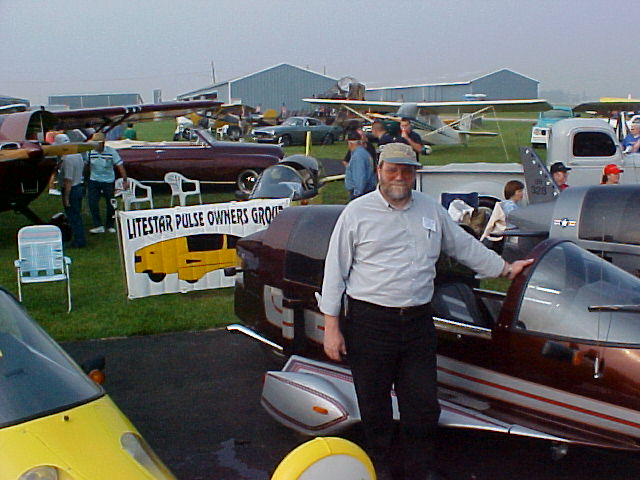 Above....Leo Doyle with his 'Pride & Joy'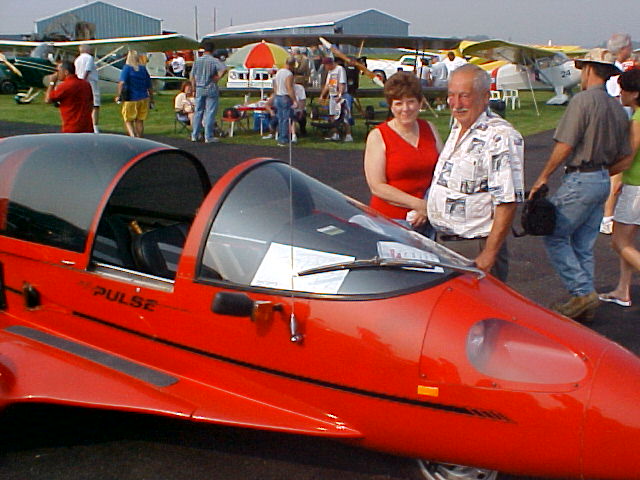 Above....Ken & Donna Haughton with Dave & Janelle Ohmstede's beautiful Pulse
Ken delivered many Pulses from Owosso Motor Car Company
to buyers all over the United States from 1985 to 1990
"Yes, I remember delivering this one".... Ken Haughton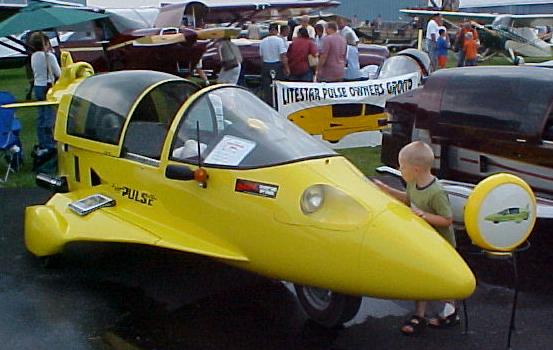 A Future Member?
---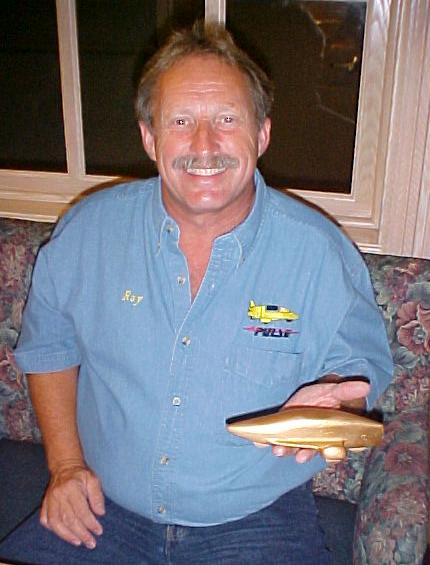 Ray Johnson after he was presented with a 'Solid Gold' Pulse from Steve Shafer.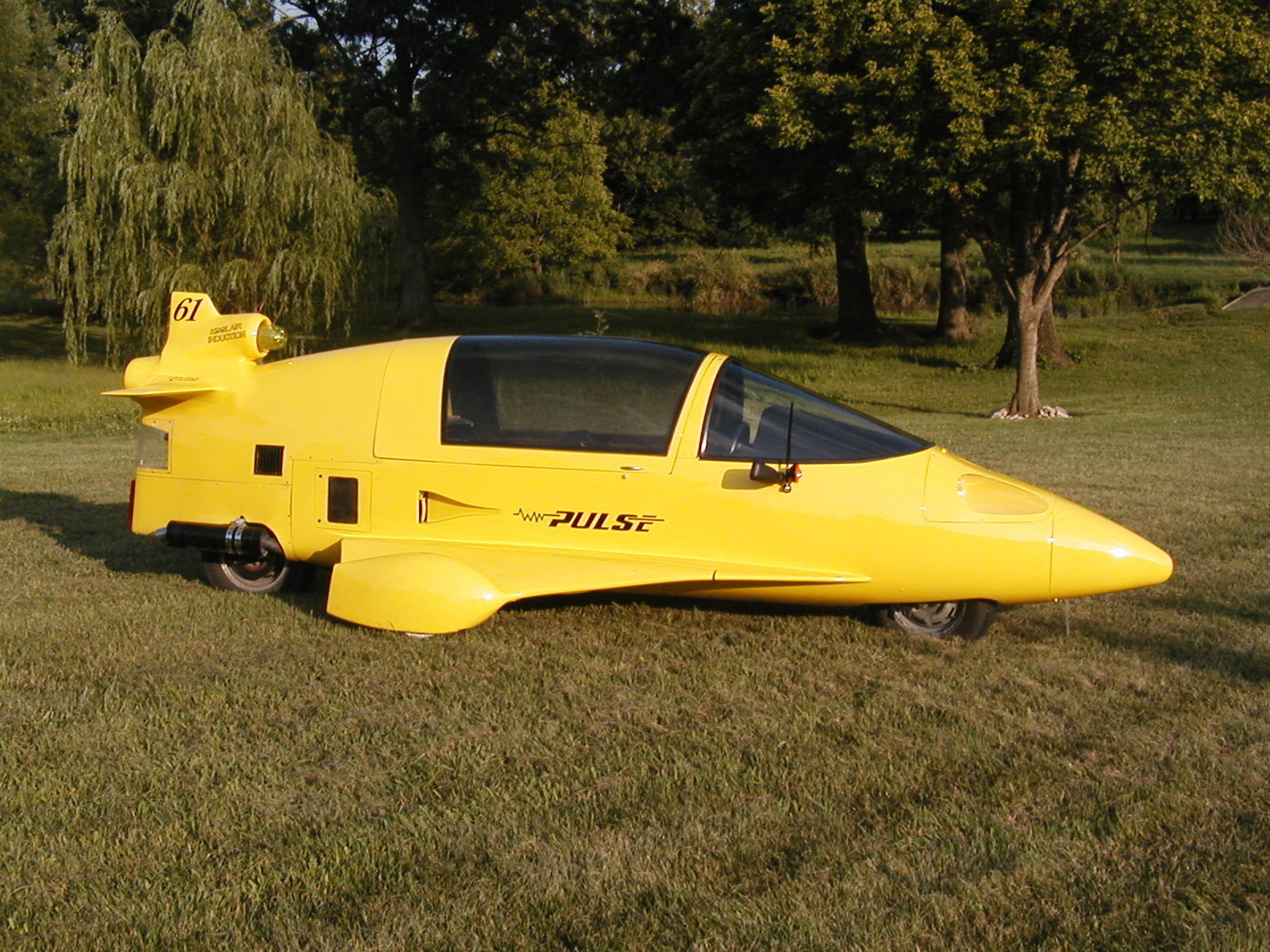 Fred & Judy Showalter's award winning Pulse #61
Fred 'Duck Taping' his Pulse back together after a hard Rally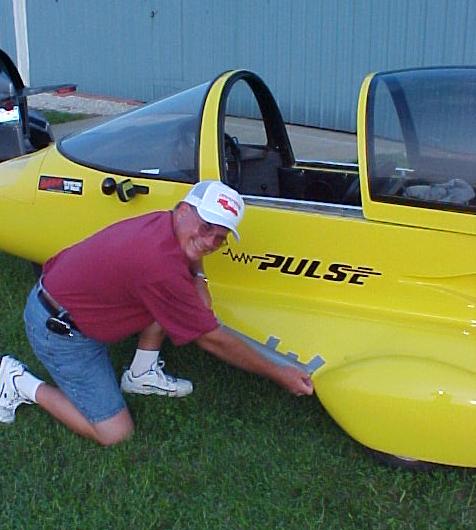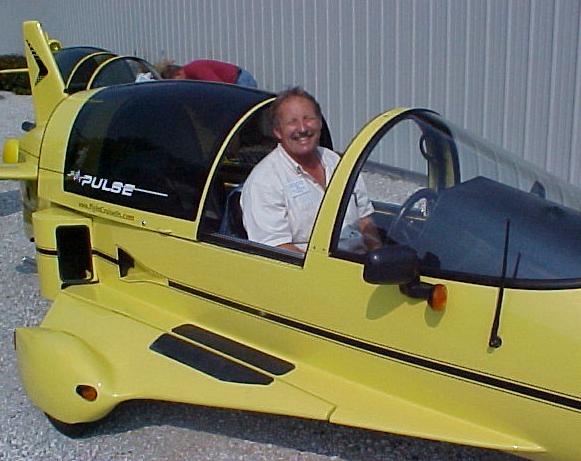 Very rare picture of Ray Johnson in Judy's Pulse
Jim Miller gets 'Clipped' at Ray's Barber Shop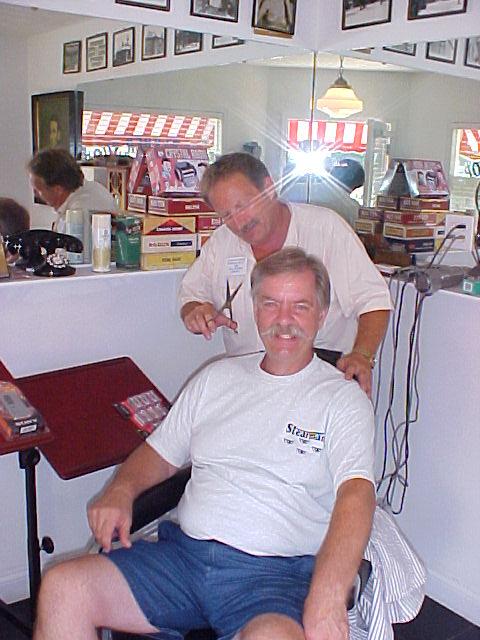 Butch Walsh "The Stinson Man" with his Stinson model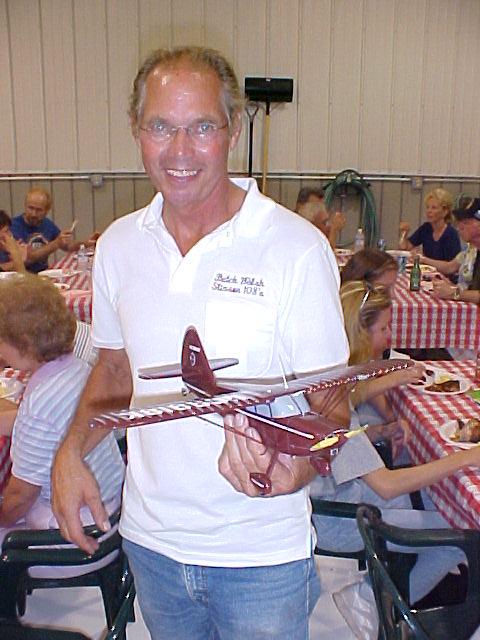 We even took an exciting AIRBOAT ride on the Indiana Bayou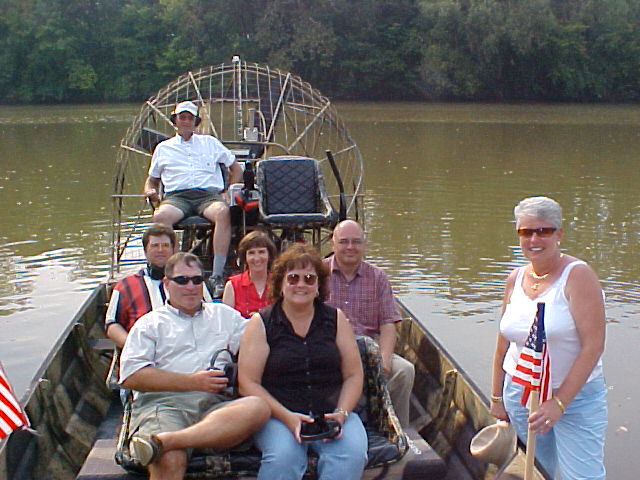 Steve Shafer, Florida member, was disappointed that no 'gators' could be found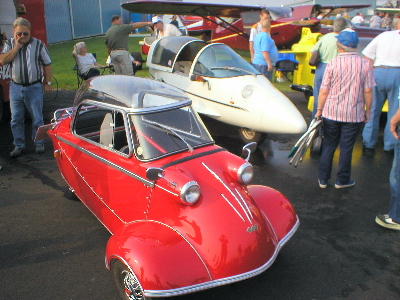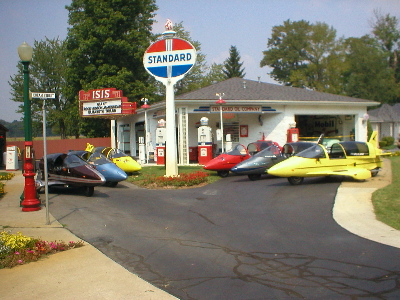 ---
---
---