Litestar Trailer by Scranton Mfg.
Circle L Trailers by WellBuilt Inc. was a subsidiary of Scranton Mfg. Co. Inc. of Scranton, Iowa. Scranton Mfg. built about 15 Litestars for Tomorrow Corp.
Scranton made horse trailers and other farm related equipment basically to supply parts for his large horse ranch operation.
This trailer was specifically built for the Litestar autocycle. It is uncertain how many were manufactured, but perhaps this is the only one.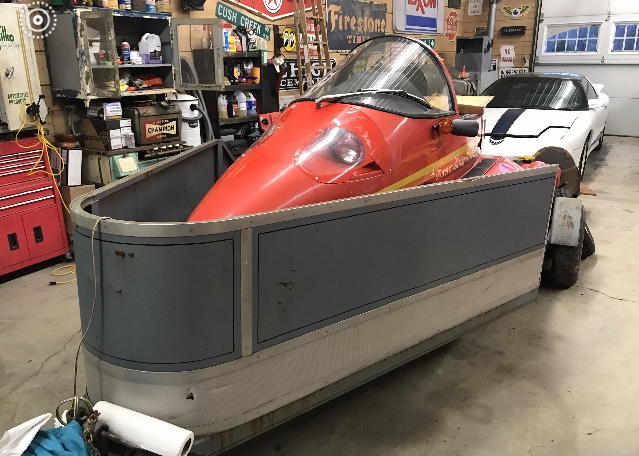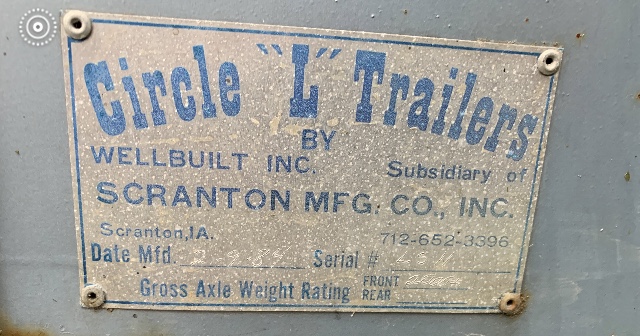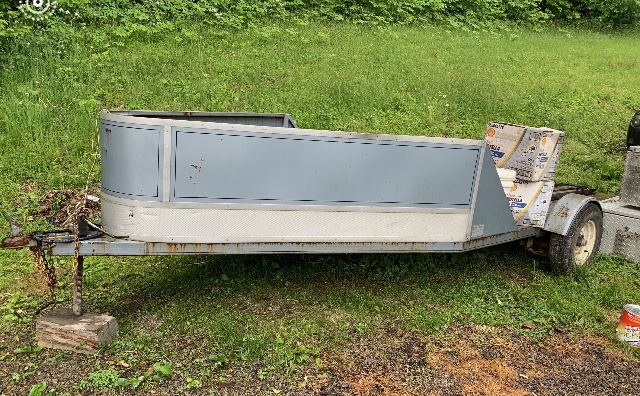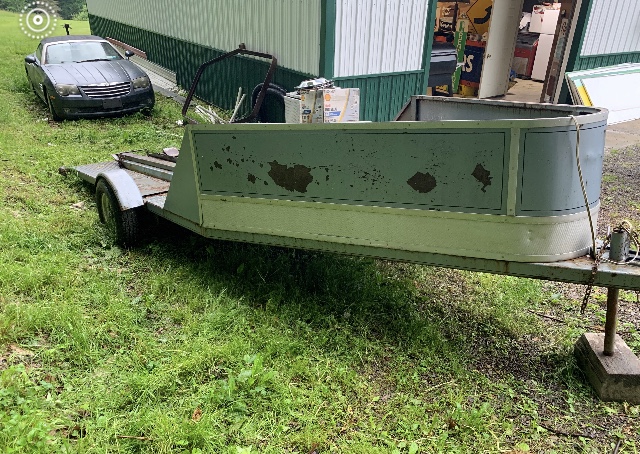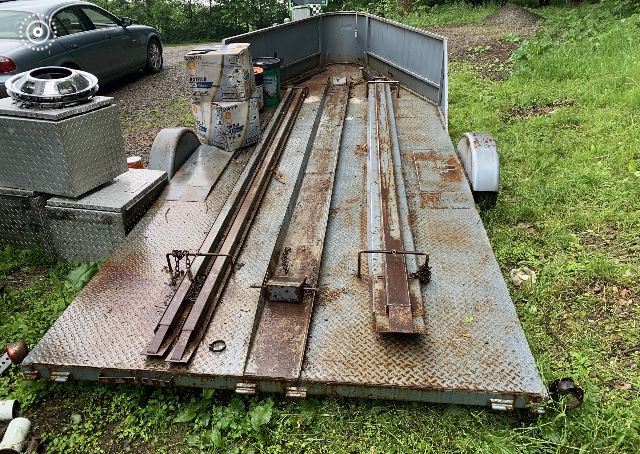 ---
Pulse #221 leaving the OMCC factory in 1985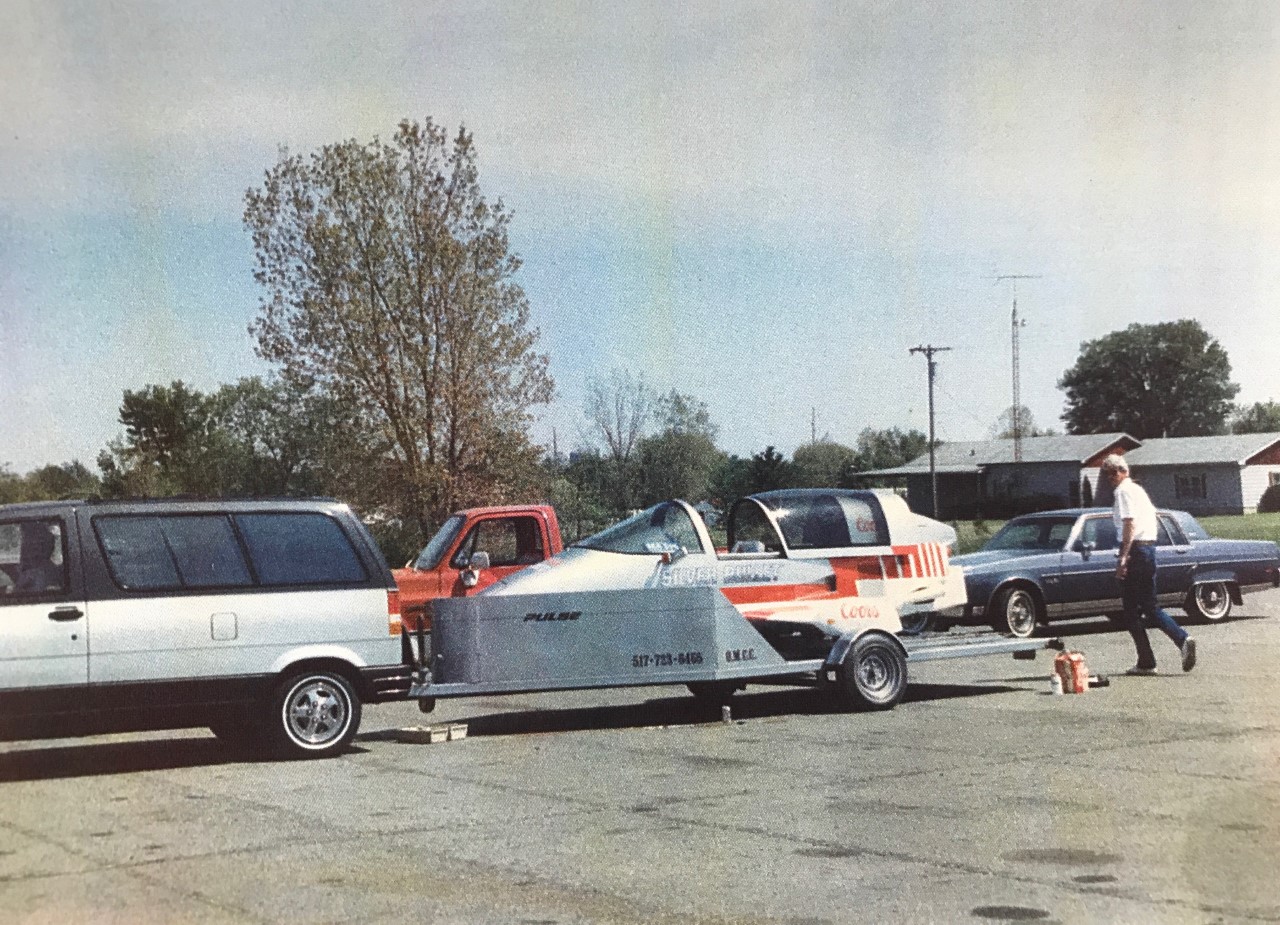 ---
Pulse Deliveries
---
How did they deliver Pulse autocycles all over America?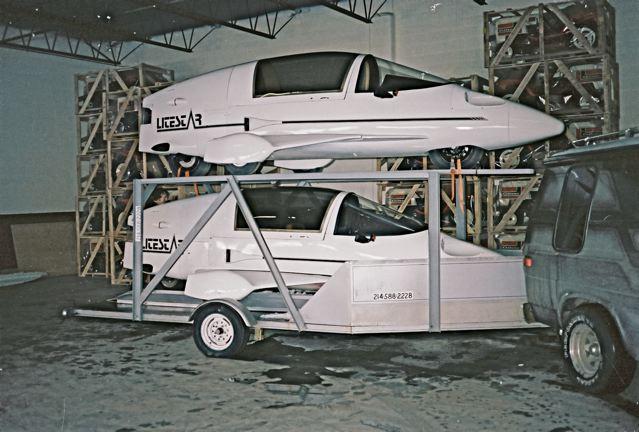 Can anyone identify owner of van and trailer?
---
Below, the Litestar of Texas triple-axel trailer that Don Rose used to deliver Litestar and then Pulse autocycles. It could haul about 11 vehicles at a time.
Kenny Crump was the transporter for Don Rose. He made many round trips between Mt. Vernon, TX. and Owosso. He and Don Rose designed the giant trailer. He also delivered vehicles to dealers and customers, helped out with some dealer prep in order to get vehicles delivered quickly, and helped in the booth at trade shows.
In about June of 1986, Don stopped selling Pulses (Pulse #251 was the last one).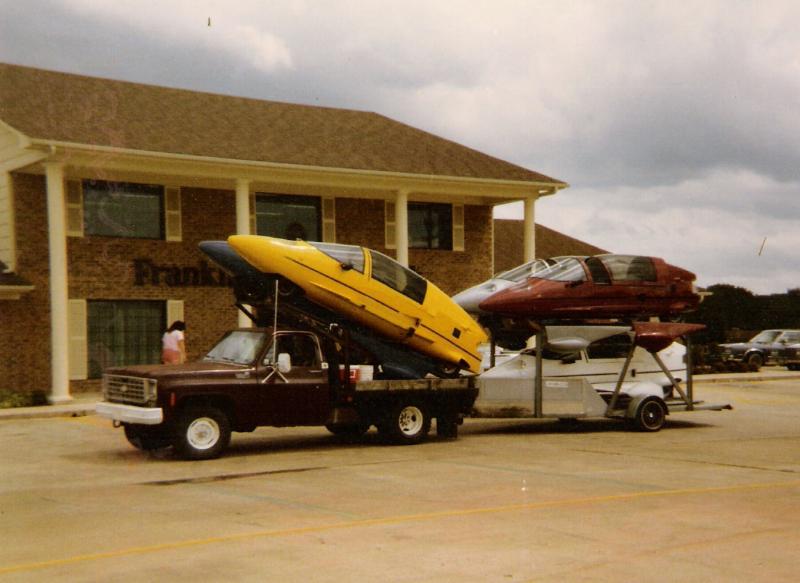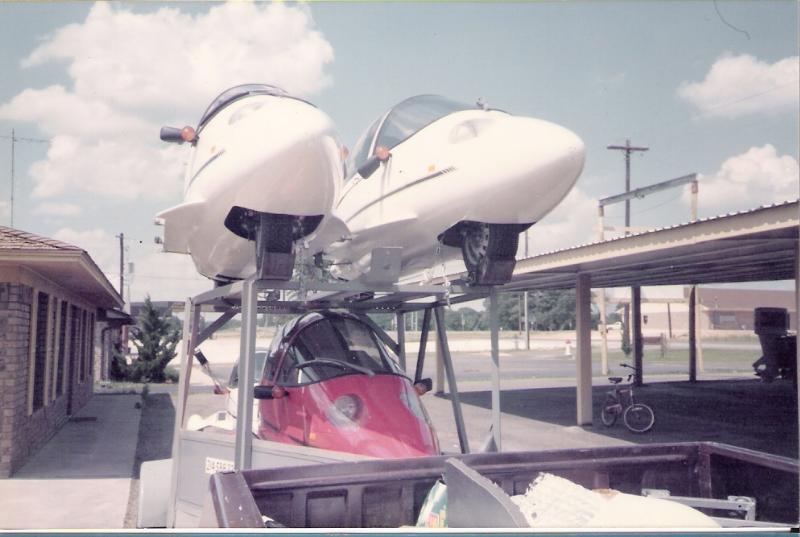 ---
Since Don Rose was no longer selling Pulses because of OMCC going bankrupt, the Butchers used Kenny Haughton of Corunna to deliver Pulses.
Kenny began with a pickup and single car trailer. Then he built a double-axel trailer similar to the Litestar of Texas trailer which could haul about 7 vehicles.
Below is the double axel trailer that Kenny built to haul the cars.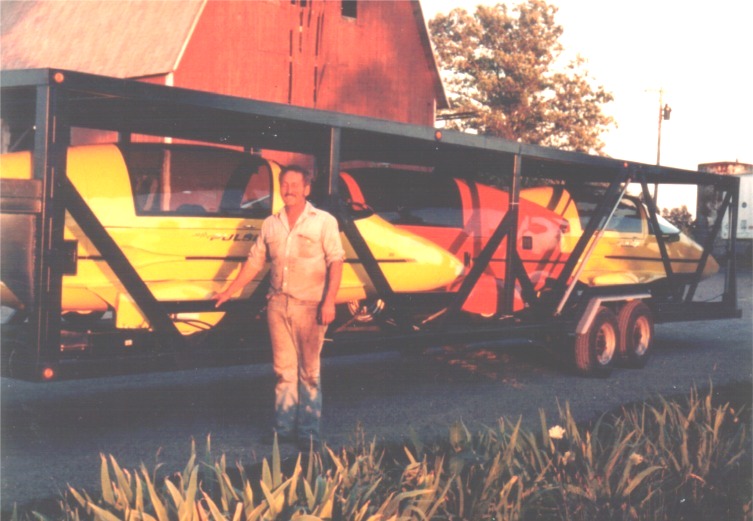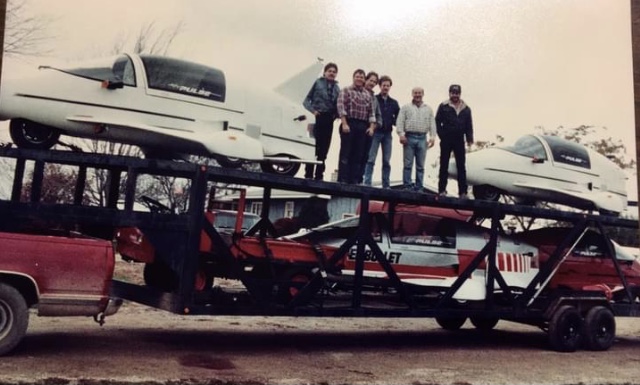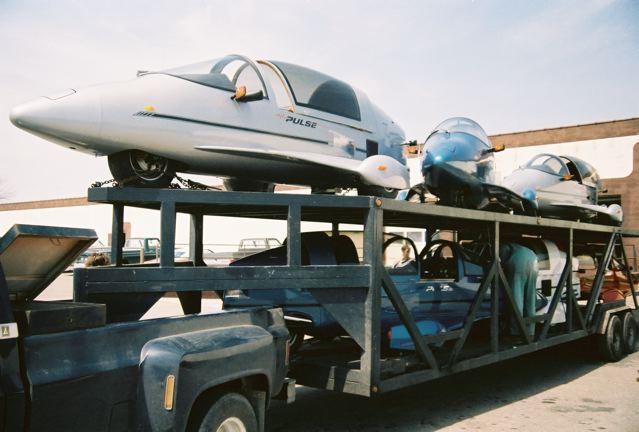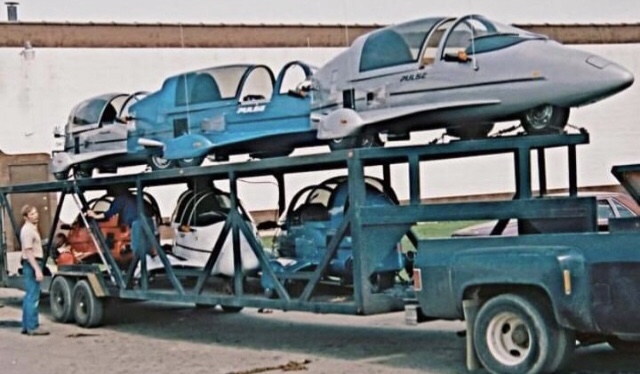 Below, Kenny delivers the movie car with his red pickup carrying a white Pulse and pulling a trailer with a red Pulse

The sign says 'Back to Future II' which was released in Nov. 1989.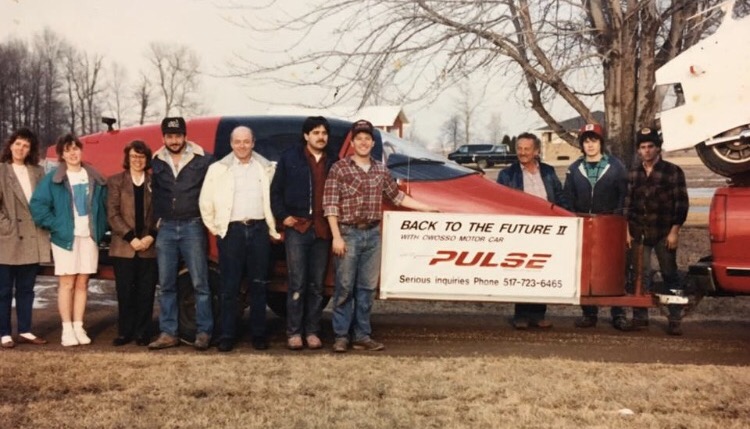 Above Lisa Butcher Marier, Jenny Butcher Hetfield, Sue Butcher and in back of Pulse is Kenny Haughton.
---
---
Pulse owners have many different styles of trailers to haul their autocycles
Here are some examples
---
Pulse #252 was owned by H.W. Beavers of Lebanon, Illinois
and he made this unique trailer.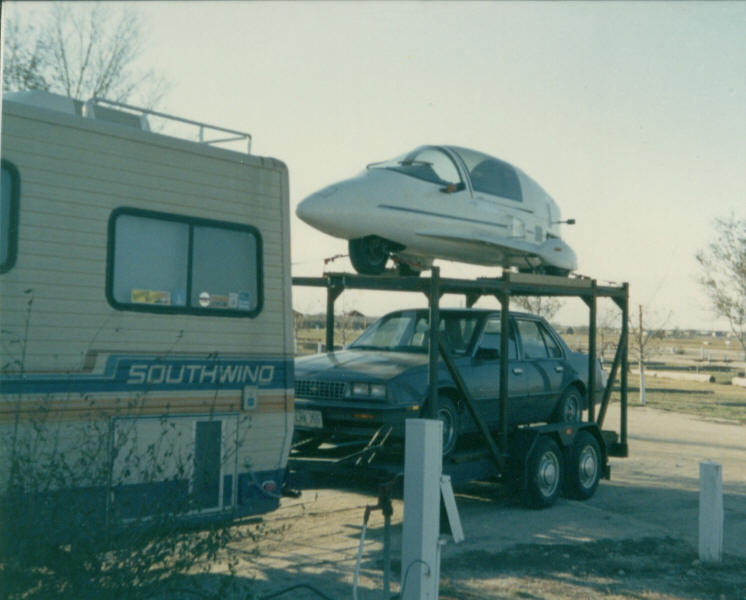 ---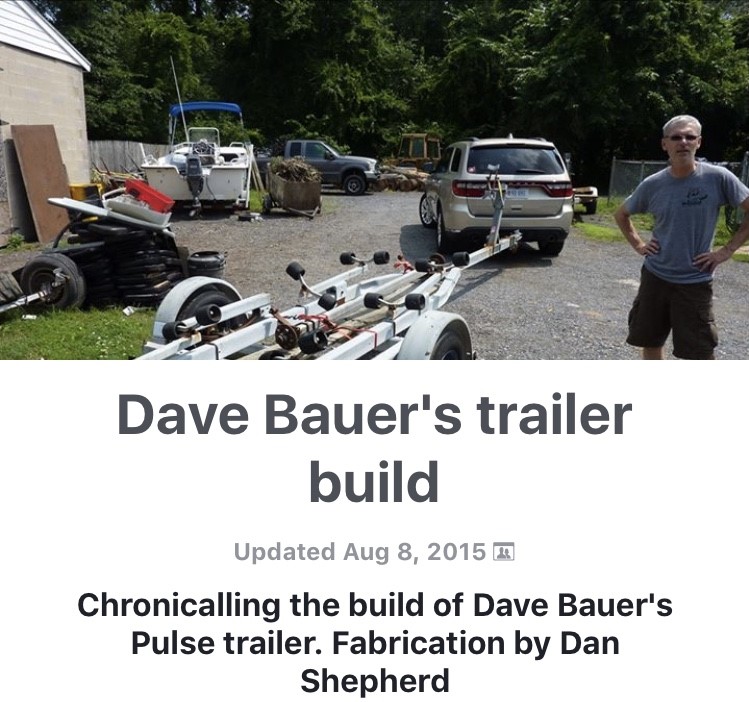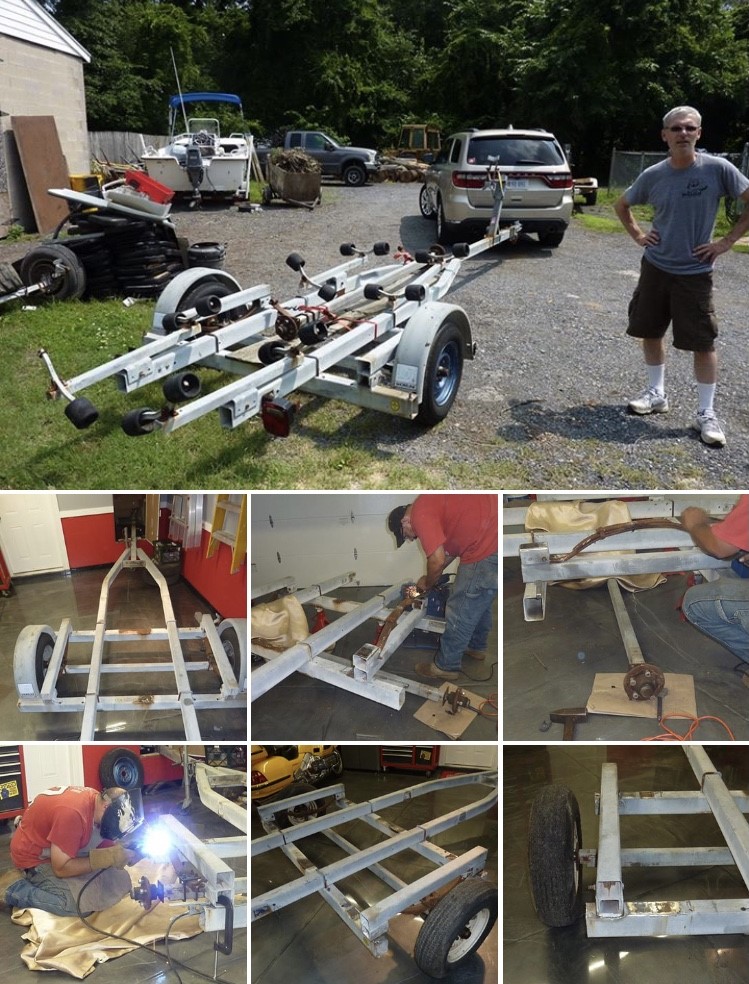 ---
Tilting Trailer for a Pulse
Below, this trailer is a simple light weight design and possibly built by OMCC for Dan Marks' Pulse #100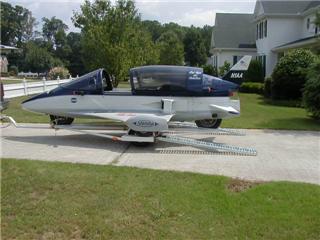 This following trailer is a simple light weight design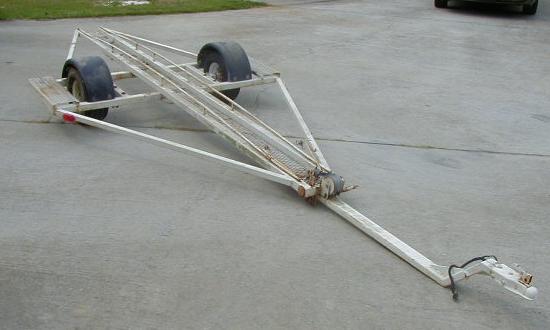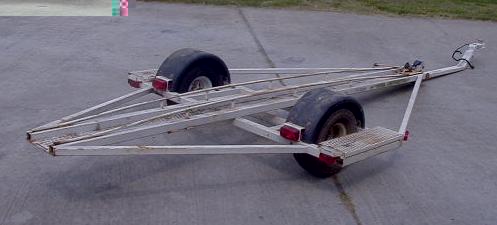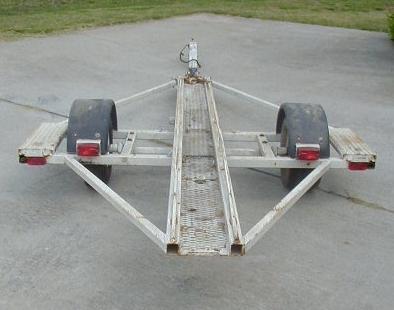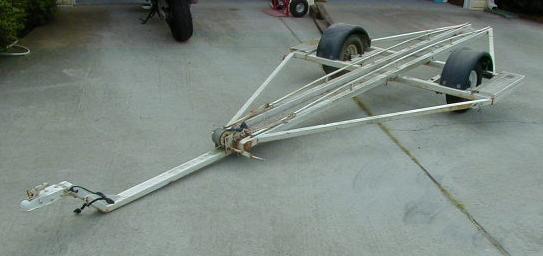 Parts For Trailer Build
2 inch square tubing with a 3/16 inch wall thickness

1 5/8 inch square tubing with a 3/16 inch wall thickness

2 inch angle iron 1/4 inch thick 11 inches long

1 1/8 "C" Channel approximately 12 Gauge

1/4 inch plate steel 4 inches wide by 11 inches long

Expanded Steel Mesh 1/8 inch thick welded to bottom of rails

1/4 inch plate steel 2 inches wide by 11 inches long

A winch is mounted to the front plate of the trailer. A boat trailer winch works well, you will have to either weld the winch to the angle iron or make a bracket to mount it.

Tires are 21.5 X 60 X 8 they are rated at 933 pounds each and can be purchased at Northern Tool along with the axels. This trailer, if made from steel, is heavy. A Pulse weighs about 1,000 pounds so do not go to smaller tires.

The trailer hitch should be rated for at least 2,000 pounds (1 7/8 inch ball). Hitches can also be purchased at Northern Tool and many other places.

The Safety chains, shown in pictures, should also be attached to the front of the trailer where they can be put on the front wheel tie down to prevent the pulse from coming loose.

BE SURE TO DRILL HOLES IN THE PORTION THAT GOES THROUGH THE FRONT WHEEL ATTACHMENT POINTS SO SAFETY PINS CAN BE PUT IN PLACE.

The rear of the Pulse should be tied down to the rail onto the 1/2 inch rod. Some Pulses have an angle iron that is accessible in front of the rear wheel. A small chain hook with 4 or 5 links of chain can be hooked over the angle iron and tied to the trailer with the "S" hook shown in the pictures.

The Pulse that this trailer was built for has a 500cc engine. If you have a larger engine such as a Gold Wing you may want to make the main rails of the trailer longer so you can adjust the positioning of the Pulse on the trailer for proper tongue weight on the towing vehicle. Once balanced, a wheel stop can be welded in place to insure consistent loading of the Pulse.

Use trailer lights of your choice, and clearance lights if desired or required. Run the wiring through the tubing for a clean looking trailer.

The ramps can be purchased from Harbor Freight. Cut a slot in the 1/4 inch portion that will match up and slid over the "C" channel to insure it will not slide off when the Pulse is loaded.

With the ramps in place and the pulse lined up one person can load the unit. Release the forward tongue anchor and pivot the main rails of the trailer up. Put a large block of wood 6" by 6" or so between the bottom of the main rails and the tongue do not force it in. Once the rear wheel is on the trailer the wood block can be removed and the main rails will come down easily if you crank slowly. Re-insert the pin to secure the main rails to the trailer tongue.

Harbor Freight ramps...... 1,000 lb. capacity. Comes complete with two 2'' galvanized steel ramps, 6ft. long x 9'' wide, two angle brackets, and hardware.

Rubber Torsion Axle Suspension Units # 12422 2,000 lb. rating from Northern Tool and Equipment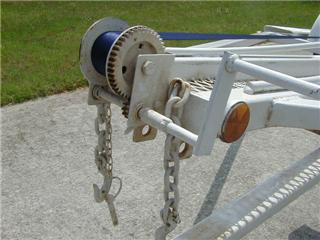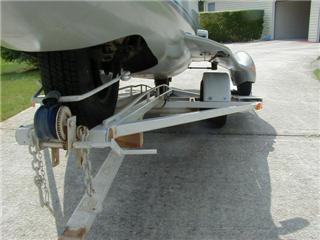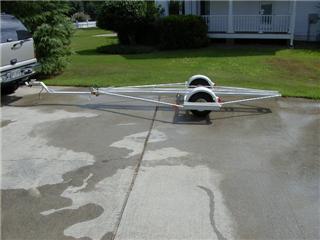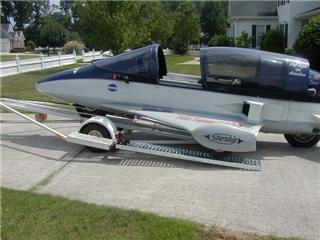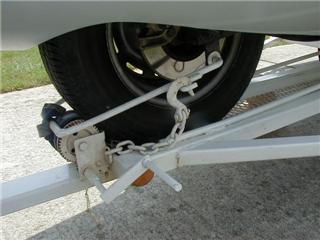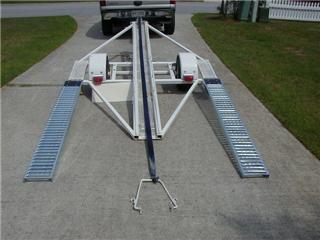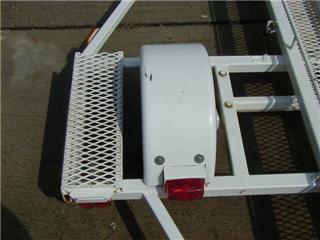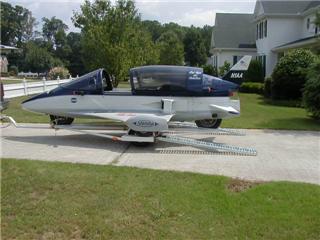 ---
Here is another Pulse trailer made from a boat trailer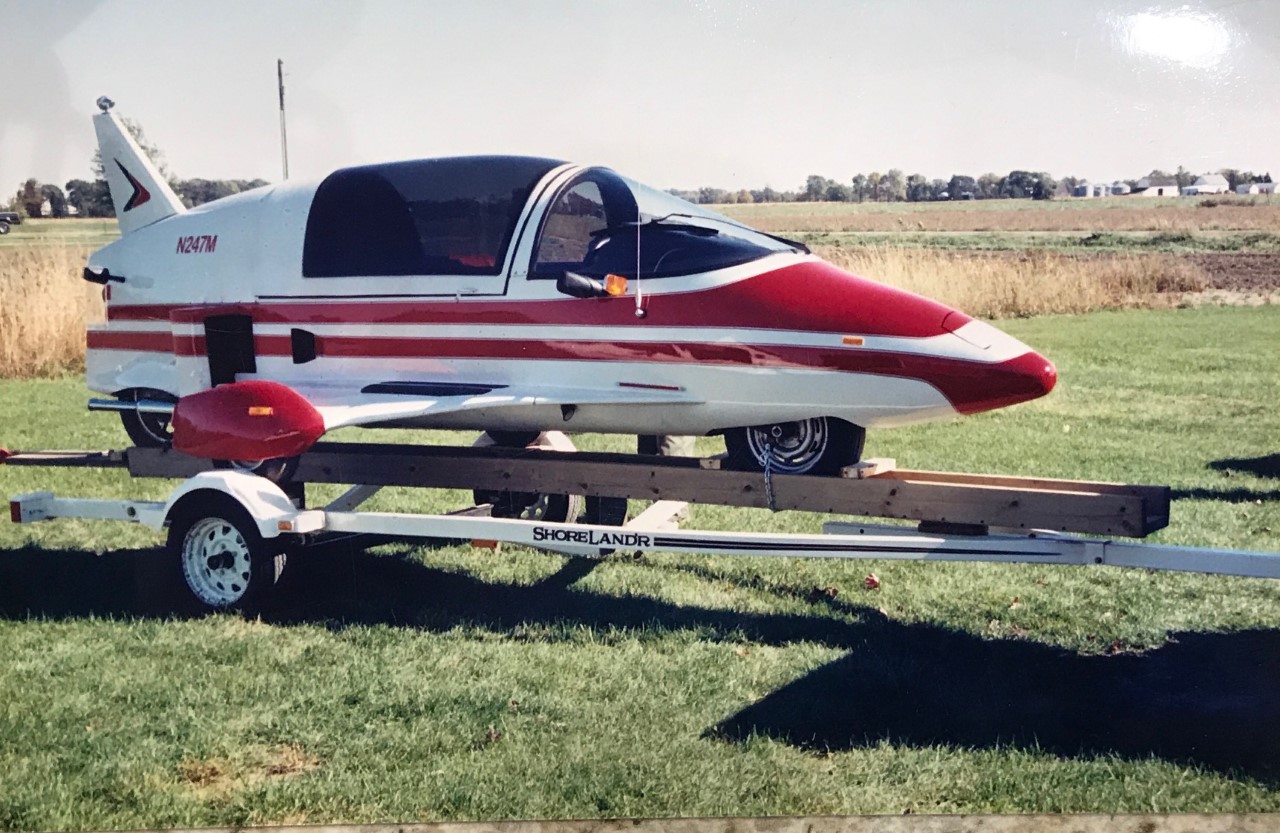 ---
Below......What do you do with your old Pulse?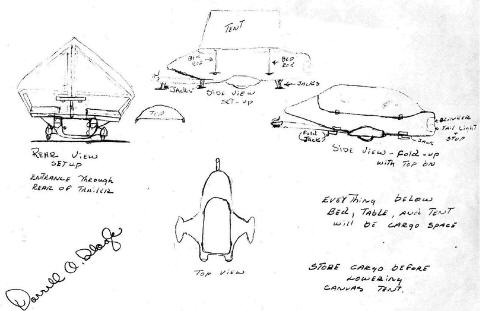 Below, Doug Minert made Pulse bodys and turned this one into a trailer.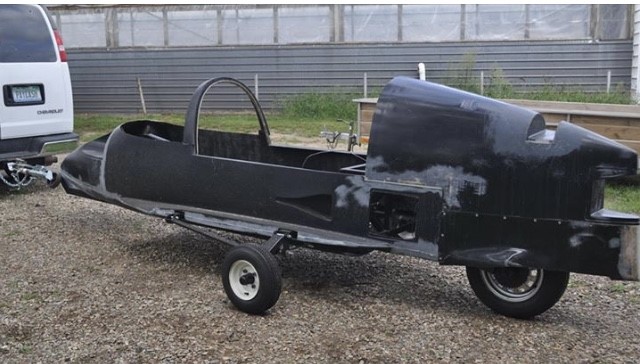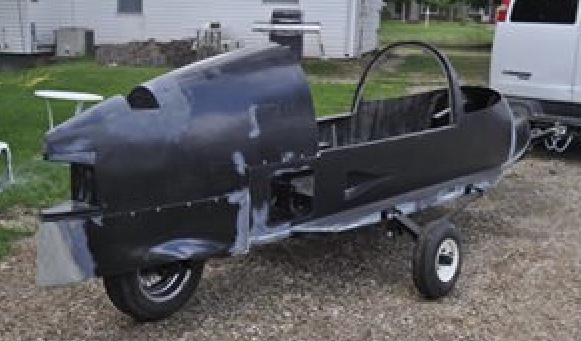 ---
Below, another nicely converted boat trailer.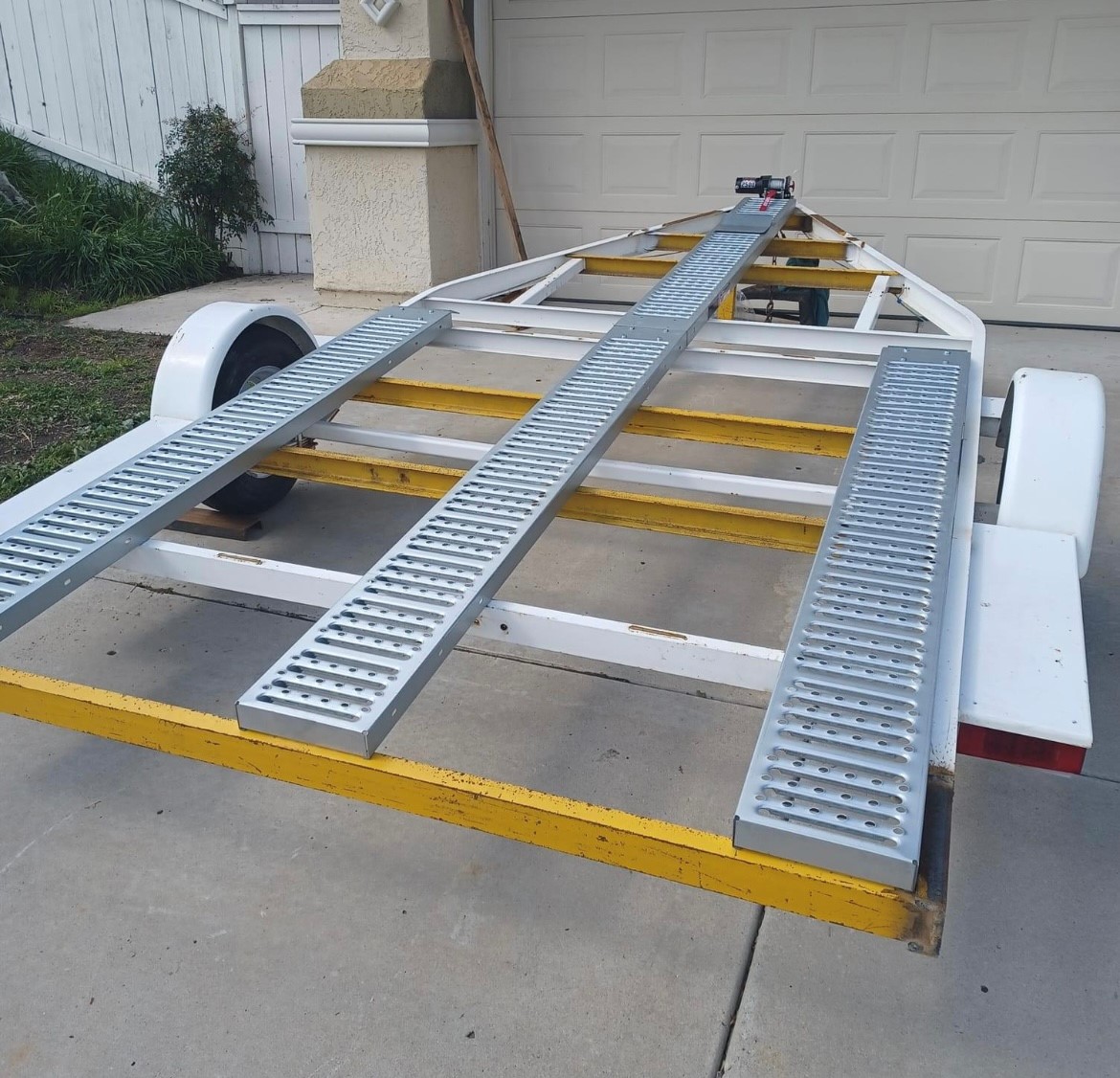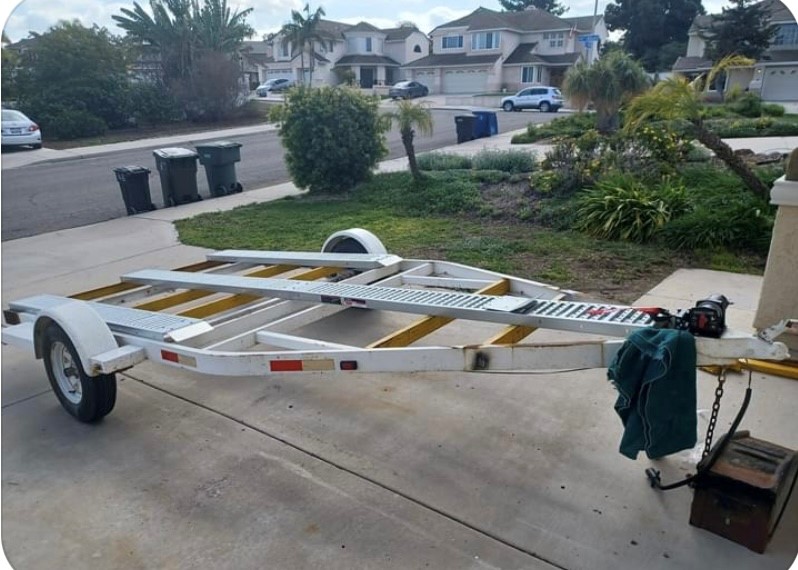 ---
Below, a converted double jet-ski trailer
Notice how the short axle keeps the wheels in-board.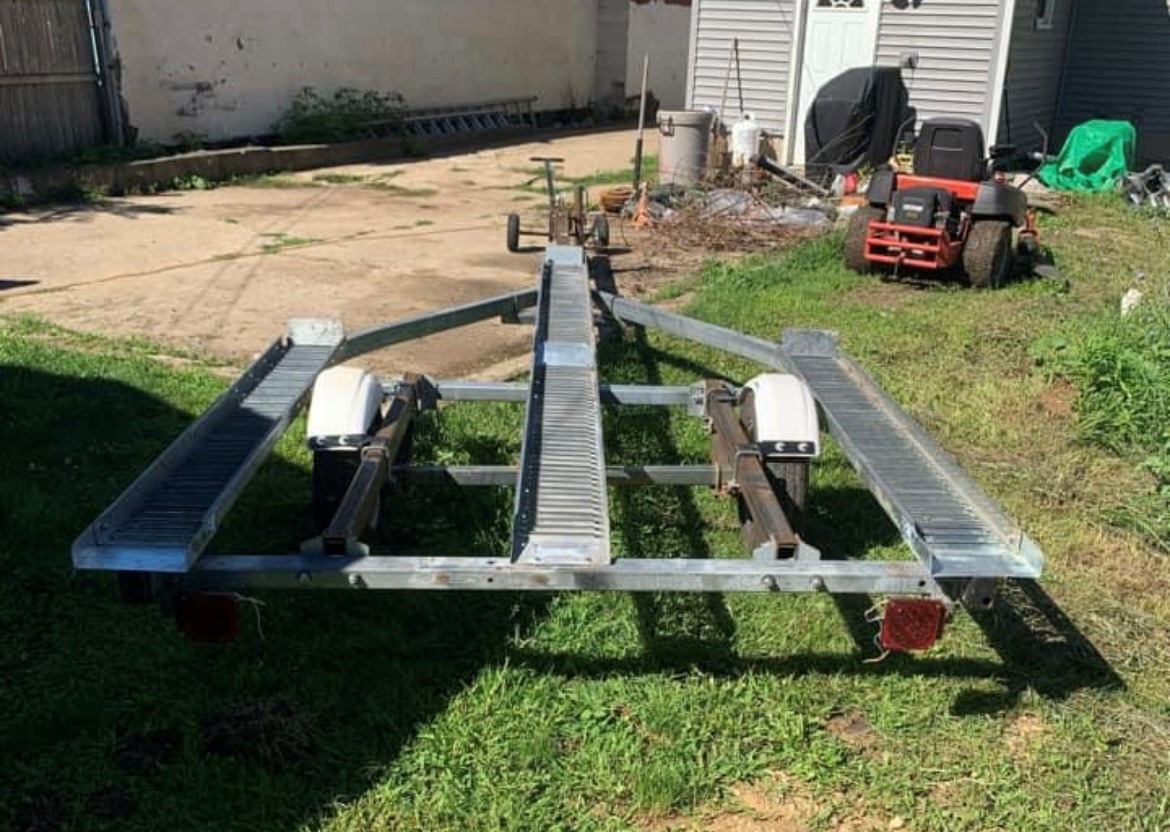 ---
---
Flat Tow your Pulse ....info here
---
---
Your Host, Steve Schmidt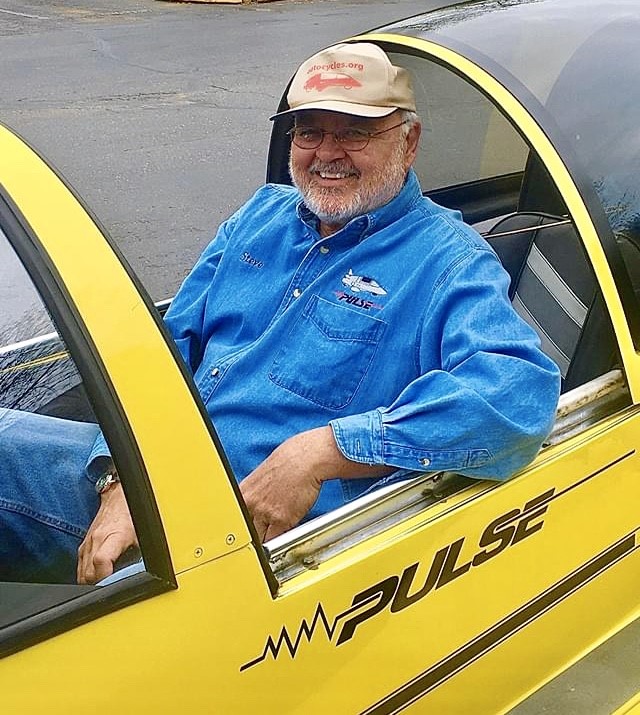 Last Update: 02-20-23......
This is a personal website and is not affiliated with the designer, manufacturer or any company officials/employees.
Disclaimer: Litestar Pulse Website is provided to you free of charge, "as is."
The best efforts to maintain accurate Litestar Pulse
Website history, information, repair tips and content, however, it is
not responsible for the content of its information, opinion providers.
You should not assume that Litestar Pulse Website is error-free and
makes no guaranties as to the accuracy, currency, content, or quality
of any such information.
Copyright 2020 © All rights reserved